Lake Tahoe is known for two things in the winter – snow, lots of it & sunshine, nearly 300 days annually. But what if you don't know how to ski yet still want to embrace winter? You can, of course, get lessons at one of our three world-class ski resorts but there are so many more snow activities that you should consider. From snowshoeing to cross country skiing or even the motorized adventures via snowmobiles, there is much fun to be had of the snow-kind. And for those of us that just want to get outside for a bit without a lot of time and effort, you might want to give snow tubing in Lake Tahoe a try. Here are a few of our favorite tubing places in the Lake Tahoe area.
What's The Difference Between Sledding in South Lake Tahoe & Snow Tubing
Before we jump into where you can enjoy snow tubing, we wanted to explain the difference between tubing and sledding. While they're VERY similar, there are subtle differences. Snow sleds consist of wooden platforms with runners or plastic devices. On the other hand, snow tubes are oversized inner tubes with a cut-out section in the center. When it comes to snow tubing, we recommend checking out one of the places below to make sure that you are in a safe environment.
Here are the Places to Go Snow Tubing in Lake Tahoe
Adventure Mountain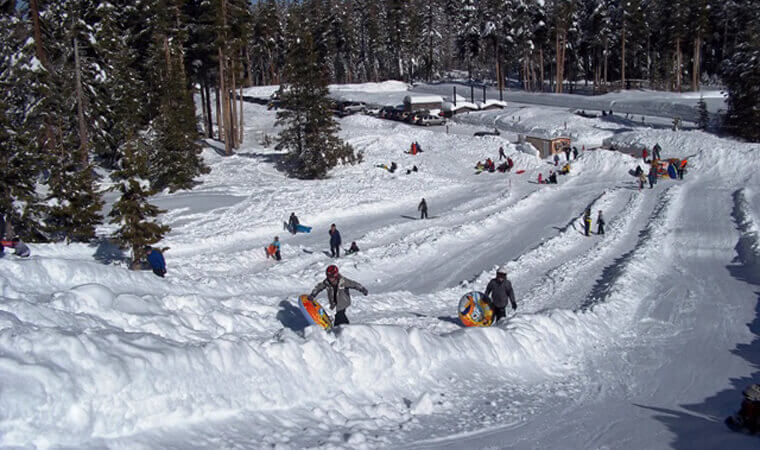 Situated on top of Echo Summit on forty acres, Adventure Mountain is perfect for all sorts of snow play including snow tubing. With up to fifteen machine groomed sledding runs and a base elevation of 7,350 feet above sea level, this family-owned & operated resort is pretty much a guarantee of affordable fun for the entire family.
Blizzard Mountain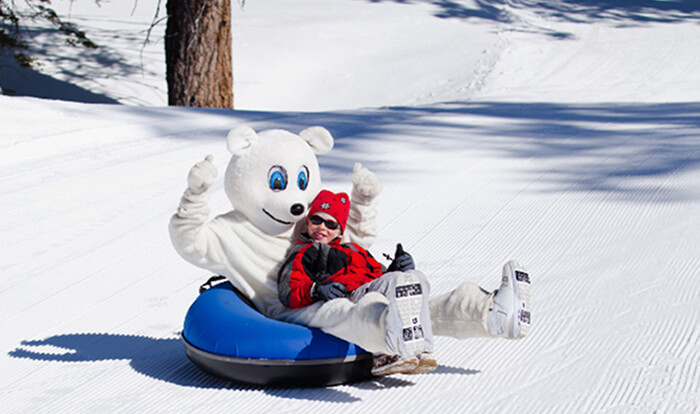 While there isn't an opening date firmed up just yet, Sierra-at-Tahoe has its sights set on resuming operations in early 2022. Read More About How Sierra-at-Tahoe is overcoming impacts caused by the Caldor Fire.
Sierra-at-Tahoe has always been a fun, family resort and it comes as no surprise that they have an entire dedicated area to it called Blizzard Mountain. In fact, they have two rope-tow tubing lanes so you can get even more runs in. Whether the kids are into snow tubing in Lake Tahoe or just some simple winter fun, Blizzard Mountain has it all. Snowball kits, outdoor fire pits, and picnic tables are provided.
Hansen's Resort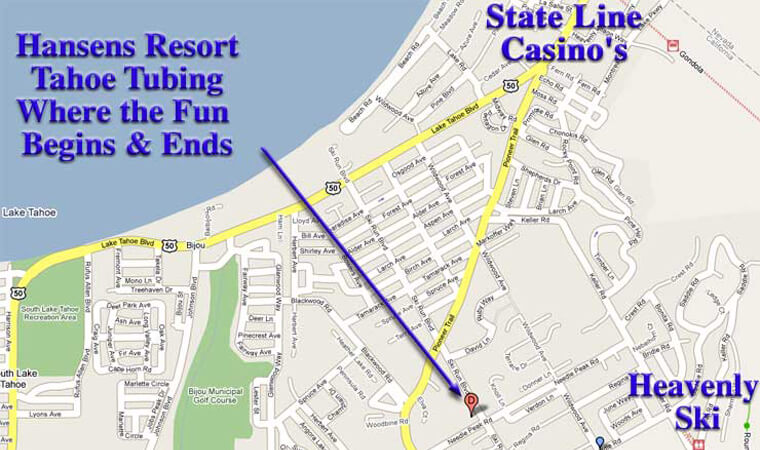 For those looking for a bit of seclusion but not too far from the hustle & bustle of Stateline, Hansen's Resort & Tubing Hill is right up your alley. After dropping off the skiers/snowboarders at Heavenly, take the little ones to Hansen's for their own fun & excitement. There's even an easy to view area for parents to watch their kids sliding down. The tubing runs are groomed daily, with high "walls" and a well-planned small hill below to stop you.
Heavenly Adventure Peak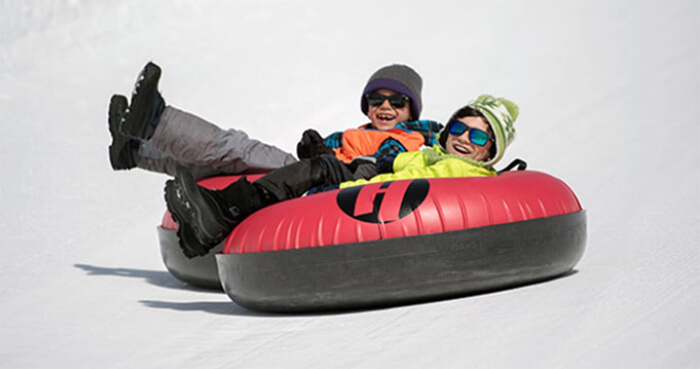 Combine the fun of a gondola ride with a bit of tubing at the top of the world. Heavenly Mountain Resort's tubing hill is located at the top of a scenic ride from the center of Heavenly Village. Their park has four lanes that are 500 feet long and have a 65-foot vertical drop. In addition, their tubing hill has a magic carpet that'll help whisk you up to the top for another run. Please visit www.skiheavenly.com/explore-the-resort/activities/winter-activities.aspx for updated operational information.
Tahoe Snowmobile Tubing Hill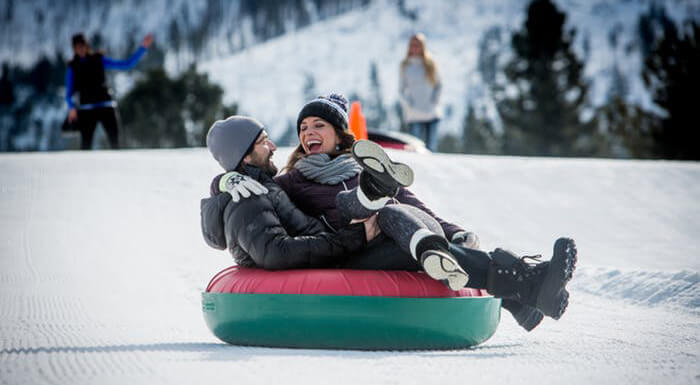 Looking to create the ultimate winter-time experience for the entire family? Well, for those that want to try their hand at snowmobiling along with hillside tubing, Tahoe Snowmobile is perfect for you. Located next to Mont Bleu Resort & Casino, you can experience it all without having to drive anywhere.
Tube Tahoe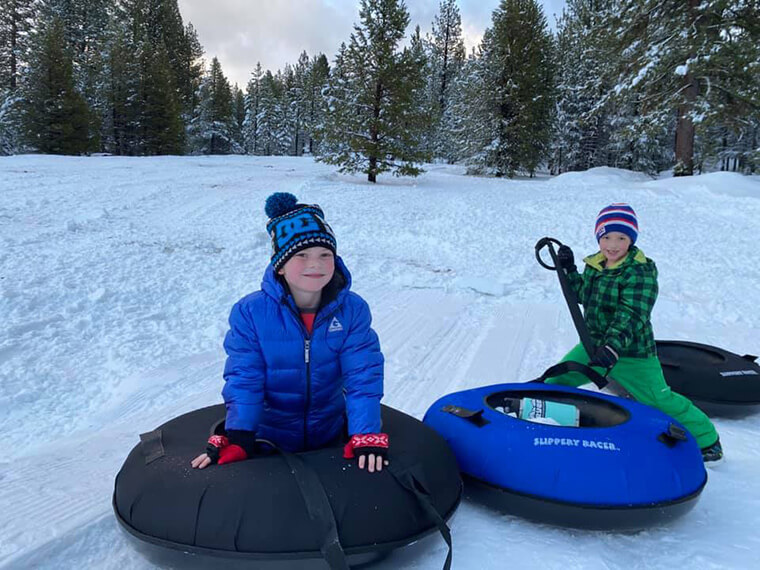 The newest edition to the list of amazing snow tubing locations is Tube Tahoe in Meyers. Located at the Tahoe Paradise Golf Course off US Highway 50, it's focused on providing a safe, family-friendly environment. Their goal is to become "Tahoe's Family Tube Hill"… in other words, everyone returns home with positive memorable experiences. Tube Tahoe is aiming to have the longest "resort-quality," machine-groomed tubing lane in the area.
As you can tell, there are a whole plethora of places to try your hand at snow tubing while in South Lake Tahoe. From magic carpets whisking you to the top to quaint hills for your little ones to play on, you'll find it here in Lake Tahoe.
For more winter sports visit, visitlaketahoe.com/winter-sports/lake-tahoe-winter-sports/
Check out Snow Play at Lake Tahoe on Instagram