The Locals' Shopping Guide: Give the Gift of Experience in Lake Tahoe and Carson Valley
By: Lake Tahoe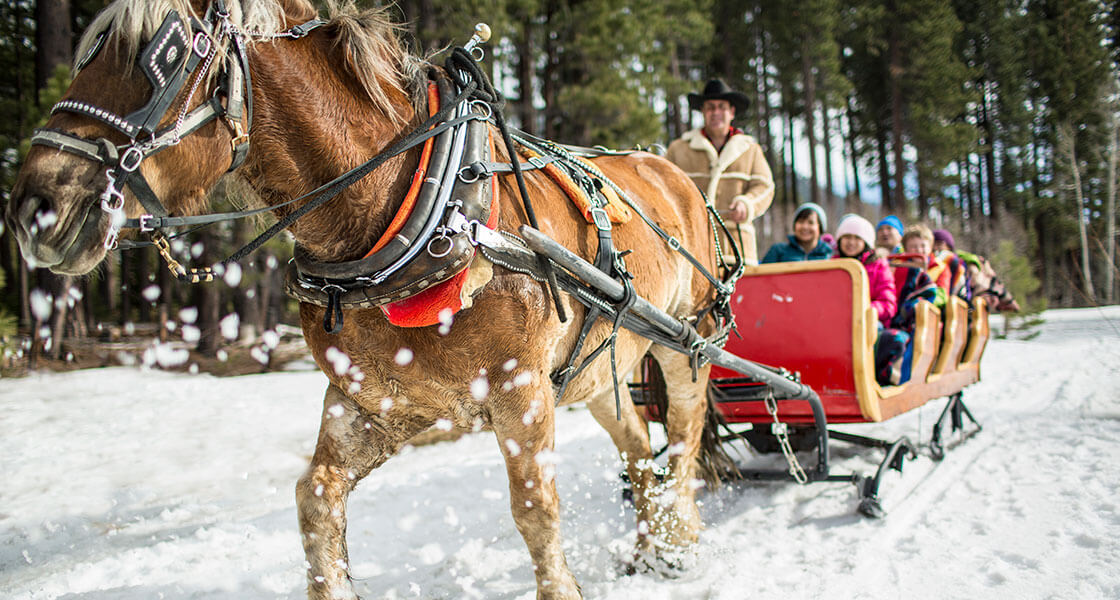 It's been one heck of a year and the holidays are right around the corner. In Lake Tahoe and Carson Valley, we celebrate by dragging fir trees out of the woods and strapping them to our Subarus. We dust off ski gear, say farewell to our hiking boots ("See you in the spring, boots!") and begin searching for Christmas gifts for friends and family.
This year, consider giving the extraordinary gift of an only-in-Tahoe-and-Carson-Valley experience.
When you gift an experience you create lasting holiday memories to be retold throughout the years. And as you know, local businesses need our support this year more than ever. Let's help out our community and give the gift of a remarkable, right-here experience.
5 Unique Holiday Experiences in Lake Tahoe and Carson Valley
Lake Tahoe and Carson Valley offer tons of off-the-beaten-path activities outside of the tourist trail. Pamper your loved one with a soak in the mineral waters of a Nevada hot spring or thrill them with a fishing expedition on Big Blue. Additionally, if you are home for the holidays, as many of us are, make the most of your nearcation and try something new in your own backyard!
In the Sierra, there's a holiday adventure for everyone. Here are some unique Lake Tahoe and Carson Valley activities that will make the season merry and bright:
Tahoe Sport Fishing
There's nothing quite as exciting as reeling in a trophy trout from the depths of Big Blue. For the sportsman in your life, or as a family adventure, consider gifting the experience of a fishing charter with Tahoe Sport Fishing. With year-round expeditions and two locations, at Ski Run Marina and Zephyr Cove Marina, Tahoe Sport Fishing offers an unforgettable Lake Tahoe experience. The company has both public and private charters and their seasoned captains know all the secret fishing spots.
Carson Valley Golfing
It can be a long, cold winter around these parts and for friends and family who aren't fans of the snow, or those who just need a little winter relief, a Carson Valley golfing excursion is the perfect holiday gift. Take a swing at any of Carson Valley's year-round golf courses including Sunridge Golf and Recreations, Carson Valley Golf Course and Genoa Lakes Golf Club. All three courses offer rolling fairways where you can play a round, and soak in the Sierra sunshine and mountain views.
Edgewood Tahoe
Nothing says "I love you" quite like a holiday date night at the opulent Edgewood Tahoe. Over the winter, Edgewood offers snowshoeing on the pristine property and an on-site ice-skating rink. After exploring Edgewood's winter playground, reserve a table at The Bistro for an unforgettable dining experience. The restaurant is the perfect spot for reliving the adventures of the day while enjoying the finest seasonal fare from the rotating menu. It goes without saying that the gift of an experience at Edgewood Tahoe creates memories to savor long after the holidays are over.
Clearly Tahoe
What better way to immerse yourself in the beauty of Lake Tahoe than with a paddle on the lake's crystal waters? Clearly Tahoe offers year-round tours in translucent kayaks that give a window view into the turquoise and azure depths of Big Blue. With many tours to choose from including the Scenic Shoreline Tour, which winds through granite boulders along the east shore, and Eco Discovery cruises that highlight Tahoe's wetlands with birding and wildlife spotting, this is the perfect gift for nature-lovers and is a family-friendly activity for all ages.
Borges Sleigh and Carriage Rides
Travel back in time at Borges Sleigh and Carriage Rides with a holiday experience like no other – sleigh bells jingling and all. One-hour sleigh rides drawn by beautiful blond Belgian horses travel along the lake shore and through pine forests, with opportunities to stop, listen to stories and poems, sing songs, and snap photos to capture your memories along the way. This classic winter activity will remind you of simpler times and create lasting memories to cherish when the buzz of modernity encroaches.
Get More Holiday Goodies on the Sierra Safely Trail
Check out a full list of experiences on the Sierra Safely Trail and discover more gift ideas from Lake Tahoe and Carson Valley that support small businesses and locals. Many places have holiday discounts for tours and excursions, so be sure to check out business webpages for exclusive deals. Additionally, you can download the Sierra Safely Passport, and when you go to participating businesses just present your phone to redeem discounts. Keep it local. Support your community. Happy shopping and happy holidays!