Less than a block from the Lake Tahoe casino core and across the street from Heavenly Village, there is a place where campsite meets resort, the Basecamp Hotel.
I'd heard about this place recently and did some research online. Here's what I found:
"The amenities appeal to a range of ages and interests in any family or group." –Time.com
Jay-Z's culture blog, Life+Times, called it an "active getaway."
And New York Times Travel said, "The concept is to embody the spirit of a traditional base camp — where mountaineers swap equipment, advice and war stories before expeditions — with a modern, eco-chic touch."
I checked it out for myself last weekend and couldn't believe I didn't know about it sooner!
What I really like about Basecamp is the design. From the outdoor lantern decor to the quirky Tahoe artwork above each bed, you can tell a lot of attention to detail was put into creating a one-of-a-kind hotel. Each room is arranged to make travelers feel they have their very own hideout area after a day of exploring Lake Tahoe.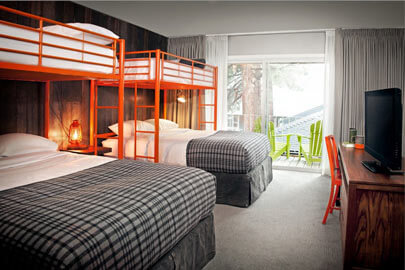 They also have some cool options for different travelers. You can get away and explore on your own or bring your friends for a weekend of skiing and clubbing. I don't know any other hotel in Tahoe that offers a room that sleeps eight, another room with two bunks or a private room featuring a built-in tent and electric campfire set.
The hotel also has community dinners three nights a week at a large dining table. For a small fee, guests are invited to meet other travelers over a home cooked meal. They also gather around the outdoor fire pits to share stories, drinks and s'mores.
There is a real sense of community among Basecamp visitors. The public areas remind me of a friend's old mountain home. There is an intimate corner bar as well as rustic fireplace and lounge area. The hotel is a cozy place to relax and recharge, or to get ideas for your next adventure.
I definitely recommend Basecamp for an unmatched hotel experience.