You're on the run, maybe to hit the slopes, climb aboard a powerboat, hike up Mount Tallac or cruise down to the beach for a picnic, and you're in the need of something quick and tasty. I usually grab something light, but right!
Today, I'm sharing a few of my favorite sandwich joints in Lake Tahoe.
Featuring freshly baked bread, premium quality meats and cheeses, sliced daily, and unique vegetarian options, full bar set apart by alcoholic and non-alcoholic slushies. All of this is captured in a light, beachy atmosphere with live music and rumors of a high end, secret bar in the back.
Going strong for 35 years, Tahoe Keys Deli is no frills and all goodness. Besides the basic subs like roast beef and ham, owner John Calea has a line of special sandwiches that are local favorites: the Tahoe Turkey, the BLT, the Meatball and last but definitely not least, the 110 Degrees in the Shade (roast beef, pepper jack cheese, Ortega chili, pepperoncinis on a hot onion roll). And always indulge in a freshly baked chocolate chip or oatmeal cookie! Hungry yet?
Whether you're spending the day on the lake or setting out on a bike ride, made-to-order deli sandwiches at Camp Richardson's General Store are great for anyone on the run. If a sandwich isn't enough, you can always walk across the street for a sweet treat at the Ice Cream Parlor. Yours truly can't pass up a good milkshake!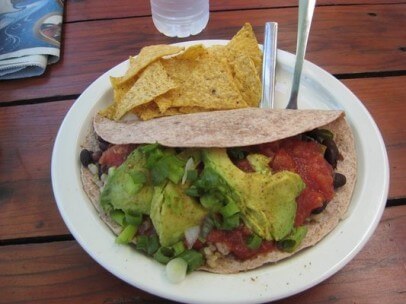 If a freshly prepared wholesome organic meal is what you looking for, look no further. Although the menu is packed with rice bowls, wraps and the best nachos in town, I just can't pass up the veggie crunch and a smoothie or freshly squeezed juice. Pull a menu out of the basket, make a quick study, order at the register and then just listen for your name!
Epic sandwiches packed full of goodness from avocado to bacon. Grab a sandwich and a beach chair sit back, relax and enjoy.
The Cork & More is a Napa-Style Market in the Heart of Lake Tahoe. The best wines, cheeses, catering, deli, gift baskets, specialty foods, seasonal décor, and wedding cakes at Lake Tahoe for 39 years.