–by Dreu Murin 
Standup paddleboarding, SUP-ing, or Hoe he'e nalu if you prefer the original Hawaiian slang, is one of the most exciting water sports in Tahoe.
The name standup paddleboarding (SUP), not to be confused with fraternity house paddleboarding, is a rather obscure sport using a surfboard styled apparatus that you stand on using a paddle that hopefully provides forward propulsion.
SUP originated back in the 1960's by the Beach Boys (no, not the band) who used their long boards to watch, take pictures and laugh at tourists learning how to surf.  Little did this group of surfers know that many years later this practice would become a worldwide sporting event.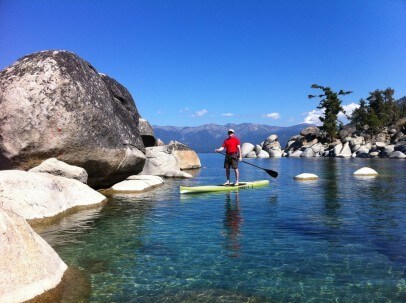 Paddleboarding Lake Tahoe is a Great Way to View the Lake
The unique sport of SUP is a great way to view Lake Tahoe. For you competitive/training types, SUP is an intense core workout, which eliminates the need for that 8-minute abs DVD. No matter your fitness level, hit the water and enjoy a paddle across the crystal blue water of Lake Tahoe.
Sorry to say this gents, but women tend to be naturals. Just a fact. Odds are once you've tried SUP-ing, you will be purchasing a board and paddle, strapping it on top of the two-door hatchback, and hauling it home so you can practice in your bathtub with your rubber ducky. Practice makes perfect.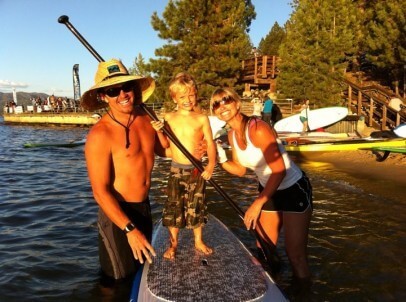 Here is your check list for having the best standup paddleboard experience:
 Board and Paddle.  South Tahoe Standup Paddle, for the best equipment and knowledge.  Hint Hint…
Leave the wetsuit and water booties at home.  (You will overheat.)
Leave the cell phone at home, unless you're waiting for Ed Mc Mann to call.)
Dedication, determination, and the willingness to enjoy something truly FUN. Some good friends, family or man's best friend. (Dogs, small rodents, felines and even birds love the ride)
Sunscreen!  Mandatory. Head to toe.
Lucky white rabbit foot. – (Ok, not necessary but always a good idea.)
Don't be the only one stranded on the beach this summer. Get out and go paddleboarding on Lake Tahoe!
Oh, and a word of advice – when on the water, always keep an eye out for the infamous Tahoe Tessie.