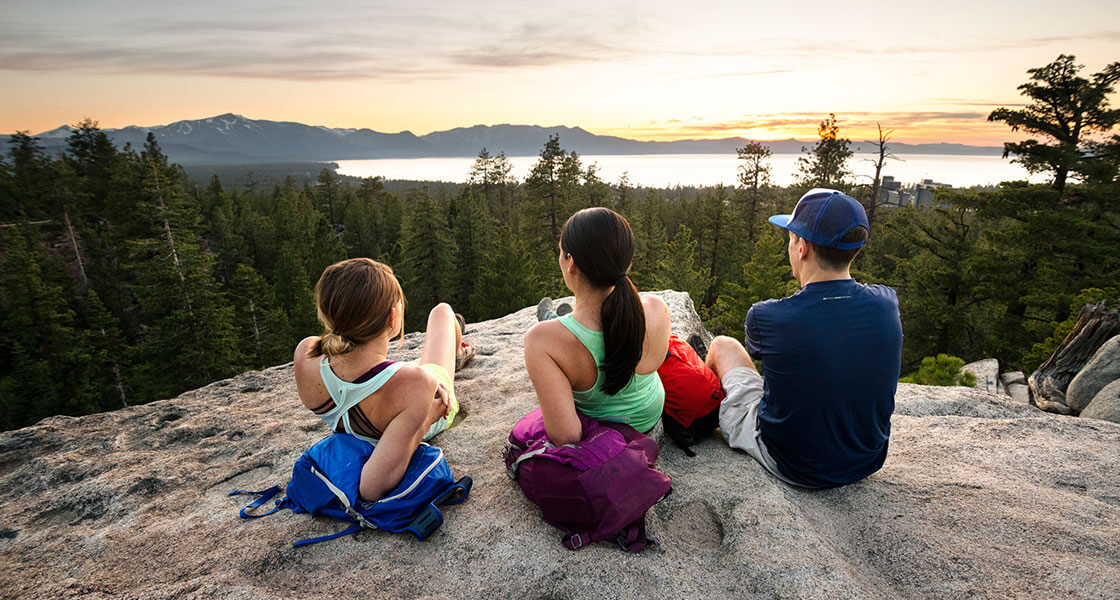 Name: LAKE TAHOE
Placer County, California (41%)
El Dorado County, California (29%)
Douglas County, Nevada (13%)
Washoe County, Nevada (11%)
Carson City, Nevada (6%)
(775) 588-4591
info@visitlaketahoe.com
SUMMARY
An adventure-minded vacation destination that can manage and exceed visitor expectations by providing access to outdoor fun during the day and non-stop nightlife at night but at the same time prioritize sustainability so that future generations can enjoy.
SKILLS
● 2nd deepest lake in the US; largest alpine lake in America
● 72 miles of jaw-dropping shoreline
● Surrounded entirely by peaks in excess of 10,000 feet
● 100's of miles of hiking & mountain biking trails
● More than 10,000 acres of skiing and snowboarding
● 4 Golf Courses including one rated best in the nation by Golf Digest
● 4 World-Class Casino Resorts
EXPERIENCE
Born about two million years ago, Ms. Tahoe due to vertical lane faulting is one of the youngest in her Walker Lane family. Ever since she can remember, she's loved the cobalt blue sky and all four seasons equally. In the winter, she dresses up in her best white outfit. And in the summer, it's all about shedding the coat and living that beach life all in her own good time.
Beach Bums, Pope Beach – Beach Club Manager
June 2021 – PRESENT
● Responsible for maximizing beach fun by ensuring 90% of days have sunshine and average temperatures range between 69 and 77 degrees all summer long.
● Provide easy access to water sports fun such as jet ski rentals as well as the creation of the Lake Tahoe Water Trail for paddling enthusiasts.
US Forest Service, Tahoe Rim Trail – Nature Guide
April 2021 – June 2021
● Strategic management of snowmelt to help fuel the crescendo of waterfalls and yet slow enough to give skiers & snowboarders an opportunity for one last hurrah on the slopes.
● Partner with the sun to begin and execute the wildflower bloom to entertain hikers and mountain bikers.
Skiing Fanatics, Heavenly Mountain – Ambassador Of Stoke
November 2020 – April 2021
● Create excitement for the upcoming ski season by ushering in the first snowfall around early November.
● Prioritize pleasant weather even in winter months but ensure that there's plenty of snow to ski on by having storms come in feet instead of inches.
Only Tahoe Time, Taylor Creek Visitor Center – Party Planner
September 2020 – November 2020
● Prepare for the upcoming winter by painting certain areas with oranges, yellows, and reds.
● Coordinate, organize, and execute end-of-summer celebrations such as the Fall Fish Festival and Tahoe's largest Oktoberfest.
EDUCATION
University Of The Great Outdoors, Alpine Lake – Ph.D. in Sustainable Tourism
2006
Dean's List University Of The Great Outdoors
Recognized Community Member of Pledge For The Wild
AWARDS
● One Of The Top Destinations To See Snow On Christmas (Expedia)
● Heavenly Mountain Voted Ski Resort Of The Year For Nightlife (Ski Magazine)
● Best Lake In America (USA Today)
CIVIC AFFILIATIONS
● Member, Keep Tahoe Blue
● Volunteer, Tahoe Fund
● Nominated as a basecamp for Northern California Day Trip