Lake Tahoe is well known for its sport fishing where you can catch large Mackinaw Trout and Kokanee Salmon. It's a great way to get on the lake and have an adventure with family and friends.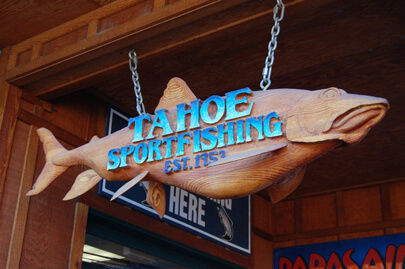 Tahoe Sport Fishing has Lake Tahoe's largest fishing fleet and their captains are experienced in trolling, drifting, and jigging and they operate year-round. Their experience of the lake's hot spots can almost guarantee you'll catch a fish.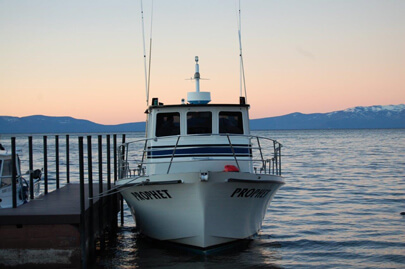 Our day started early and there was a chill in the air as we went out with friends. There were plenty of kids aboard and the Prophet's Captain John welcomed them inside whenever they needed to warm up or just hang out.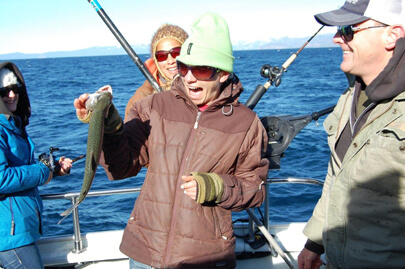 We were all novices but with the help of the crew, we were quickly fishing and reeling in Mackinaw Trout after Mackinaw Trout! As we were fishing off the bottom of the Lake, some of the fish we pulled in would bloat up due to their decompression.
After a half-day on the Lake where we all caught nearly a dozen fish we headed up to Macduff's Pub. Macduff's Pub is a longtime locals' favorite in South Lake Tahoe known for great food and atmosphere. They took our fish and cooked it to order with a variety of preparations. It was served family style with a seasonal house green salad and a choice of pasta.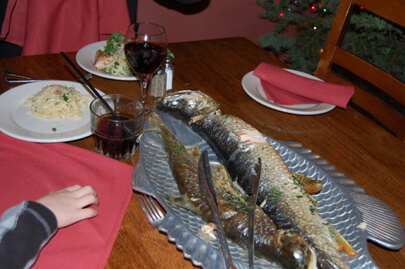 You've heard of farm-to-fork, this is lake-to-fork!
If you are looking for a fun activity for the whole family, head out onto the lake and catch your dinner at the same time!
For more information contact Tahoe Sport Fishing and Macduff's Pub:
Tahoe Sport Fishing
Ski Run Marina
900 Ski Run Boulevard, Suite 102
South Lake Tahoe, CA 96150
Phone: (530) 541-5448
Macduff's Pub
1041 Fremont Ave.
South Lake Tahoe, CA, 96150
Phone: (530) 542-8777