Valhalla 25th Anniversary Celebration with Dirty Cello
October 6, 2021
6:30 pm - 8:30 pm
Valhalla Boathouse Theatre's 25th Anniversary Celebration with Dirty Cello at Valhalla Art, Music and Theatre Festival.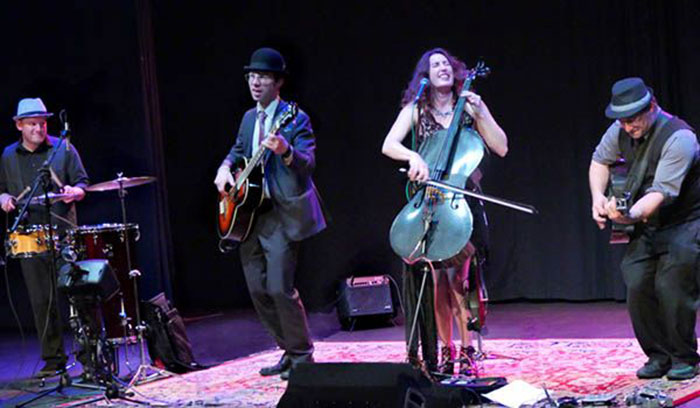 From China to Italy, and all over the U.S., Dirty Cello brings the world a high energy and unique spin on blues and bluegrass. Led by vivacious cross-over cellist, Rebecca Roudman, Dirty Cello is cello like you've never heard before. From down home blues with a wailing cello to virtuosic stompin' bluegrass, Dirty Cello is a band that gets your heart thumping and your toes tapping!
"Dirty Cello's music is all over the map: funky, carnival, romantic, sexy, tangled, electric, fiercely rhythmic, and textured, and only occasionally classical." Lou Fancher, Oakland Magazine.
"The band plays every style imaginable, and does some fantastic covers. (Their rendition of "Purple Haze" is incredible.) But what is most spectacular about them is hearing the depth of soul in Roudman's playing—it goes beyond what most people would expect from the instrument. She plays it with so much heart, you'll wonder why more bands don't have a cellist." Good Times Santa Cruz
"The group seamlessly careens from blues to bluegrass and rock in a way that really shouldn't make sense but somehow does." LA Times
Celebrate 25 years of performances in Valhalla's Boathouse Theatre with Dirty Cello and Friends! This special show will include giveaways, recognition of Valhalla's founders and 100% of donations made at the show will go to the Boathouse Theatre Improvement Fund. In the last 5 years, Valhalla has raised more than $20,000 to replace the analogue sound system and outdated theatre lighting. We are excited to mark 25 years by beginning these projects to improve our audience's experience.
Parking is limited at Valhalla and often fills by 6:30 pm. When our parking lot is full, you may park in the lot by the Green Gate on Highway 89 and walk into the venue. Please wear comfortable shoes and allow time to walk in case the parking lot is full.
If you have a handicapped sticker, placard or plate there are several handicapped designated spaces.
If you have questions or require assistance please call or email us at least 24 hours in advance.
Phone: 530-541-4975
Email: info@valhallatahoe.com
Whether you are dashing up to Lake Tahoe for a quick weekend getaway, camping out or renting a cabin for a week, or you live in the region, the Valhalla Art, Music & Theatre Festival at the Heller "Valhalla" Estate hosts northern California and northern Nevada's premier and most eclectic arts festival, featuring entertainment for literally everyone. Valhalla, a hidden Lake Tahoe treasure, is located on the Lake's southwest shore three miles from South Lake Tahoe's many hotels and restaurants and is walking and biking distance to several campgrounds including Fallen Lake Campground, and Camp Richardson.
The Valhalla Art, Music & Theatre Festival, is a total departure from the showroom and amphitheater shows offered by the casinos. The Festival offers a diverse array of entertainment from family-friendly musical and dramatic theatre to concerts with music from all genres, internationally touring artists, and the very best in local and regional acts, comedy improv, fine art shows and workshops, and children's art and drama camps.
Valhalla Art, Music & Theatre Festival concerts and productions will take place in one of Valhalla's three grand historic venues—the Grand Hall, with its massive 20-foot tall stone fireplace and walk-in hearth; the Grand Lawn, lush green grass that flows out from the Great Hall; and the restored Boathouse Theatre, a stunningly unique arced space that was restored in the late 1980s with the support and vision of the famed Dr. Leo Buscaglia that seats 164, (will be limited to 57 until state indoor capacity guidelines are relaxed).
The Heller "Valhalla" Estate is one property on the Tallac Historic Site, a group of historic estates built in the late 1800s and early 1900s by wealthy west coast timber barons and captains of industry as summer homes. Now owned by the United States Forest Service, the Pope, Baldwin, and Valhalla properties are operated by local nonprofit organizations, and are preserved and restored to create a stretch of Lake Tahoe shoreline frozen in time. Visitors enjoy interpretive features, restored buildings, museums, and wonderful beaches. Located next door to Camp Richardson, one of Tahoe's longest operating resorts with a small hotel, cabins, campground, a general store, ice cream parlor, and the popular Beacon Grill. Valhalla is a quiet haven for exploration, picnicking, beach time, and the best arts entertainment offered in the Tahoe Basin.