Genoa Western Heritage Days
April 28 - 30
All Day Event
Join us on April 28-30, 2023, as we celebrate the Genoa Western Heritage Days. To purchase your tickets for the Progressive Dinner or one of this year's concerts go online to Eventbrite.com or complete the Mail-In Concert Ticket Form.  This year's Progressive Dinner will be hosted at five local restaurants. Buy your tickets early as they will sell out.
Concert Tickets are $45
Progressive Dinner Tickets are $40
The Progressive Dinner is a timed rotation of 5 groups starting at 4 pm at all 5 locations. Passports and colored wristbands will designate your starting location and rotations. Progressive dinner passports and wristbands can be picked up at the Gazebo at the corner of Genoa Lane and Main Street between 11:00 – 3:30 pm on Saturday 4/29/23.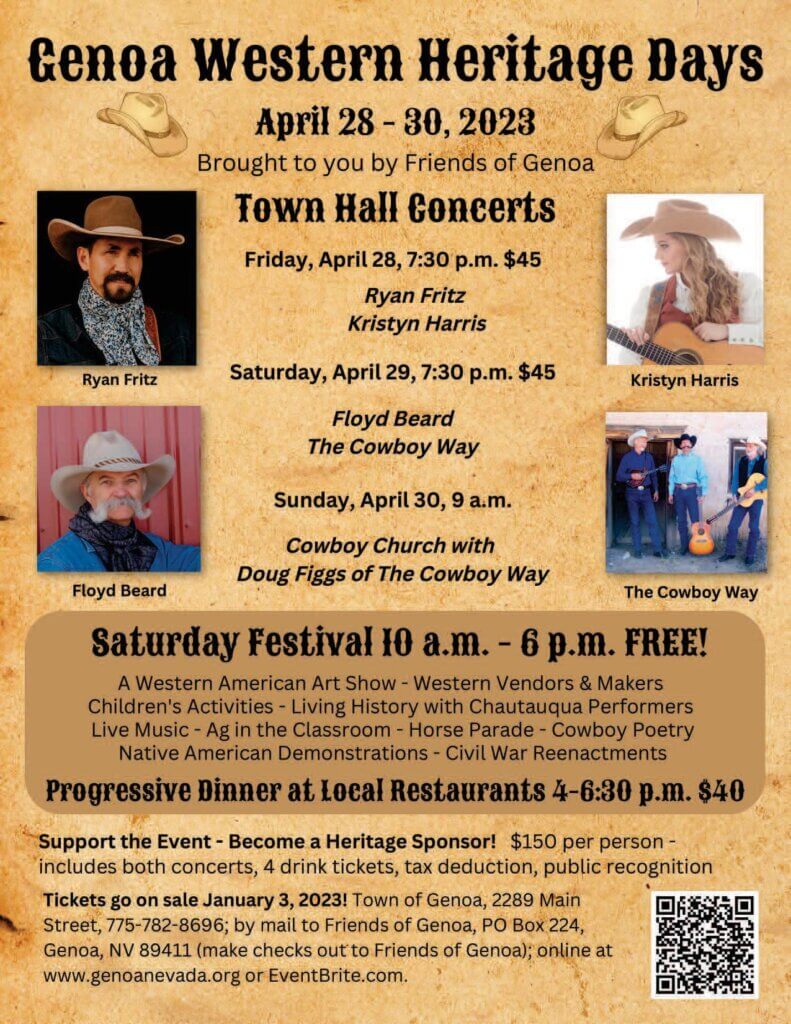 Heritage Sponsorship Details Below:
Price: $150 (Click Here to purchase)

With the Heritage Sponsorship, you get one (1) ticket to each concert along with four (4) drink tickets.
4 Drink Tickets / Beer, Wine, Cocktails, or Water
By purchasing a Heritage Sponsorship you are donating to the Friends of Genoa, a 501(c)(3) organization formed to do good things for Genoa. In addition to the concert tickets and drinks, you will get special recognition and a tax deduction. This event is hosted by the Friends of Genoa.

Thank you for supporting the Town of Genoa.