America's Most Beautiful Bike Ride
The 30th annual "America's Most Beautiful Bike Ride welcome over 3,000 bicyclists from throughout the country to ride around Lake Tahoe's 72-mile shoreline.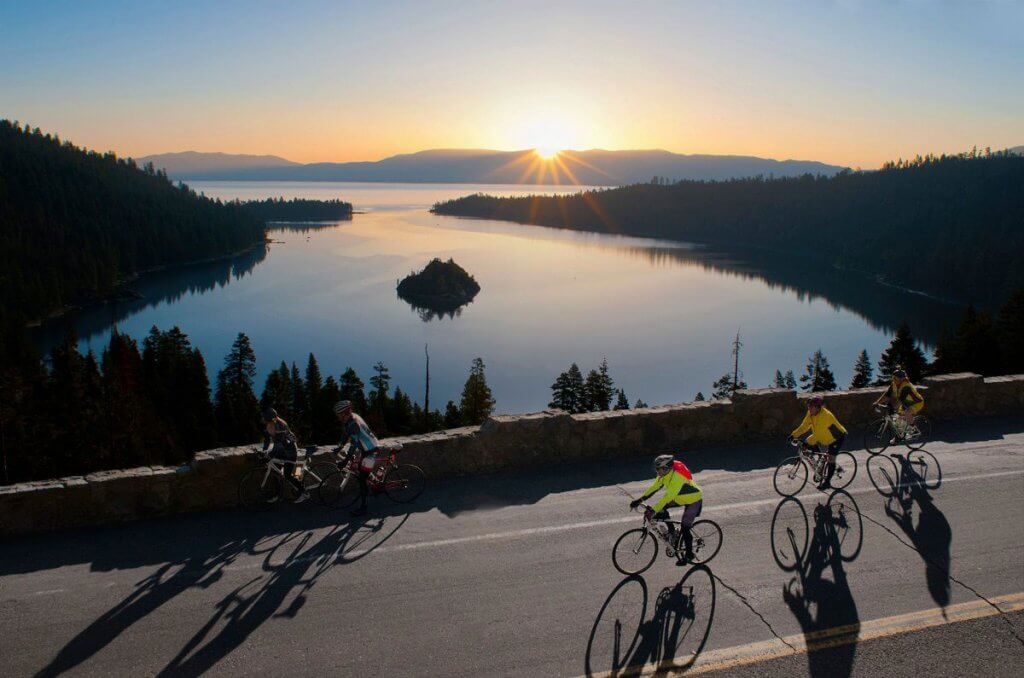 After 40 years of producing premiere cycling events with 30+ years dedicated to America's Most
Beautiful Bike Ride, your event director Curtis Fong is finally attempting to retire… Or, at least semi-
retire… The past 3 years have been a challenge, both physically, mentally and financially to produce
our events, due to Covid and Wildfires beyond anyone's control… Rather than closing our doors and
shutting down our Lake Tahoe rides… Bike The West is thrilled to announce that ownership and event
production of America's Most Beautiful Bike Ride has been officially transferred to The Leukemia &
Lymphoma Society (LLS).
This pleasant ride is not a competition, but rather a fully supported bike tour that raises awareness for the Lake Tahoe Bikeway project, a master plan to build and connect all of the bike lanes surrounding Lake Tahoe, and supports the Lake Tahoe Bicycle Coalition's annual Bike Safe Lake Tahoe campaign.
The journey features breathtaking scenery, clean mountain air, and rest stops with delicious food and beverages, all of which are staffed by volunteers from local NGOs. It is professionally run by ride organizers with decades of experience in the Lake Tahoe area.
Share the road with 3000-plus bicyclists on Sunday
America's Most Beautiful Bike Ride participants will be riding clockwise around Lake Tahoe and from Tahoe City to Truckee and back to Tahoe City, starting at the Hard Rock Hotel & Casino at Stateline, from 6-7:30 a.m. Traffic will be delayed on northbound California State Route 89, Emerald Bay Road from 6:30-8:30 a.m. Sunday at Baldwin Beach Road. Southbound CA-89 will remain open. The remaining roads will be open and motorists are asked to share the roadway and plan a little more time to get to their destinations. Below are the highways, locations and times that bicyclists will be sharing the roadways on Sunday June 4:
More information on their Facebook page, here.
www.bikethewest.com/americas-most-beautiful-bike-ride/
Both events traditionally provide over $5 million in economic benefits to Lake Tahoe communities and over $35,000 in donations to many local nonprofit organizations. More information
Nearly 3,000 cyclists from throughout the United States come to Tahoe to ride around the Lake. For many, nearly 2,000 riders, they are here as a personal challenge and commitment to their friends and loved ones who have been inflicted with Leukemia/Lymphoma disease. Each passionate rider has raised at least $4,000 to be here and some have raised hundreds of thousands of dollars to help fund the research to discover a cure for these deadly diseases. This event is the largest fundraiser for Lymphoma/Leukemia Society in the nation – one year they raised nearly $8,ooo,ooo dollars.
Visit www.bikethewest.com/americas-most-beautiful-bike-ride for more information.
Visit www.bikethewest.com/tour-de-tahoe for more information.