After World War Two, the American public was on the move. After four years of gas rationing, people
were traveling, and many were finding their way to "Big Blue." The Lake Tahoe Railroad, which operated
between Truckee and Tahoe City had ceased operation in 1943, leaving Lake Tahoe accessible only by
automobile.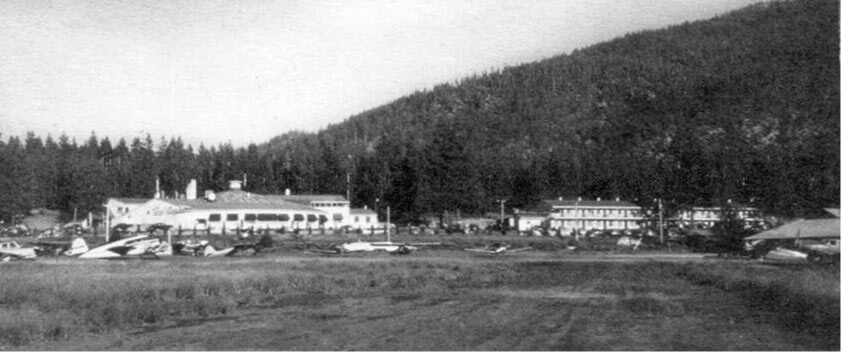 Despite its growing popularity, Lake Tahoe had no airport for the first four decades of the 1900s. The
Lake's high elevation and changeable weather created difficult conditions to land an airplane. But as
technology increased and the demand for faster means of travel grew, entrepreneurs felt the time was
right to offer air service to the Lake Tahoe basin.
In 1946, businessmen Antone Gatto and E.W. Heple obtained several acres of land just northwest of
where Kingsbury Grade meets US Hwy 50 and known today as Rabe Meadows. A creek flowing through
the property was relocated and a portion of meadow filled in. Their plan was to build a casino with an
adjacent landing strip. Gatto and Heple felt there were many high rollers who would jump at the chance
to fly-in to their betting house. A small terminal was also built next to the dirt landing strip. The "airport"
and casino were christened "Sky Harbor."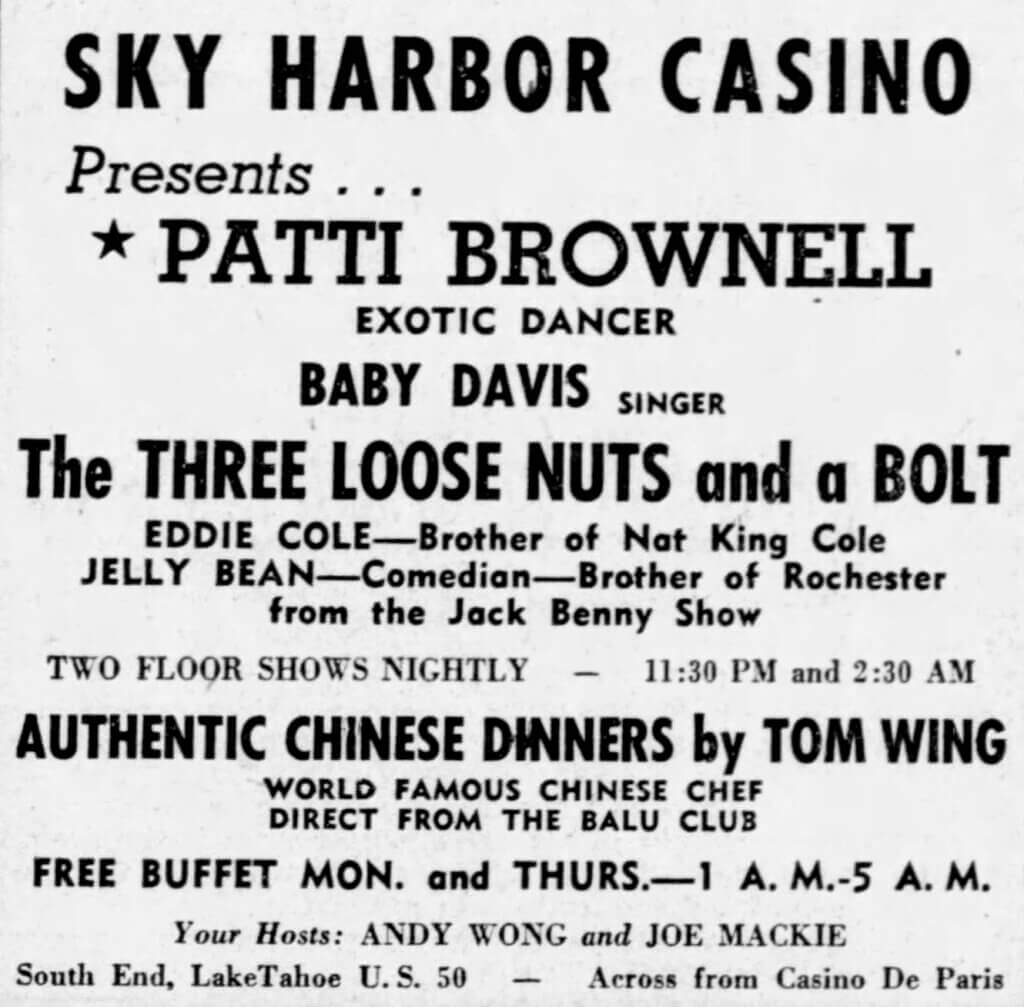 The casino featured big name entertainment, including the likes of Nat King Cole. High rollers did indeed
"fly-in," staying at Sky Harbor as well as other nearby Stateline, Nevada casinos.
But the landing strip was plagued with problems, including several plane crashes…some resulting in
fatalities. Despite its 5,000 length, tall trees made visibility difficult, and the landing strip was considered
too steep. High winds and a sharp descent added to the airport's challenges.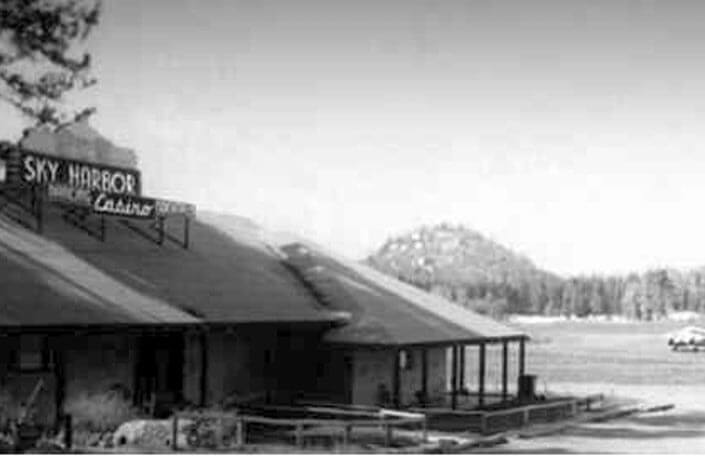 The airport was short lived, closing in 1950 due to safety concerns. Lake Tahoe was once again without
an airport, until a runway was opened at the current airport site in 1958. The Sky Harbor Casino closed
just a few years after the landing strip's closure.
In 1978, a casino developer bought the property and initiated plans to build another casino, "Ted
Jennings Palace." Foundations were even laid before the U.S. Forest Service stepped in, purchased the
property and work on the casino stopped.
Today, the area is one of the best natural areas in the Stateline area, with several miles of scenic trails.
The Lam Watah Nature Trail system offers visitors to Tahoe South a pleasant stroll along lush meadows,
beaver ponds, a magnificent Jeffrey Pine Forest, and access to Nevada Beach. To get to the trailhead,
drive north on US Hwy 50 2/10 th of a mile to the traffic light at Kahle Dr. Turn left and then immediately
turn right into the trailhead parking.