There is a lot of interesting history to be found at Lake Tahoe. Whether it's the Pope, Baldwin and Valhalla Estates of the Tallac Historic Site, or the millionaire who built an enormous summer home just up the road, there are as many interesting stories as there are grand old mansions.
Perhaps the most visible out of all of these is Vikingsholm, located at the base of Eagle Falls in Emerald Bay. Built by a possibly eccentric millionairess, this estate is popular by dint of its scenic locale. Lora M. Knight wanted to recreate a traditional Scandinavian home at Lake Tahoe and spared no expense in doing so. Built in 1928 or so, it's a unique looking mansion with an equally unique story behind it (and the crumbling teahouse on nearby Fannette Island).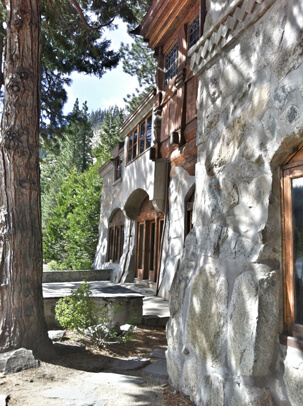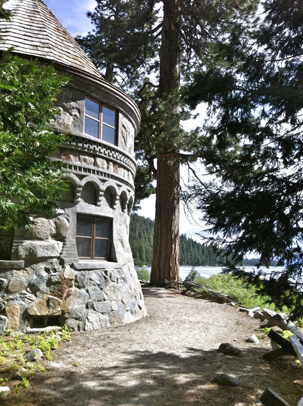 I'd walked around the outside, but despite a regular summer schedule of tours offered by California State Parks, I'd never been inside… until I attended Vikingsholm: Conversations with History, an event organized by the Sierra State Parks Foundation.  This unique event offers an evening of living history with one of its volunteers, Dr. Helen Smith, a woman who spent her childhood summers at the estate (and who also happened to be one of the first women to work for the California State Parks back in the day).  A few friends of mine agreed to come with me, and not only did we get an 'insiders' tour, replete with special rooms that aren't included on the 'regular' tour (which I'm not allowed to talk about here), but we got to hear Smith talk about what summers were like at Vikingsholm. Perhaps best of all, we got drive to and from the mansion on a special one-lane road with amazing views of Emerald Bay that's closed to the public.  Oh, and there was wine and cheese in the courtyard of the estate afterwards, with the backdrop of Desolation Wilderness behind us.  This year a signed copy of Smith's book "Vikingsholm" is also included.
I have to say, it was an awesome way to learn something more about Emerald Bay history. And help a local icon that could always use more support.
If you're interested in learning what summers on Lake Tahoe were like back in the 1930s and 40s, go behind the scenes at Vikingsholm and enjoy wine and hors d'oeuvres in the courtyard as the sun sets –  July 24, 2019.
While you're at it, be sure to check out Sierra State Parks other cool events, including full moon kayak tours, and my favorite, Tales and Trails Festival.
Check out Vikingsholm on Instagram: