On the Heller Estate in South Lake Tahoe you'll find the Valhalla Grand Hall. It was a place for entertaining the rich and famous in the early 1900s. It luckily has been preserved and continues to be a great place for public parties.
Different types of arts and cultural events take place at Valhalla, but my favorite uses of the space are the large dinners and meetings like the Twelfth Annual Lake Tahoe Summit. They also host fun events like murder mystery dinners and renaissance costume parties, and of course weddings!
Those are my favorite.
My husband Jason and I were married there 13 years ago, so of course it holds a very special place in my heart.
The wedding was on a beautiful Thursday afternoon in June. We had 80 guests from all over the country for a week-long stay in South Lake Tahoe.
Our ceremony took place inside Valhalla with the large French doors leading guests to the outside and the large stone fireplace as the back drop. I grew up in a log home that my dad built, with a huge stone fire place similar to Valhalla's. Because of these similarities, it was love at first site; I knew immediately this was the perfect place for our Tahoe wedding.
The mantle was decorated with lavender and ivory candles and large bouquets of tall purple lupine flowers that my aunts picked the morning of the wedding. Lupine is a native Tahoe wild flower that grows in the spring and just so happens to be my favorite color!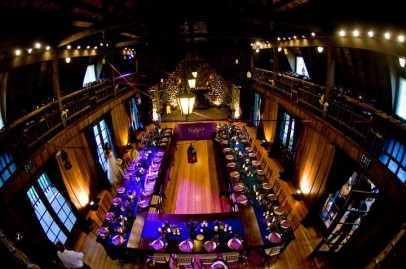 The great thing about Valhalla is it can accommodate both the ceremony and dinner reception in the same large room. As the guests walk around the property for a cocktail reception after the ceremony, the coordinators and the catering staff resets the room for the dinner and dancing – the turn-around is impressive. I've seen this done in less than 15 minutes!
The grounds around the Grand Hall are beautiful – a large lawn area with towering pine trees, a beach to walk along and new pier extending into Lake Tahoe.
Were you married at Valhalla? I'd love to hear your story!
Related Articles: