South Shore Water Shuttle
The South Shore Water Taxi departs from Camp Richardson Marina, Round Hill Pines Marina, Lakeside Marina and Timber Cove Marina. It's also a great way to avoid traffic!
The South Shore Water Taxi begins at Lakeside Marina at 10:00 am and concludes every day at Lakeside Marina at approximately 5:50 pm.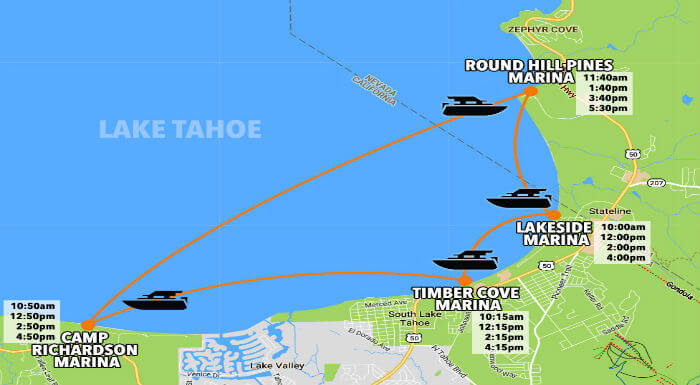 Location & Departure Times:
Lakeside Marina 10:00am – 12:00pm – 2:00pm – 4:00pm
Timber Cove Marina 10:15am – 12:15pm – 2:15pm – 4:15pm
Camp Richardson Marina 10:50am – 12:50pm – 2:50pm – 4:50pm
Round Hill Pines Marina 11:40am – 1:40pm – 3:40pm – 5:30pm
Please arrive 20 minutes prior to departure. Operation subject to weather.
Rates:
Adults: $15/one way, $25/round trip
Children (12 & under): $10/one way, $15/round trip
Bikes transported for no extra charge!
South Shore Water Shuttle
Camp Richardson Marina to Round Hill Pines Resort/Marina and Back, South Lake Tahoe, CA 96150