Combine A Hike With Some Friendly Competition… 4 Disc Golf Courses To Check Out In Lake Tahoe
Lake Tahoe is very fortunate that as its winter snows recede, the temperatures soar in the spring, summer, and fall months to near-perfect levels for ANY type of outdoor activity. From world-class singletrack bike trails to miles of beaches, the list of adventures during this time of year is almost endless. One that's a bit off the radar but well worth a "look-sy" if you're in Lake Tahoe is disc golf. Combining a hike with a bit of friendly competition, these four disc golf courses in Lake Tahoe will leave a lasting impression on your time here.
What is Disc Golf?
Before we jump into the courses, let's give a little run-down on the sport of disc golf. It's played much like traditional golf in terms of rules, scoring, and etiquette. Where it differs a bit is by throwing specialized discs from the tee box and eventually aiming into a chain-catching metal basket. Another great aspect of the sport is it's relatively cheap. Once you pick up a set of discs for around 40 bucks, you can play at any of the courses in Lake Tahoe for FREE.
Bijou Community Park
For 1st timers or those that don't have a lot of time, we recommend venturing over to Bijou Community Park. Centrally located off of Al Tahoe Boulevard, it features a playground, vast bike park, dog park, skate park, and a 27-hole disc golf course. Overall, the course is mostly flat with a few elevation changes as it winds its way through meadows and pine trees. For beginners, the first nine are a perfect option since they're a bit shorter, helping to build confidence. The last eighteen are more of a challenge.
Zephyr Cove Park
On the other side of town, just a few minutes past the casino corridor is Zephyr Cove Park. This eighteen-hole course starts under a canopy of pines and slowly ascends up a massive hillside. Around the seventh hole, the forest begins to give way to manzanita vegetation, adding a bit more challenge to find your thrown discs. Be sure to persevere because the next set of holes, especially eleventh's tee box, offer some of the most majestic views you'll find on a disc golf course. Due to its steep rolling terrain, after a round you'll feel like you accomplished not just a game of disc golf but a hiking adventure to boot.
Tahoe Paradise Disc Golf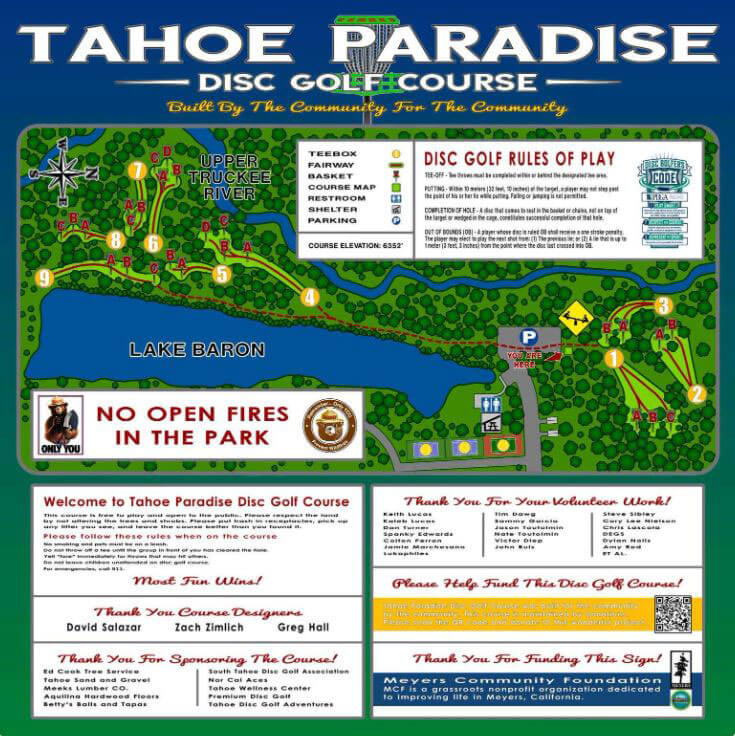 New disc golf opened at Tahoe Paradise Park, July 2021.
Kirkwood Mountain Resort
Typically, skiers and snowboarders haunt this powder mecca. But in the summer, just below the Timber Creek Express, experienced disc golfers attempt their skills on this unique high elevation course. Considered one of most challenging courses in the West, it weaves its way through mountainous terrain, meadows, and even a few creeks. Truly an expedition, this course isn't for beginners or those that aren't in good physical condition. A normal round can take up to THREE hours, so be prepared.
Turtle Rock Campground
While Kirkwood's course is in the high alpine, the Turtle Rock course just outside of Markleeville is on the cusp of a high desert/alpine environment. Offering up a mix of widely spaced ponderosas, boulder fields, and lots of manzanita bushes, after Kirkwood, this course is the second most challenging. The layout is well organized and includes multiple par 4s and 5s to test the length of your drives. And after the long hike, you can finish it off with a dip at the Grover Hot Springs. Talk about a perfect day out in the mountains!
If you're looking for a different adventure that doesn't cost a lot, includes some exercise, and a bit of competition, look no further than disc golf in Lake Tahoe. We guarantee you'll have a blast!
Disc Golf Tips & History from Local Freshies
Check out Disc Golf Tahoe on Instagram