by Amy & Kieron
When the average traveler thinks of visiting California in summer, South Lake Tahoe generally isn't one of the first destinations considered. After our recent experiences though, we definitely think it should be up there with San Francisco, Los Angeles and Hollywood as a must-visit.
On Day 1 of our Road Trip we stayed at the MontBleu Resort Pool Party until the early hours of the morning which made getting up for a day full of activities on Day 2 quite the challenge. However, South Lake Tahoe had turned on some beautiful weather for us and with several adventures on the lake awaiting our arrival; we quickly got ready and jumped in our car to get the day started.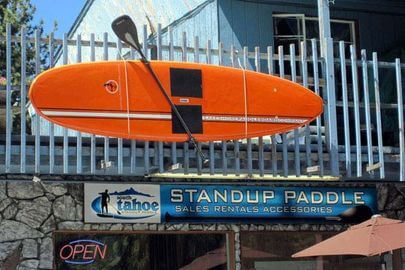 The first item on our schedule was stand-up paddleboarding with South Tahoe Standup Paddle. Despite our late arrival to the shop, they were totally flexible and didn't have a problem with us taking the boards out a little later than first intended. All we needed to do was wait for the owner Chris to get back from the beach!
While we waited for Chris to return, Michelle gave us plenty of great advice for the rest of our journey around the United States. It's always great to meet a fellow traveler, particularly one who's been to all but two of the US states!
Once Chris got back, he loaded up our paddleboards onto a 1959 Ford Truck (very cool!) and drove us to the nearby Regan Beach. After a quick mini-lesson on the beach, we were let loose onto the stunning crystal clear waters of Lake Tahoe and it didn't take very long to get the hang of stand-up paddleboarding.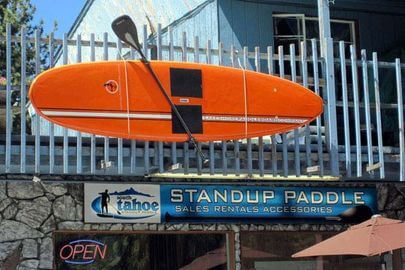 After experiencing stand-up paddleboarding for the first time, it's simple to see why it is the fastest growing water sport in the world. It's fun, it's easy and you don't even need to get wet! This is as close as you're going to get to walking on water so if you have the chance to try out stand-up paddleboarding, go for it – you'll have a fantastic time!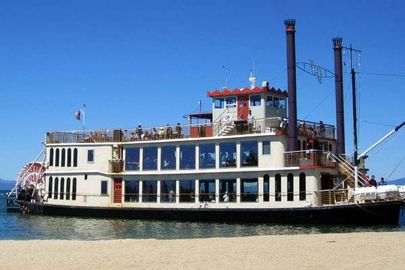 After a quick lunch the next thing on our to-do list was a daytime scenic cruise of Emerald Bay on-board the Tahoe Queen, Tahoe's only authentic Mississippi paddle wheeler. For those who haven't heard of it, Emerald Bay is a flooded glacial valley that was carved during the Ice Age and was designated as a National Natural Landmark in 1969. According to reports, it is the second most photographed location in North America.
So rather than keep talking about it, here are our best photos from the 2.5 hour cruise: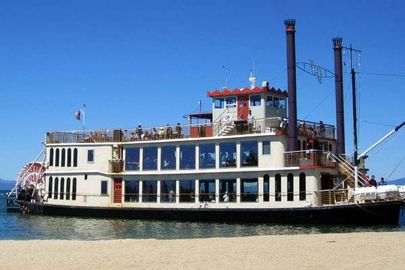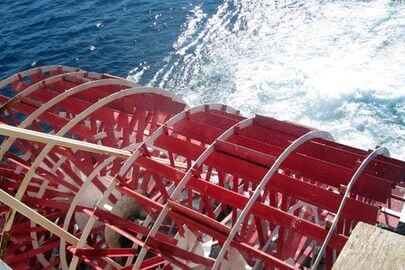 As you can see, the photo opportunities on-board the Tahoe Queen were indeed fabulous and "magazine-worthy" as promised.
But if you're looking to do a boat cruise while in Lake Tahoe, we would recommend the Sierra Sunset Dinner Dance Cruise. It only costs slightly more and you'll get to see a Lake Tahoe sunset, enjoy local cuisine and listen to live music. The next time we return to Lake Tahoe, this is one of the things we will be sure to include in our itinerary.
We're currently road tripping through California thanks to the generous help of Fox Rent A Car. Our time in South Lake Tahoe was made possible by the Lake Tahoe Visitors Authority, MontBleu Resort Casino & Spa, South Tahoe Standup Paddle and Lake Tahoe Cruises. As always, all thoughts and opinions are our own.