Before setting off for a bicycle or hiking adventure around Lake Tahoe's Emerald Bay, there's a stop we like to make to get our fill of fuel and nourishment before the big day ahead.
Located right on Highway 89 and open daily, The General Store and Deli at Camp Richardson Historic Resort and Marina is known for its hearty breakfast choices. This rustic all-purpose store is convenient and has everything we need to fill our backpacks, including delicious made-to-order deli sandwiches, wraps, fresh fruits, bottled water and power drinks we'll need for the hike or ride.
The resort's Coffee & Confectionary Shop, located across the highway from the General Store, features gourmet coffee and espresso drinks, pastries and bagels from locals' favorite "Don the baker," and fresh smoothies like the "Bad Monkey." They also have pizza by the slice with a choice of toppings and fresh squeezed lemonade to satisfy summertime thirst.
Next door, the Mountain Sports Center, with one of the lake's largest selection of bikes for rent, provides the most up-to-date information on where to ride or hike with a selection of maps, guidebooks and bike accessories. A bike mechanic is available for all manners of repairs, from flat tires to tune-ups.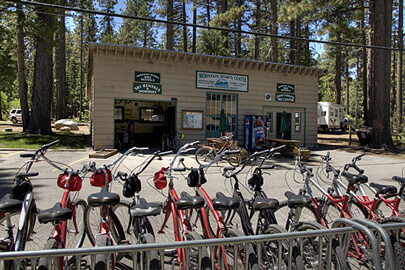 Rounding out this oasis is the resort's old fashioned Ice Cream Parlor with its 16 flavors of hand-dipped ice cream, milk shakes, waffle cones, root beer floats and daily specials. There's usually a line on busy weekends, but the generous scoops and friendly staff make it worth the wait.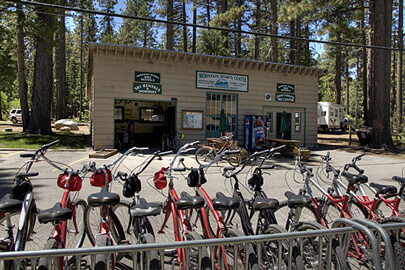 Waiting for us on our return, the General Store has a good selection of local wines, beer and refreshments as well as basic grocery items. The General Store is also equipped with an ATM machine and Wi-Fi for those last minute emails before our adventures begin or to catch up afterward.

Camp Richardson, a historic Lake Tahoe landmark, has been providing vacations and memories for generations. The resort offers lodging options from lakeside cabins to a two-story hotel featuring 26 lodge rooms decorated with Old Tahoe charm. Alongside Valhalla, it is a venue for entertainment, festivals, jazz concerts, cultural events and popular for outdoor recreation – hiking, mountain biking, boating and swimming.