The passion for enjoying a burger with a beer rages year-round in South Lake Tahoe, and the combo feels especially right this time of year. Although you may have heard that one particular place has the "best burgers in town…", you must remember that oftentimes in life, the most important discoveries are the ones you make yourself. Let this article be your invitation to go burger-hopping in this beautiful city, and allow yourself to take part in self-discovery by way of burgers and beer – a South Lake Tahoe philosophy that only the hungry and thirsty will begin to understand. Use this article as a general guide on your path to burger & beer enlightenment.
Izzy's Burger Spa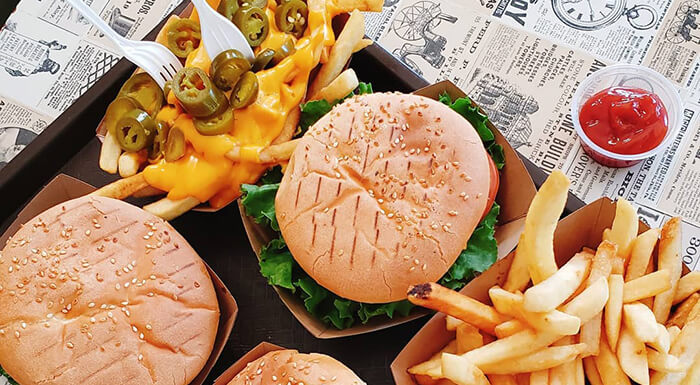 When you ask a longtime resident or visitor where to get a burger, many will point you to Izzy's – and rightly so. Izzy's may be the most iconic burger joint in South Lake Tahoe. With a roadside location, a chimney pumping out steam, and a patio-style dining area, Izzy's unique style has made it the benchmark of burgers in town since 1982. They do things the old fashion way, charbroiling their burgers while using fresh, hand-prepared ingredients. And as for beer, they serve plenty of popular brands, which makes for the perfect compliment all year long.
California Burger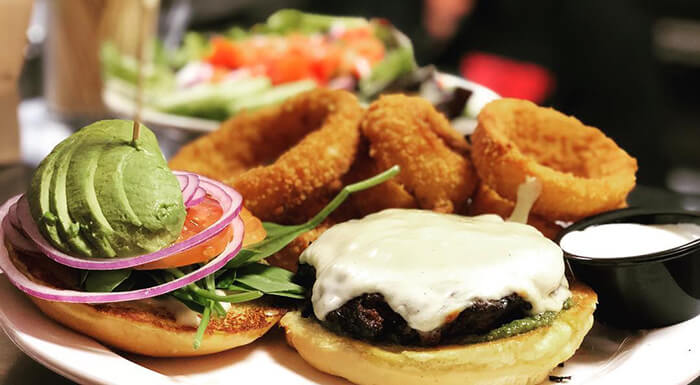 Find Flavor at Cali Burger Co.
For those feeling a bit more gourmet, look towards California Burger Co. in Heavenly Village. Their popular location is host to live music, a kitchen, and a bar that is open later than most in South Tahoe. Sit down next to an outdoor firepit, order a beer, listen to live music, and after a moment of deciding, order the Californian burger. This has a top-notch design, topped with avocado, tomato, spinach, red onion, California jack cheese, pesto, and their house-made garlic aioli. For vegetarians that still want the joy of a burger, they offer the Pretender, a chipotle black bean burger. Their big selection of local beer will serve as a refreshing break between bites.
Burger Lounge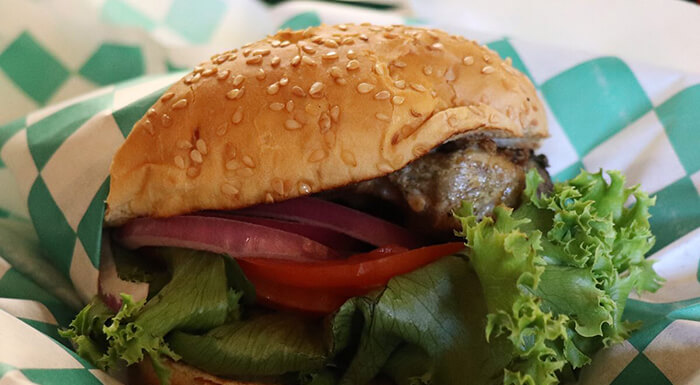 From Emerald Bay to the Burger Lounge
A visit to South Lake Tahoe often involves a trip to Emerald Bay. On your way to hike, bike, and further explore scenic views, you will pass the unassuming Burger Lounge. This somewhat hidden gem is not for the indecisive, as their diverse menu carries thirty (yes 3-0!) different options for hamburgers, as well as a wide selection of beers (and shakes!) to choose from. And for non-meat eaters, the Michael-Angelo burger is a veggie patty served with basil pesto, mozzarella, and grilled onions on a grilled wheat bun. If you're having trouble deciding and are intimidated by the large selection: take a breath, trust your gut, and remember that every order at the Burger Lounge is a good order.
Lucky Beaver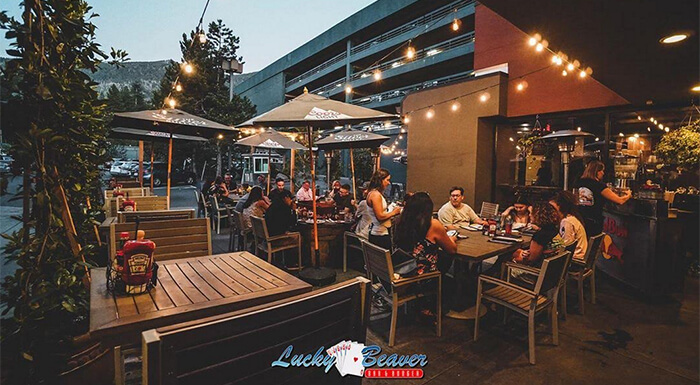 Impressive Options at Lucky Beaver
After a long night at a concert, playing blackjack, or wherever you've found your after-hours happy place, there's nowhere better to go to satisfy your late-night food craving than Lucky Beaver. Located between the casinos, Lucky Beaver's 24-hour kitchen and staff truly serve the city's hungry & thirsty masses. Don't let the long hours deter you, they serve a fantastic hamburger. In fact, the first thing you'll notice stepping into the restaurant is the rotating grill flame-broiling scrumptious patties to order. Their steakburger patties are a combination of short rib and chuck roast, coming right off the bone and chopped to make a perfect combination. Before your food arrives, make sure to head to the bar and grab your favorite drink. This local favorite has a late-night atmosphere worth experiencing, and a menu worth experimenting with.
Big Daddy's Burgers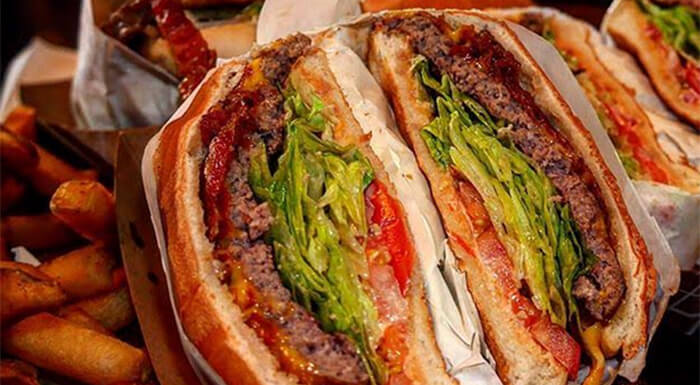 Keeping it Simple at Big Daddy's
If you're in a hurry and looking for a great tasting burger, Big Daddy's is the place to go! It's an old-school burger joint with some of the most affordable prices in the region, and a few beers on tap. Keep the order simple and pick up a fresh-to-order burger, a side of their seasoned fries, and a cold one. You'll be happy, full, and will still have a few bucks in your pocket.
---
South Lake Tahoe is home to so many great combinations. Sadly some of our favorite combos, like snow and hot cocoa, do not stay year-round. One combo, however, has stood the test of time. The pairing of a burger and a beer is reliable any month of the year here, dependable in any weather, and consistent in quality stemming from firm local roots. From gourmet to simple, and draft to bottle, your burger and beer needs will be met in one form or fashion on the South Shore 🙂
Check out Tahoe Burger Joints on Instagram