Originally Published in Successful Meetings Magazine by Maya Dollarhide | October 04, 2016. Full article can be found here.
This stunning destination is seeing a wealth of new meetings developments
The best thing to enjoy about the Reno-Lake Tahoe area is the grandeur of its natural diversity, from the peaks of the Sierra Nevadas down to the dozens of beaches along Lake Tahoe's famously blue waters. Big business is making its mark too, as Reno is garnering attention as a high-tech frontier, thanks to companies like Microsoft, Amazon, and Tesla's newly planned 13.6 million-square-foot Gigafactory battery manufacturing facility, just 30 minutes from downtown Reno. Not to mention the expansion of the drone industry also making forays into the area.
"There's a vibrant intensity of change happening in the downtown and surrounding areas," says John Leinen, vice president of convention and tourism sales for the Reno-Sparks Convention and Visitors Authority (RSCVA). "Fueled by the rapid economic development created by Tesla, Amazon, Switch, and others, 50,000 new jobs and 65,000 new residents are projected for the region by 2020."
All of this growth is great news for the already robust meetings industry in the area. "This is important for planners because these developments are enhancing an already great meetings destination," Leinen says.
Finding lodging for a meeting or event is easy in Reno thanks to the more than 20,000 rooms available in places like the Peppermill Resort Spa Casino, Atlantis Casino Resort, Grand Sierra Resort, and Whitney Peak, a charming boutique hotel in the city center. Reno boasts of average costs being 30 percent less than in competing destinations.
In addition to the well-known Reno-Sparks Convention Center, the Nevada Museum of Art recently unveiled a $6.2 million renovation (complete with views of the Sierra Nevada Mountains) to its rooftop event and meeting spaces. The museum's Nightingale Sky Room is 4,800 square feet and there is an additional 5,000-square-foot area named the Stacie Mathewson Sky Plaza with an on-site kitchen to feed up to 400 guests.
Foodies don't need to fear mealtimes in Reno — there is a wide range of dining options, from western-style steakhouses to devotees of the local-food movement. Try Sassafrass, in nearby Carson City, for an eclectic menu made up of whole foods and beverages from local farms, wineries, bakeries, and coffee roasters. Beer drinkers can indulge in a site visit to one of Reno's two dozen craft breweries.
With air service capacity up by 14 percent since 2014 and new, nonstop service on the rise, Reno is reachable in just a few hours from major U.S. cities. "This is a great time to bring meetings to northern Nevada, and it's only going to get better," says Leinen.
South Lake Tahoe
Lake Tahoe continues its $500 million revitalization with a range of new retail space and restaurants, plus new and renovated accommodations. Tahoe Lakeshore Lodge & Spa should appeal to those seeking an untraditional approach to a work-related retreat.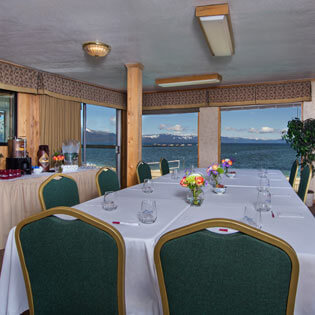 "South Lake Tahoe offers the ultimate opportunity for finding meeting locations that take attendees outside the traditional meeting room where they can incorporate teambuilding, re-energizing, reconnecting, and establishing more of an 'un-meeting' environment," says Lisa Gallup, director of sales and marketing at Tahoe Lakeshore Lodge & Spa. The 73-room Lodge & Spa offers meeting spaces for groups of 30 or fewer, making it ideal for board meetings and retreats. "We provide an exclusive setting and great opportunity for intimate retreats up to larger buy-out options."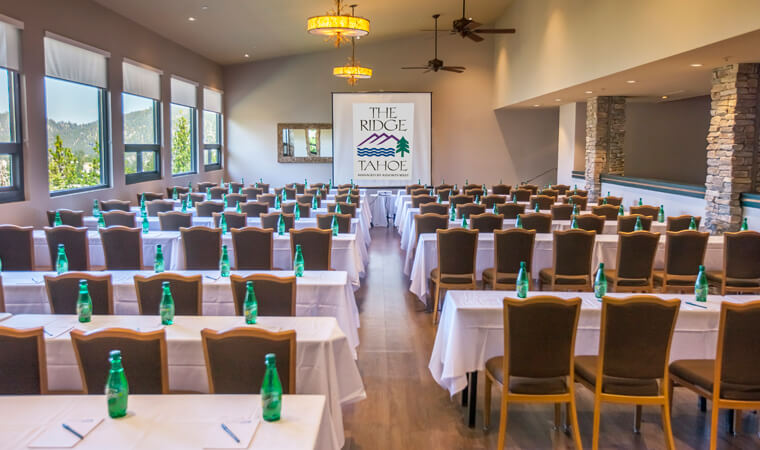 The recently renovated, 3,700-square-foot Castle Rock Event Space at Ridge Tahoe Resort is another choice location for groups. The resort, home to picturesque views of the Sierra Nevada range, reports that there are many prime dates still available for 2016 and 2017. Castle Rock provides on-property teambuilding activities including hikes, snowshoe trips, and scavenger hunts, plus direct access to Heavenly Ski Resort.
"Tahoe is truly a perfect year-round location for meetings and groups," says Gallup. "The local resources we can offer groups that exist right in our backyard continue to grow each year."