For any of you dog lovers who are interested in coming up to Tahoe but are afraid that you may have to leave your furry four-legged canine behind, look no further because Tahoe is indeed a dog loving town! Tahoe has beaches, restaurants, and dog friendly hotels to stay the night, making sure you and your pal have a good time. Here's some information on different activities and destinations you and your dog will enjoy.
Dog Friendly Hotels in Lake Tahoe
For many people visiting with dogs, it can be hard to stay overnight, especially if you don't know whether or not there are dog-friendly hotels. Here are at least 2 hotels that are dog-friendly and located in great spots in town. View more pet friendly hotels in South Lake Tahoe, here. 
Heavenly Inn
(Located at 930 Park Ave, South Lake Tahoe) Heavenly Inn is a great location for you and your furry pal. Heavenly Inn includes free wifi, extra space within the rooms, fireplaces, and jet pools. Only 4 blocks away from the Marriott while having access to nearby beaches it is a great choice to choose as a place to stay.
The Landing
(Located at 4104 Lakeshore Blvd) The Landing is a dog-friendly hotel that is 2.5 miles away from Heavenly Village while also being up against the waterfront giving you perfect views of the lake and mountains. The Landing includes free wifi, outdoor pool and hot tub, a spa and more exciting features for your family to enjoy.
Dog Beaches in Lake Tahoe
When visiting Tahoe, the lake is usually if not, the most popular spot people visiting want to see. With so much lake and public beaches for our visitors, there are also beaches designed specifically to let your dog roam around and splash in the water.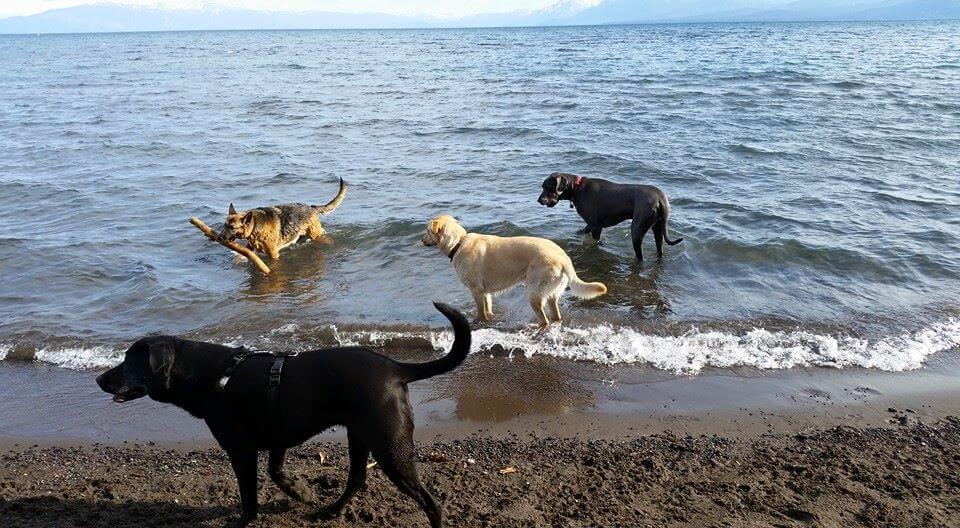 Kiva Beach
Kiva beach is located on Highway 89 just in between Taylor Creek (Rainbow Trail) and Tallac Historic Sites.This beach specifically is a dog-friendly beach so you can feel free and let your dog have fun and enjoy the nice waters of Lake Tahoe.
Regan Beach
Regan beach is a lovely park with a beach area that has been divided up so dogs/people can equally enjoy themselves. With lots of sand area for dogs to have fun, the water is shallow that small dogs would really like.
Dog Friendly Restaurants in Lake Tahoe
Trying to find a restaurant in a place you've never been too can be difficult, now add having a dog to bring along with you. Tahoe is great at making sure people of all needs are being met, including dog-friendly restaurants. Here are a few restaurants that are dog-friendly.
Sprouts
Sprouts (located at 3123 Harrison Ave, South Lake Tahoe) is a healthy food cafe that prepares smoothies, wraps, soups and more. Sprouts provide an outdoor seating where people with pets can sit and dine together. Sprouts also have vegetarian selections for anyone who is looking for veggie options. (8AM-9PM)
Big Daddy's
Big Daddy's (located at 3490 Lake Tahoe Blvd, South Lake Tahoe) is a burger place here in the south shore. Their selection of food includes burgers, fries, draft beer etc. Big Daddy's also provides an outdoor seating for any doggies who join their owner for a meal. (HOURS 11AM-9PM)
The Brewery
Brewery (located at 3542 Lake Tahoe Blvd.South Lake Tahoe) is a brewery with foods that include pizza, burgers, salads etc. The Brewery has an outdoor seating with umbrella tops. (Hours 11AM-10PM)