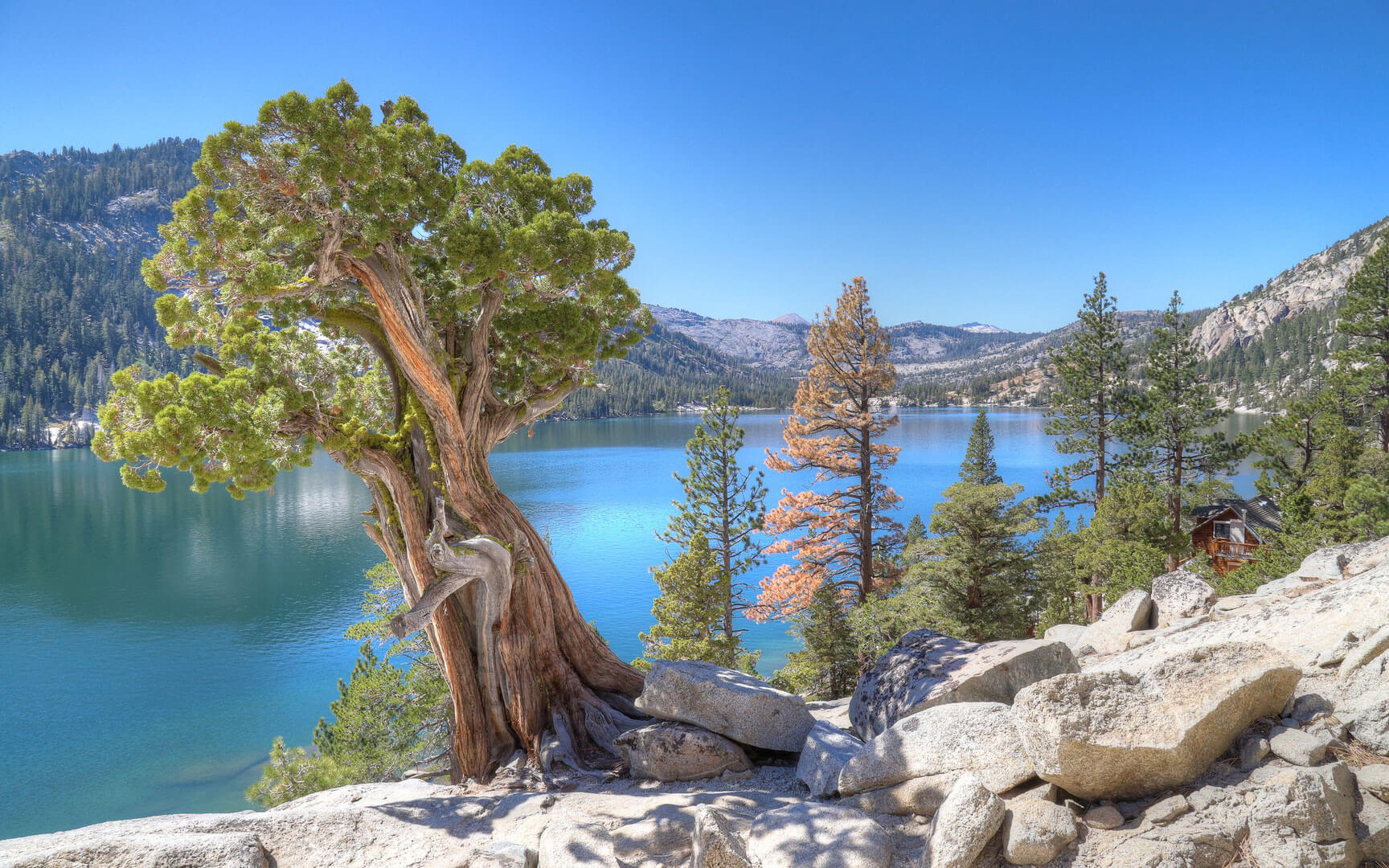 The Echo Lakes hike follows the Pacific Crest Trail along the lakes' northern edge. The moderate difficulty of the trail combined with the views it provides of the lakes and other destinations within day hiking distance along the PCT ensures that it is a year-round destination for many.
The trail begins across the street from a parking area slightly before reaching Echo Chalet, a seasonal lodge offering cabin rentals and a small store at the edge of lower Echo Lake. Hikers must fill out a free permit before embarking on their hike, which can be done at a sign near the trailhead. From here the trail gains slightly in elevation before maintaining its path just uphill from the edge of the lakes. Those wanting to swim will have to veer down a steep slope and make their own way to the water.
The trail passes through a wind-sculpted landscape of trees and stone, and portions of the trail are carved straight out of the granite boulders lodged into the mountainside.
Several cabins – accessible only by boat! – mark the lake edge and views of the long narrow lake surrounded by the textured peaks of Desolation Wilderness become increasingly incredible as you hike on.
At about 2.25 miles in, a signed trail splits off and descends to a boat dock. As well as marking one of the few areas where the trail reaches the water, this spot makes for a great place to swim and acts as a pick-up point for the seasonally-operating water-taxi from Echo Chalet. As such, tired hikers can opt to pay for the boat ride back to the trailhead, or they can plan a hike deeper into Desolation Wilderness using the water-taxi option to shave off some distance.
The shores around this far end of Echo Lake can make for some great swimming or lounging. From here hikers can turn around and retrace their route to the trailhead.
Vault toilets, water, and a store that is open during the summer season are all available at Echo Chalet. For water-taxi info, call 530.659.7207. Originally posted on www.outdoorproject.com/adventures/california/hikes/echo-lakes-trail
Difficulty: Moderate
Elevation: 7,420'/8,430′
Mileage (one-way):2½ miles to NW corner of Upper Echo, 4 miles to Tamarack, 5 miles to Lucille and Margery, 5 miles to Lake of the Woods, 6 miles to Aloha
Echo Lakes Trail on TripAdvisor
Echo Lakes
1 Echo Lakes Rd, Echo Lake, CA 95721