'The Bite' is on at Lake Tahoe, no fish tales necessary. People are often surprised at not only the amount, but the size of the fish in this lake. While there are some remarkably large fish down there, knowing where to find them and how to tempt them is the hard part.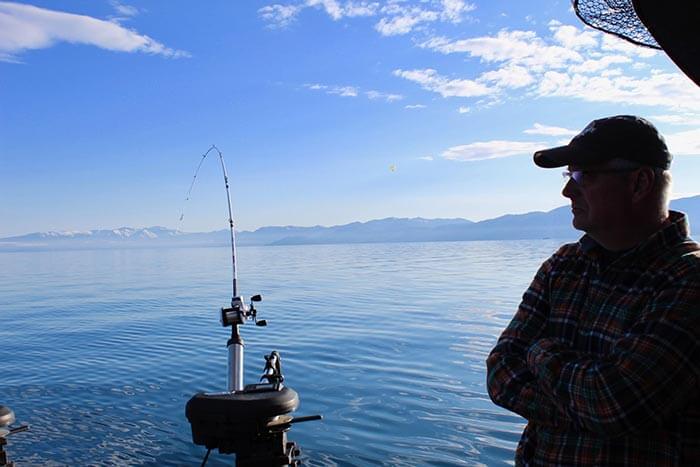 I'm not picky, heck I'll take a five pounder, but I've been eager to pull up an esteemed monster Mackinaw ever since I first saw how massive they can get. I recently headed out to try my luck with Mile High Fishing Charters and our guide Justin was impressively knowledgeable and strategic in his approach to say the least. These guys really know what they're doing, studying the fish patterns daily and how they change with the seasons and temperature. Justin said he goes out everyday regardless of bookings, but in seven years of trips has only been skunked less than a handful of times.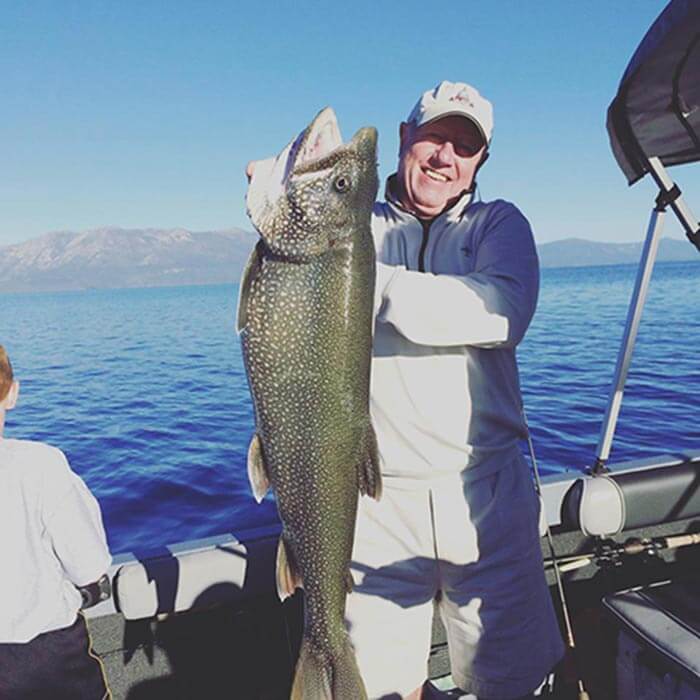 In most areas of South Lake Tahoe you can sling the cast of your life and still only be in 7 ft. of water. Getting a better grasp of Tahoe's contours and depths helps tremendously. Justin was even willing to share some 'secret' spots with me, including one underwater ledge just off the shore of my neighborhood that I never would have known about otherwise.
He brought up many good points and strategies to get fish on the boat, but I can't be sharing all the secrets. The fish are not as dumb as many people think, you have to imagine that they've probably seen all the lures and tricks in the book multiple times. It's not as simple as dragging your line in front of their face. With the nice boat and gear provided through the charter we were able to try minnows, some larger lures, a few different things at a few different depths, all at once.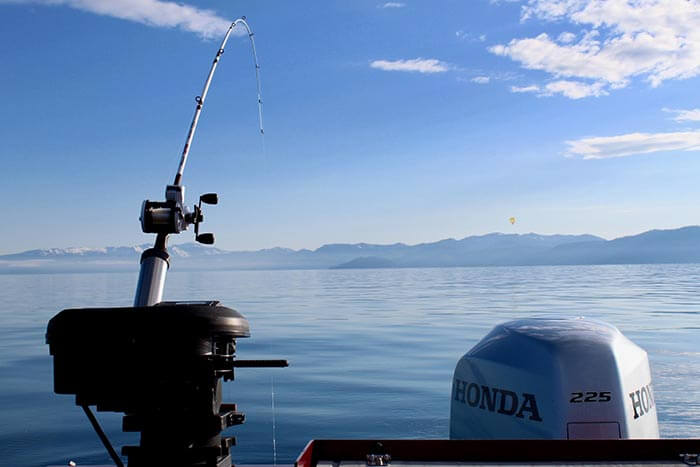 We were scheduled for a Public Shared Charter but were fortunate to have the whole boat to ourselves. My father was in town and this was the perfect way to hang out and take in all of Lake Tahoe, not to mention a favorite pastime. If you're looking for an outing with family, friends, or just something new, I can't say enough good things about this experience. Beginners, amateurs, even the most skilled anglers, it doesn't matter. These guys will land you a fish, teach you useful tips and talk you through the how and why they're advising certain techniques. It really helps to be in such great company.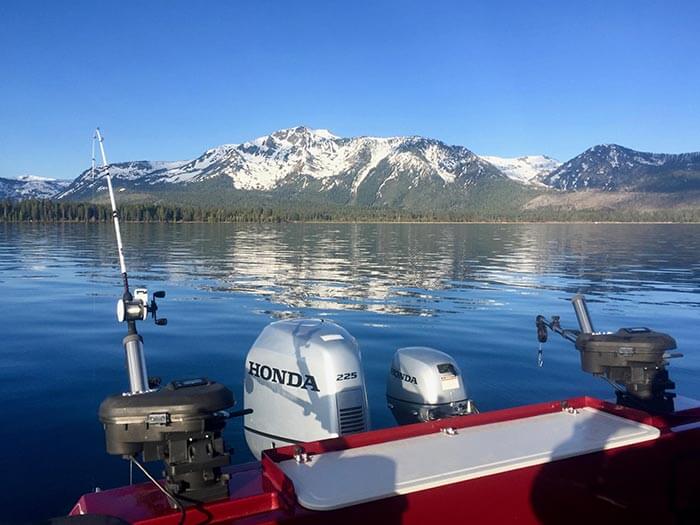 It's never all about what you catch, I'm happy just being out there. Sitting on a nice boat with the early morning light, lake is calm, like glass reflecting the magnificent Mt. Tallac. Bring your camera and capture the early peace and serenity of Lake Tahoe. We were lucky and watched Lake Tahoe Balloons launch right next to us, fly over and float around in the distance. Hard to beat, it may be the best way to start (or continue) a great day in South Lake Tahoe. Definitely the most fun at 6am I've had in a while.
That rush when it hits your line and you're finally reeling one is what it's all about, the trick is actually keeping the line tight enough to stay hooked when they thrash around. It was so reassuring, I didn't care that it wasn't huge – as Justin put it "it won't be our biggest one but the most important one, the first." As fate would have it, each fish thereafter was bigger than the last.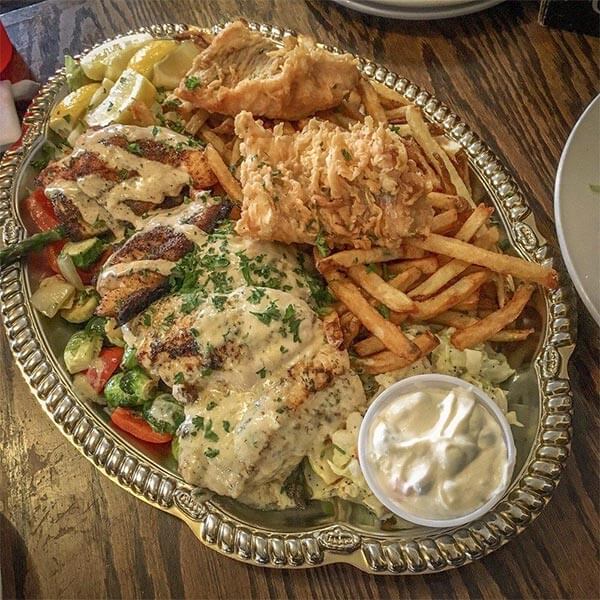 We caught and kept our limits and went to MacDuff's who prepared our fish cooked three ways – in creamy dill sauce, with blackened Cajun rub (personal favorite) and fried in a light crust. It was truly something special, it doesn't get more fresh than that. All I can say is wow and be sure to bring a large appetite. Our family was speechless when the platter came out.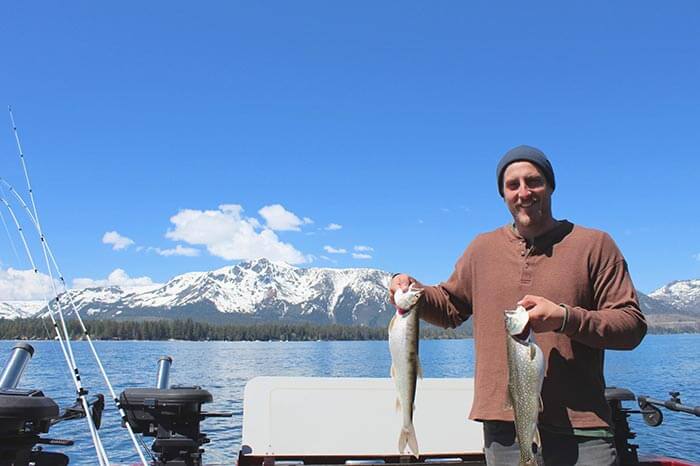 Although I didn't land the monster I had hoped to, the lines were tight all day and there will be plenty of more opportunities for that. The charter was exactly what we were looking for and then some, but heading back to the Keys he told us that it was a kind of 'slow' day compared to others. That thought had never crossed my mind, I was so stoked on the handful of lake trout we caught, I'd take that any day. I love my job, but as they say, a slow day of fishing still beats a good day in the office.
There are many options for Fishing Charters on Lake Tahoe, Please visit, visitlaketahoe.com/explore/fishing/ for more information.
Tahoe Sport Fishing
Nor-Cal Charters
Tahoe Topliners Sportfishing
Lake Tahoe Sportfishing
Alpine Fly Fishing
Tahoe Fishing Guides
Click here for information on fishing from the shore.
Check out Fishing Lake Tahoe on Instagram