This blog originally appeared as a guest post on skilaketahoe.com.
As I didn't learn to ski and snowboard until I was almost 30, I don't have early childhood memories of family trips to the local ski resort. My dad has stories, though — from the era before he had three kids — that as a child made me think he was a superhero. Now as an adult, I think it's amazing I am even here. How on earth did he survive? And why did my mom marry such a crazy guy?
I do have childhood memories of winter, however. I remember sledding the local hill and ice skating on the lake in the center of town. I remember making snowmen in the yard, and snowball fights with my brothers (until I lost the height advantage at age thirteen). I remember making igloos with my dad, and coming inside to mom's hot chocolate and dry clothes. I remember thawing out on the shag rug in front of the fireplace, thinking that life was amazing and I had a bonus day off school.
Bringing your kids on a winter vacation sounds to me like the Best. Thing. Ever.
If you're planning on visiting the resorts, it may be best to introduce the kids to snowsports through ski/ride school. This is a safety-first environment, packed with instructors who know how to bring the best out of their young charges (or at the very least, where to find hot chocolate and a stash of dry mittens).
Kirkwood Mountain Resort: With 2,300 acres of some of the most challenging terrain, Kirkwood takes special care to make sure the kids are all right. Kirkwood's Mini Rippers (ski) and Mini Groms (snowboard) programs are open to kids as young as three, and their Mountain Explorer and Groms programs are centered on 5-12 year olds.
Heavenly Mountain Resort: Centrally located in South Lake Tahoe, Heavenly offers spectacular views of the Lake, and easy access from a multitude of lodging properties. Heavenly kids ski school lessons are open to kids four years old ("Firecrackers") to 13 ("Rockets"), and snowboarding lessons start at five years old ("Blasters").
Sierra-at-Tahoe: Back when I first learned to snowboard, I was instructed to "Become one with my board," which may sound very helpful, but (surprise!) I didn't catch on right away. Now, if my instructor had told me to "Use the Force," I think I would have had more success. Sierra-at-Tahoe's Burton Star Wars ™Experience (ages 3-12) combines Burton technology with Jedi Master Yoda's teaching methods, and is adorably cute – packed with carved wookies, ewoks, and stormtroopers. And of course, Yoda.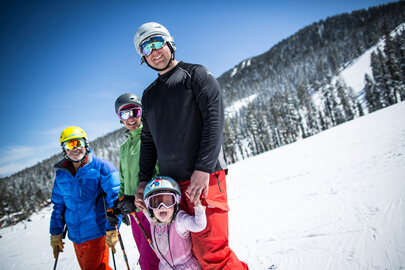 Please note: For all ski schools, reservations are usually required in advance, as spots fill up quickly (especially during peak season). Equipment rentals are usually included, but check with the individual resort just to be sure. Proper clothing is a necessity, and decent jackets, pants, gloves, hats, and socks are key – whether you have to rent, borrow or purchase the gear, it's worth it to make the experience last longer than it took to get there!
Don't forget, not all snow play comes with a lift ticket. Never underestimate the joys of:
Snowmen in the yard – not the neighbor's yard, they may have their own kids
Snow forts – complete with snowballs stockpiled for the neighbors
Ice skating – check out the ice rink at Heavenly Village or the South Lake Tahoe Recreation Complex. Lake Tahoe never completely freezes over, so I DO NOT recommend skating on the Lake.
Snowmobiling – Depending on their ages, kids are welcome to ride along with an adult at Zephyr Cove Resort and Lake Tahoe Adventures
Sledding – I recommend visiting a specific snow play area for safety, but at a minimum, keep off the roads.
Whatever you do this winter, remember to have fun! If you play your cards right, your kids will remember the time they spent with you more than anything else. And when they ask you how they got here one day, they may be talking about your early awkward attempts at a 720 McTwist, and not simply the birds and the bees.
What are some of your favorite winter childhood memories? Please share in the comments below!