So you're heading up to South Lake Tahoe, your goal: Camping in the great outdoors.
Whether you're set to go on an extended back country expedition in the High Sierra or plan to pitch a tent at a local campground, establishing a check list is key to making it an unforgettable experience.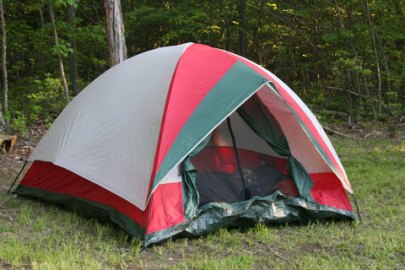 Here's a basic list for beginner campers:
1.    Tent and sleeping bags:
It goes without saying that if you don't have these, you might need to rethink your camping fortitude!  The tent and sleeping bag will provide the right kind of shelter to protect you from wind and wet weather, and also from the creepy crawlers that lurk around at night. Most tents come equipped with rain-flys which will keep you warmer. You'll also want to put down a tarp underneath the tent to protect you from the early morning cold and dew that swells from the ground. As far as sleeping bags go, your best bet is a bag designed for 15 degrees because as you know, the higher the elevation, the lower the temperature.  And using a pad or air mattress will afford a better night's sleep.
2.    Clothing layers:
Lake Tahoe and the High Sierra are known for many things, including shifts in the weather. One minute it can be sunny and 80 degrees, but by the time the sun goes down, the temperature can drop 40 degrees. It's always a good idea to pack plenty of extra layers of clothing sweaters, socks and waterproof jacket. You won't regret it.
3.    Headlamp and flashlights:
You never know how dark it really is until you're out in the middle of the woods without any city or traffic lights. Headlamps and flashlights can make the difference between wandering around camp and getting from point A to point B in one piece. Don't forget to pack along some extra batteries.
4.    Sunscreen and bug spray:
This is absolutely essential given that the sun's rays are more intense in the high altitude. Pick a sunscreen that offers 30 or more Sun Protection Factor (SPF). As for bug spray, I use anything with DEET and that does the trick. Luckily, in the Sierras we don't have to worry as much about pesky bugs, but there are certainly mosquitoes around smaller lakes in Desolation wilderness and throughout the basin.
5.    Bear Box:
Ask if your campground offers a bear box to keep your food safe while you're away or fast asleep.  Storing food in your car isn't the best idea either.
6.    Camera:
There's nothing quite like capturing a sunrise, sunset or Uncle Joe making a fool of himself around the campfire. While not necessary, a camera provides sentimental moments of your trip to share once you've returned home. I suggest a shock and waterproof style camera, especially while you're playing in the wilderness.
What are some of your camping tips, tools and tricks?