Tahoe Art League's Annual Artist Studio Tour
July 28
10:00 am - 5:00 pm

Mark your calendar for the much anticipated Tahoe Art League 16th Annual Artist Studio Tour, set for two weekends, Friday, Saturday, and Sunday, July 28, 29, and 30, and Friday, Saturday, Sunday, August 4, 5, and 6, 2023, 10:00 am – 5:00 pm.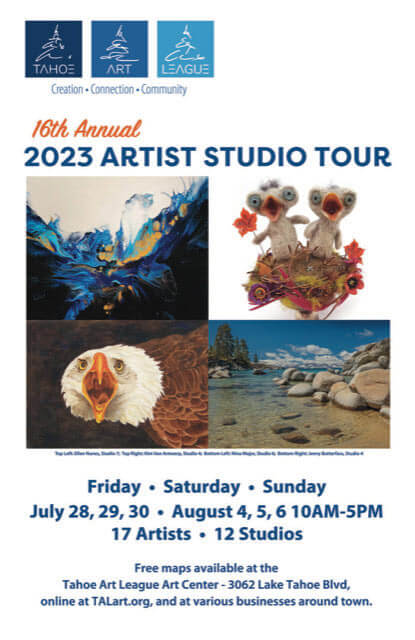 Welcome to the Land of Blue! The Art League of South Lake Tahoe welcomes you to our 16th annual artist studio tour. 12 incredible locations and 17 of our most precious and creative local artists invite you to visit and mingle with them in various locations as you take in the natural beauty that inspires some of the most wonderful art in all of the Sierras.
Do Not Miss This Exciting Annual Event! The Tahoe Art League's artist studio tour is an extraordinary self-guided art tour event that occurs each year on the last weekend of July and the first weekend in August. Explore and View the arts of Tahoe. This is event is NOT TO BE MISSED !
There are Numerous Locations To See! Visit with either individual artists or artist collectives showing their work and working spaces offering a unique glimpse into why we are the Premier Art Destination of Lake Tahoe.
These Artists Work in Diverse Media Inspired by Some of the Most Beautiful Natural Environs Including glass, photography, jewelry, painting, printmaking, ceramics, sculpture and drawing. Every space will surprise and delight you with something rich and different. Meet and mix with artists, watch and participate in demonstrations, and be sure to buy some of this beautiful art to add to your collection or to give the gift of art to those you love.
The art studios event is a self-guided tour that provides visitors and locals fabulous opportunities to learn first-hand from the artists what inspires their art, how it is made and where it is made. The art studios tour is a great opportunity to get out and experience art as it should be experienced. It is also a terrific chance to buy a gift and treat oneself to a special piece of art that will enliven your home, office, or, make a once in a lifetime gift.
Please visit the Tahoe Art League Gallery as a starting point for your studio tour. At the Gallery you will be able pick up your brochures which has the map and provides a preview to the tour by exhibiting works of many of these participating artists. The Gallery is located at 3062 South Lake Tahoe Blvd (Highway 50) Tel (530) 544 2313
You may also visit the Tahoe Art League Gallery online at – http://www.talart.org
Whether you are an artist yourself, an established or aspiring collector, or a tourist with a taste for finer things, there is something to be found for everyone in South Lake Tahoe.
Tahoe Art League Studio Tour Map (Download)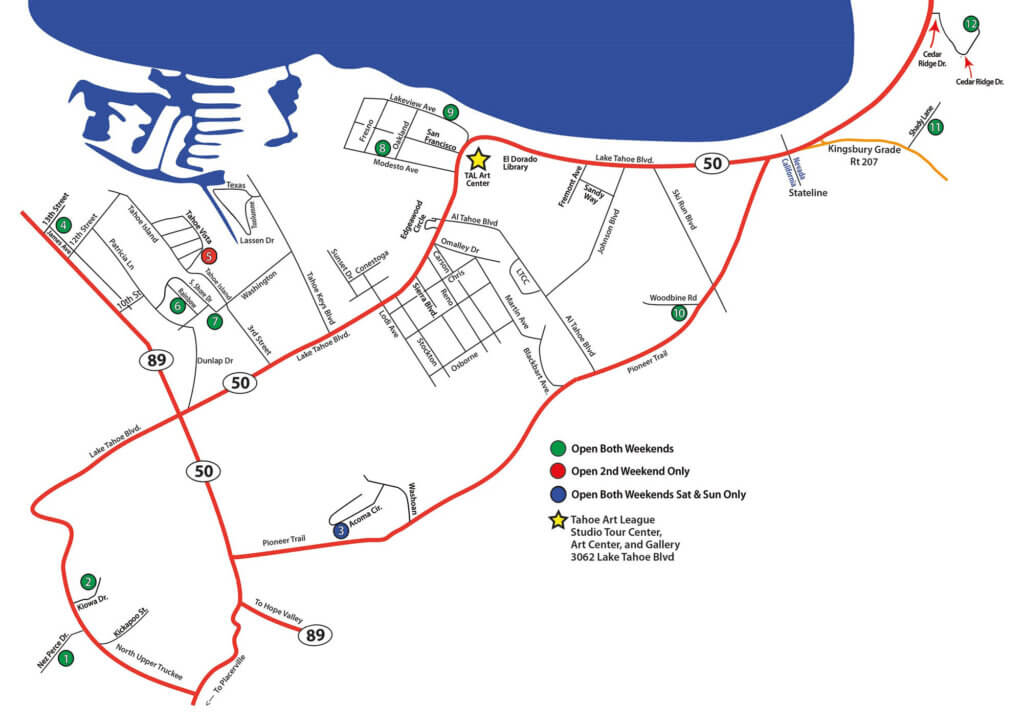 The Tahoe Art League was formed in 1964. TAL is a nonprofit organization dedicated to promoting fine art and art education in the community and has close to 200 members. TAL provides a free monthly art demonstration for the public, ongoing workshops, and classes, operates an art gallery, has exhibits, and sells art throughout town in retail venues. TAL participates in numerous summer outdoor shows, provides art scholarships to aspiring young artists, and has activities for all ages, needs, and talents. Many of the artists live in Lake Tahoe full time, while others live here part time and come to Tahoe from other areas of the United States. Every year the Lake Tahoe Basin and the Sierra Mountains greet thousands of visitors, coming to see the beauty of this historical and magical place. Some of the TAL artists create "one of a kind" art pieces inspired by Tahoe's special surroundings. Other artists offer creations as individual and varied as are the many media presented in this tour, including: glass, metal, silver, fiber art, mosaics, mixed media, carved gourds, collage, and book arts.
For more information about the history and ongoing activities of the Tahoe Art League, visit our website at talart.org or come into the Gallery/Office at 3062 Lake Tahoe Blvd. Thursday through Sunday 11 am – 4 pm. 530-544-2313.