South Lake Tahoe Multicultural Celebration
October 1
11:00 am - 5:30 pm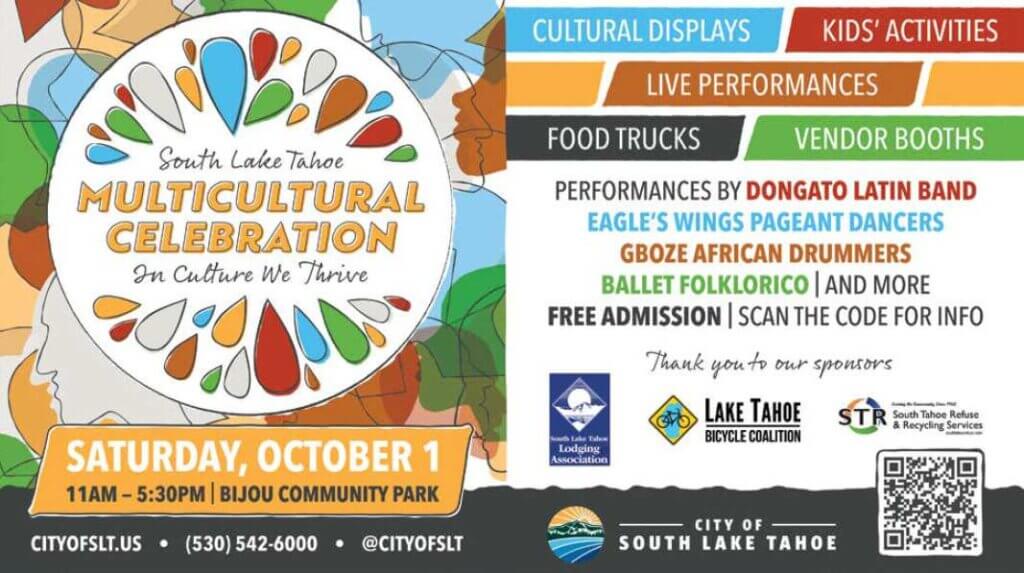 Save the date for the inaugural South Lake Tahoe Multi-Cultural Celebration on Saturday, October 1st, at the Bijou Community Park from 11 am-5:30 pm.
Join the City of South Lake Tahoe and the Multicultural Committee as we learn about and celebrate different cultures through art, music, food, and entertainment.
This FREE one-day event will feature cultural displays, kids' activities, food trucks, vendor booths, and more. Stay tuned for a full lineup coming soon!
ENTERTAINMENT SCHEDULE
| PERFORMANCE | TIME | LOCATION |
| --- | --- | --- |
| Opening Prayer Ceremony | 11:00 AM | Main Stage |
| Eagle's Wings Pageant Dancers | 11:30 AM -12:15 PM | Main Stage |
| Gboze Drum and Dance | 12:30 PM – 1:30 PM | Main Stage |
| Ballet Folklorico | 1:45 PM – 2:45 PM | Main Stage |
| Tinikling Dancers | 3:00 PM – 3:45 PM | Main Stage |
| Don Gato Latin Band | 4:00 PM – 5:30 PM | Main Stage |
As a part of our Multicultural Celebration, we are featuring the Eagle Wings Pageant Dancers. The group was formed in 2006 and includes dancers of all ages from Native tribes throughout Nevada.
The songs and dances used in their performances are indigenous to the Great Basin tribes (Paiute, Shoshone, and Washoe tribes). They strongly believe dancing keeps them connected to their ancestors and their traditional way of life. Stacey M. Burns, who is a proud member of the Eagle Wings Dance Group, stated, "We are dancing in the foot steps of our ancestors".
INTERESTED IN GETTING INVOLVED OR BECOMING A VENDOR?
Fill out our vendor participation application by following this link by September 1st to be considered.
For questions about the event or for more ways to get involved, please email the City Event Coordinator, Emily Abernathy.
For more information, visit: https://www.cityofslt.us/1251/Multicultural-Celebration.