Tahoe Brewfest at Ski Run Blvd
August 26
1:00 pm - 5:00 pm
Tahoe Brewfest, Saturday, August 26, 2023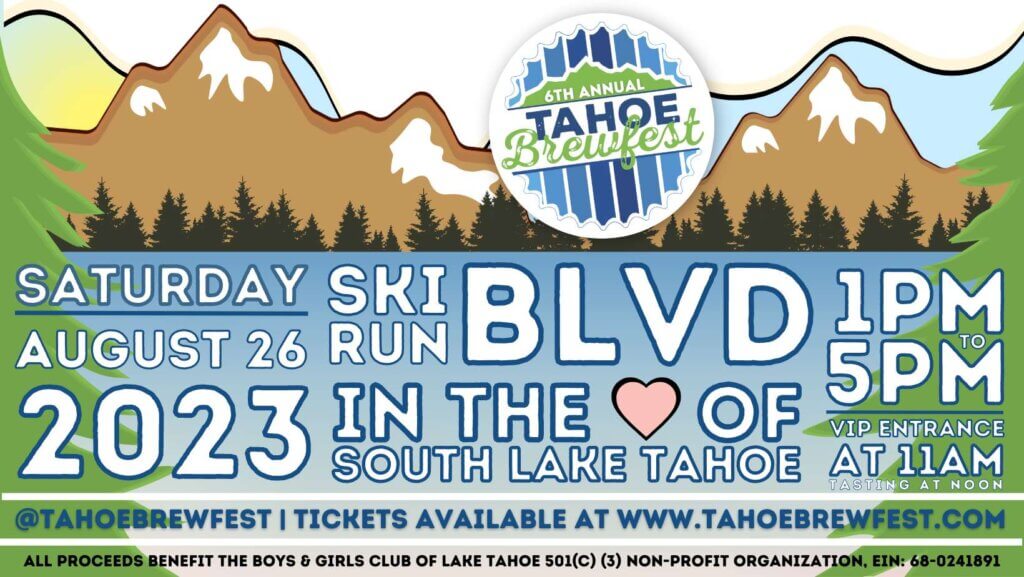 Your sixth annual Tahoe Brewfest returns on August 26, 2023, in the heart of South Lake Tahoe.
Tickets
$55 for general admission. 1:00 pm admission with endless sampling through 5:00 pm.
Under 21/DD – Free. 1:00 pm admission with no access to sampling.
Tahoe Brewfest celebrates all that is special about our mountain culture; our beer, our crafts, our environment, and our community. Mark Saturday, August 26, 2023, in your calendars when we welcome beer lovers from all over the world again to enjoy a beautiful day of brew in South Lake Tahoe.
The 6th Annual Tahoe Brewfest
The Venue:
Ski Run Boulevard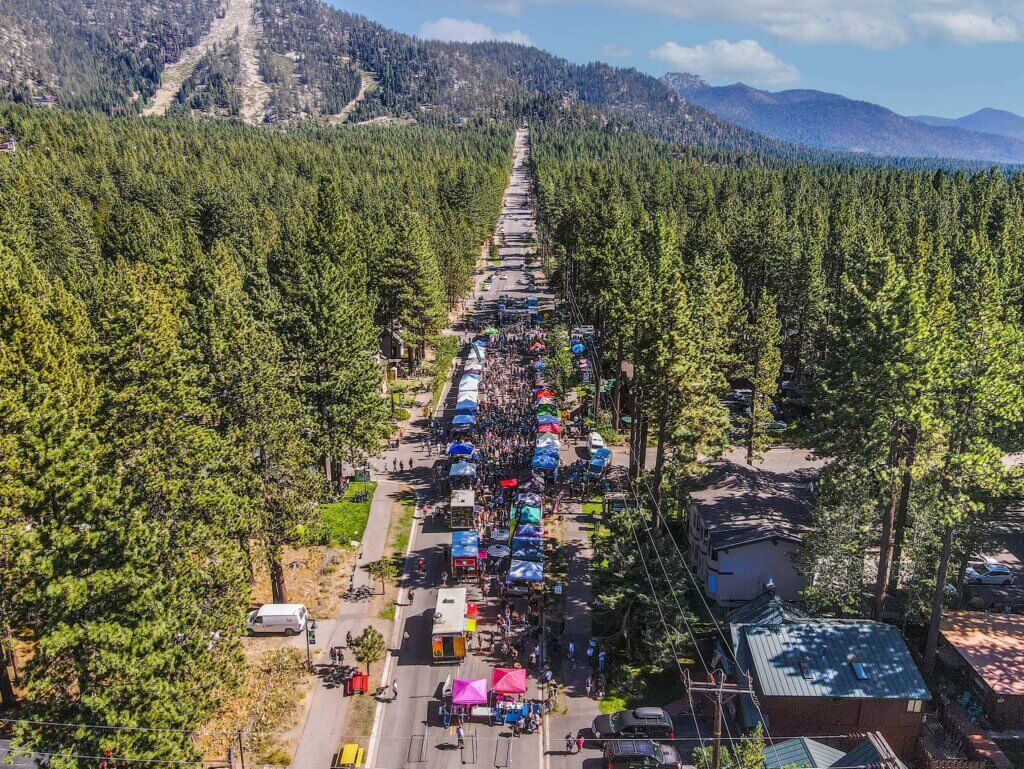 The Family:
Even though it's all about the beer, we didn't forget about the kiddos. Plenty of games/activities like Cornhole, Giant Jenga, and face painting. We'll also have some craft root beer!
The Music:
Four hours of solid jams.
The Silent Disco:
We'll be having the Silent Disco again with LIVE DJs.
The Beer Lineup:
Brews, ciders, kombucha, root beer, and maybe a few extra surprises. There will also be a convoy of food trucks and talented craft vendors! Plus, what's better than great beer, fun friends, AND Lake Tahoe all mixed together? View our website and Facebook page to stay updated on participating breweries.
Open to all ages, this clean, family-friendly festival serves up craft beers and a full spread of fresh bites from the area. Filled to the brim with enthusiasm and positivity, the Tahoe Brewfest has that "glass-half-full" vibe (but always with a full glass). This year (as always), we strive to go bigger and better. More breweries, more music, and more food!
Your ticket purchase not only supports the community but also allows you to enjoy the following:
– Unlimited tastings of 40+ Breweries (Beer, Ciders, Kombucha, etc.)
– Live music on multiple stages
– Food trucks galore
– Local craft artisans
– Kid-friendly vibe
– Unbeatable views of Lake Tahoe! We will be announcing the list of breweries as the event gets closer, but rest assured, you will NOT leave thirsty.
Visit www.tahoebrewfest.com and Tahoe Brewfest Facebook Page to learn more.
The Entrance to Tahoe Brewfest is located on the North end of Ski Run Blvd, just past Aspen Ave.
Limited free parking is available around Ski Run Blvd. Check out the detailed map below to plan ahead and know where to park. We encourage you to leave your keys at home and be responsible by lining up one of these great options for getting to and from Tahoe Brewfest!
Biking, walking, carpooling, rideshare & public transportation is strongly encouraged.
Alternative transportation options include:
Lake Link (A brand new FREE transportation service – download the app here)
Bus Transit
The Tahoe Transportation District bus lines are available here – https://www.tahoetransportation.org/transit/.
Rideshare Services
Make sure you have Lyft or Uber downloaded on your phone. With designated pickup spots, we make it easy.
Biking to Brewfest? If you feel like burning some extra beer calories, a free bike valet service will be available.
There's also always the option to take a Lime Scooter! Enjoy the gorgeous views of Lake Tahoe on your ride, but make sure the battery has enough miles left!
Alternative parking locations include:
– Whole Foods Parking Lot
– Upper Ski Run
– Valet Parking at Riva Grill
Born out of a desire to showcase the local craft brew scene and to give back to the community, the Tahoe Brewfest was the invention of Deb Brown of Cold Water Brewery. She engaged FNCTN to manage the music and then partnered with the Boys and Girls Club to provide additional event management and to receive the profits. The first year was a great success, with a very high number of out-of-town attendees, and it was clear that Tahoe has a thirst for beer and fun.
The mission of the Tahoe Brewfest is to benefit not just the Boys & Girls Club of Lake Tahoe, but also local businesses and the community as a whole. We specifically chose a weekend with no other events happening. That way we won't compete for attendees and can draw visitors to Tahoe on an otherwise quiet weekend. We are looking to partner with lodging properties, restaurants and other businesses to drive Brewfest attendees to their doors before and after the event. We also intend to run a responsible event, and will be encouraging walking and biking, shuttles from lodging or rides with local Lyft drivers to and from the Brewfest.
With a bit of luck and a lot of hard work, the Brewfest has the potential to raise much needed funding for the Club, and to become a signature South Shore event that celebrates everything about Tahoe.
Tahoe AfterBrew
The pouring stops at 4; the fun does not. Keep checking in for our complete Tahoe Afterbrew list to keep the fun flowing your entire weekend in Tahoe.. PS make sure you catch our spectacular sunset! Our local Breweries: Check out the map up top and head to one, or more, of South Lake Tahoe's local breweries after the fest. South Lake Brewing Co. | Lake Tahoe AleWorX | Cold Water Brewery & Grill | Sidellis Lake Tahoe | The Brewery at Lake Tahoe | Stateline Brewery & Restaurant | South of North Brewing Co.
AfterParty
The official afterparty for the Tahoe Brewfest is at South Lake Brewing Company! Tahoe Brewfest attendees get $1 off all draft pours when you show proof of admission on the day of the event. Their tasting room and outdoor Beer Garden are the perfect spot to grab a beer with friends and family. Experience live music in the Beer Garden, a variety of beers and seltzer on tap, Get Rad Pizza on-site, games, giveaways, and more! Visit them at 1920 Lake Tahoe Blvd. and at southlakebeer.com.
We have a few more locations to keep the good vibes flowing after Tahoe Brewfest that you won't want to miss:
The Libation Lounge by SLB – 4000 Lake Tahoe Blvd Unit 26
Lake Tahoe AleWorx – 31 US-50
South of North Brewing Co – 932 Stateline Ave Unit B
Lakeview Social – 3135 Harrison Ave
Peek Nightclub @ Harrah's – 15 US-50
Make sure to utilize ride sharing services when traveling to these destinations.