If you're visiting, you need to make it count by getting up close and personal with the lake and getting out on a Tahoe boat. There's a reason that Lake Tahoe is known as the Jewel of the Sierras, and if you want to find out why for yourself then you've got to be in it, on it, and breathing in that fresh lake breeze. No matter what your vacation or trip entails, a Lake Tahoe boat cruise needs to make it into your agenda, and South Lake has many different options to choose from.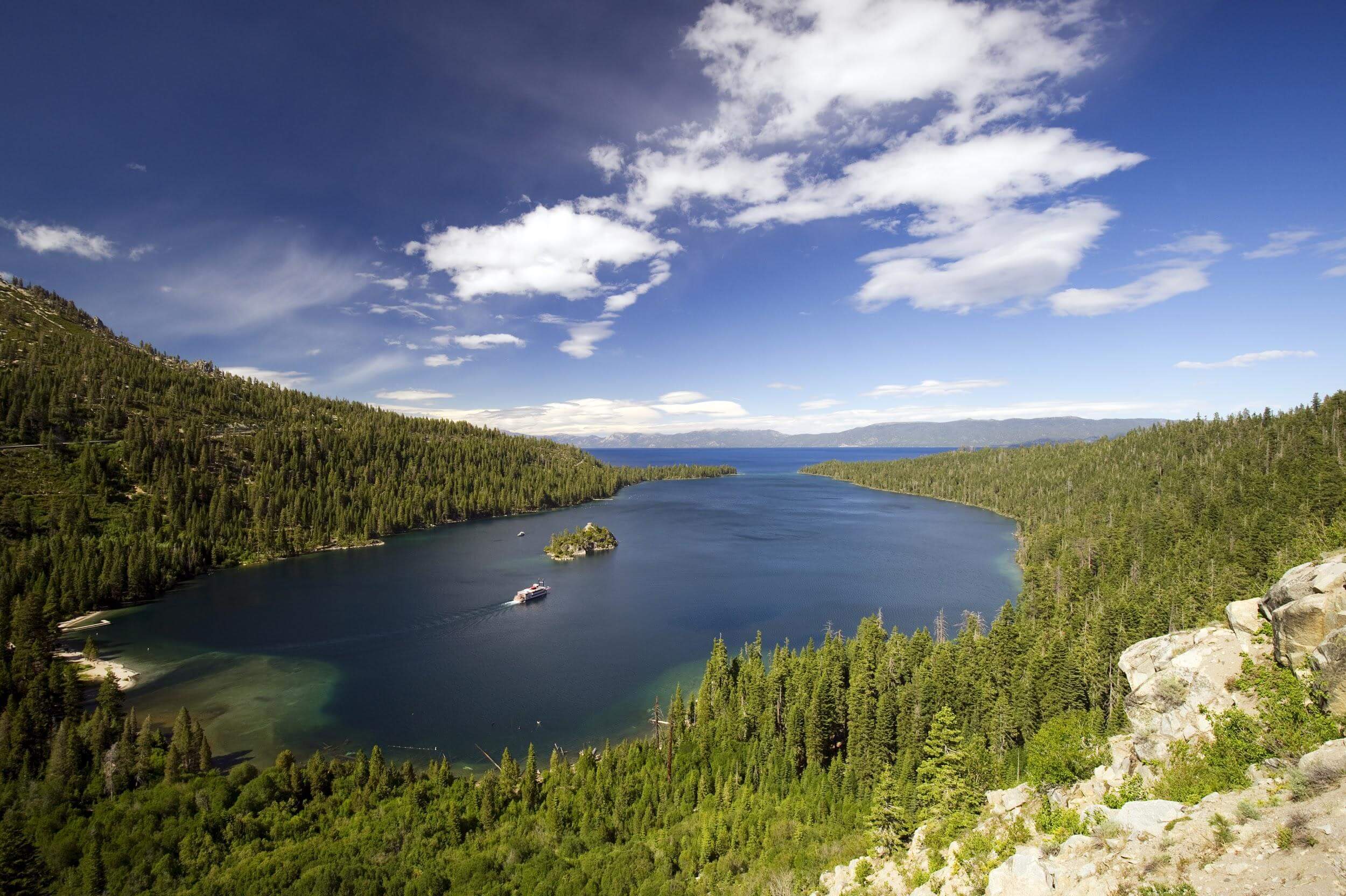 There is a Lake Tahoe Boat Cruise for Everyone
Cruise for dinner or for drinks, cruise for the views, cruise for some history. There's something to enjoy for first timers and locals alike, and if you've lived here all your life, what are you waiting for? Many locals that I've talked to have not only never done a Lake Tahoe boat cruise, but never been on a boat on the lake. It's not too late, don't miss the boat.
For a great way to see something new or even experience something familiar in an exciting new way, grab your camera and check out some of these options.
Lake Tahoe Boat Cruise Options
Zephyr Cove Resort – Lake Tahoe Cruises
Zephyr Cove Resort has something fun for all four seasons, but without a doubt is known for their Emerald Bay cruise on their signature 500+ passenger authentic Mississippi Paddlewheeler, the M.S. Dixie II. They depart from the resort daily for sightseeing tours, but you'll find dinner cruises and more in their cruise schedule. The cruise is about two hours round trip of majestic mountain backdrop, and with an outstanding captain and crew, there's no wondering why it was voted "Best Boat Cruise" in Tahoe for over ten years.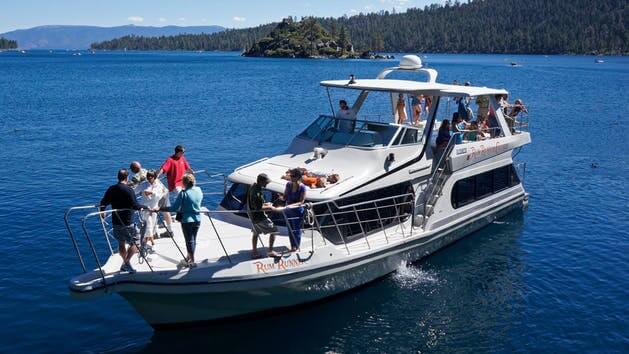 Camp Richardson's Rum Runner Cruise
The Rum Runner is Camp Richardson's 55-ft yacht equipped with open and closed deck options, food from the Beacon Bar & Grill and of course the revered Rum Runner cocktail served up to your heart's content. A drink so good they bought a boat and made a cruise for it… The Camp Richardson marina is set to open May 15th, at which point the Rum Runner will be making its hour and a half long excursion to Emerald Bay and back daily. You can also book it for a private event or celebration, for a detailed look at what you can expect, check out this quick video.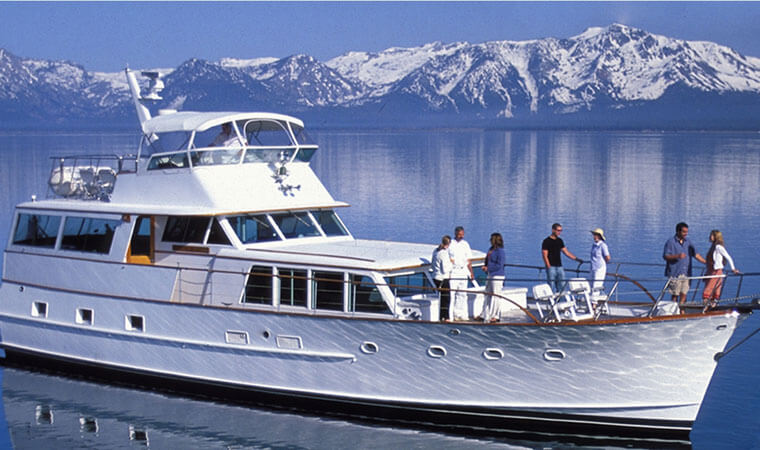 Tahoe Bleu Wave
If you're looking to cruise like a pro, this yacht is where you want to be. The Bleu Wave is making daily 12 pm public lunch cruises launching from the Tahoe Keys out to Emerald Bay, but if there's something special you want to do or a place you want to see anywhere on the lake, these guys can make it happen. The 70-ft yacht is perfect for your next special event or celebration, ideal for large groups of up to 50 people with a fully stocked bar, private lounge, stateroom, fly-bridge, spacious party bow, and climate controlled indoor facilities. Check out the full list of their public cruises, and be sure to join them for their happy hour cruise 3:30-5 pm all summer long – you can save yourself some cash when you book online!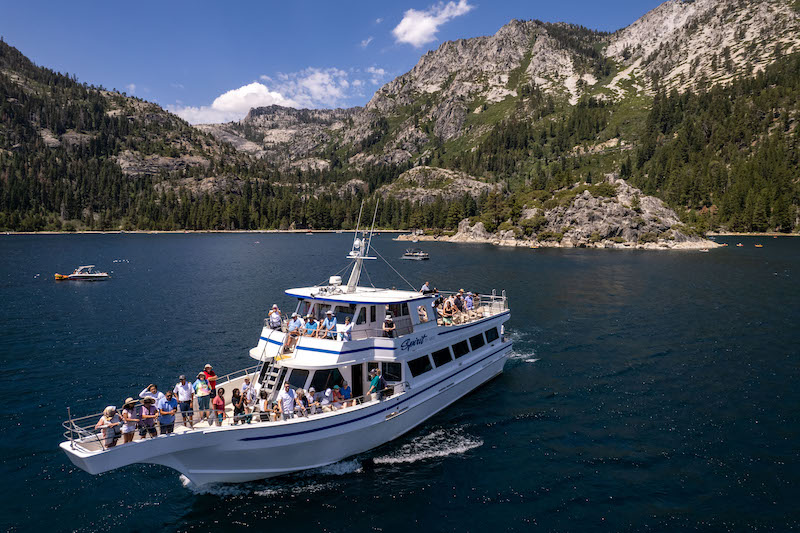 Spirit of Tahoe
All aboard for the life of luxury, or at least two hours of it. Be our guest for this unforgettable sightseeing cruise aboard one of our classic yachts. Our day cruises are family-friendly and are the best way to see the many colors of Lake Tahoe. Day cruises offer narration and history of the lake by the knowledgeable captain and crew as we head to Emerald Bay where you will experience the favorite landmarks such as Eagle Falls, Vikingsholm Castle, Fannett Island (the only island in Lake Tahoe), the granite tea house that sits on the top of the island as well as the striking scenery of the Sierra mountains.. Catch the Sunset Champagne tour for a spectacular viewing of Tahoe at sunset.
If you're looking for a more intimate experience, book the Safari Rose for a private charter. They've become experts with all functions and events, you can even get hitched and have a reception right on board.
Also coming this summer, the best seat in the house for the 4th of July fireworks is on the water! Lake Tahoe's 4th of July Fireworks event, recognized by NBC as the nation's top fireworks event, is coming back for an even bigger show. Many of the Lake Tahoe boat cruise businesses will be offering special deals to see this amazing show from the lake.
More Boat Rental options here.