Harmonize Movements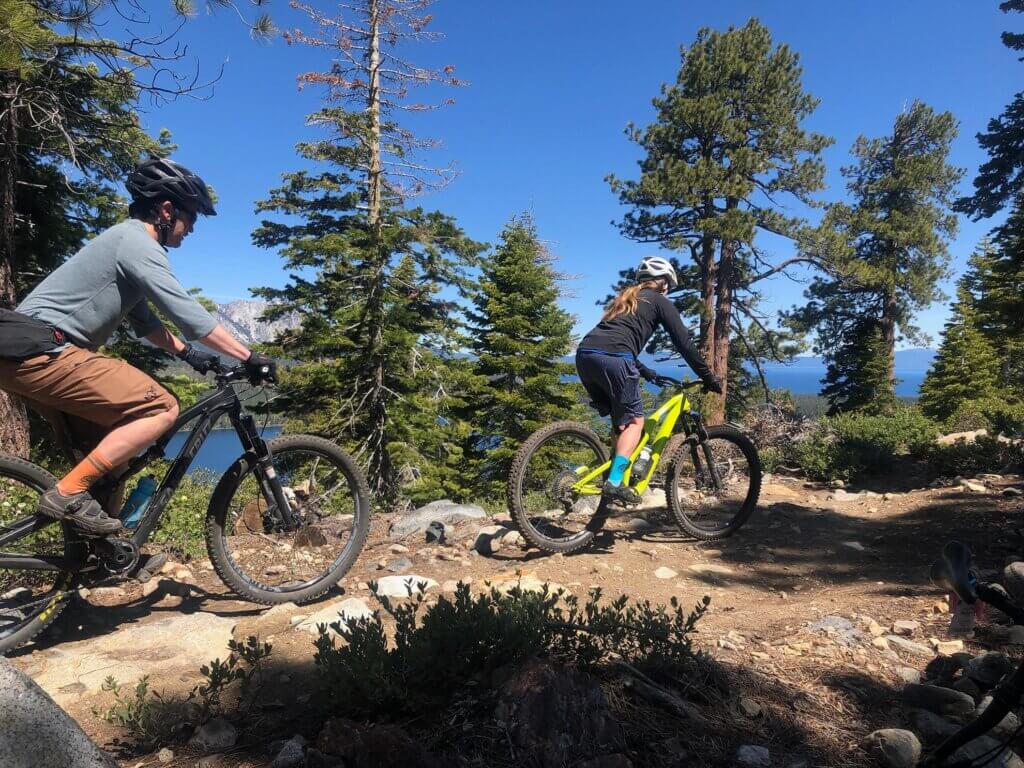 Check out the posturing of any athlete and you might be able to identify the activity they engage in the most. Road cyclists have developed calves and glutes. Tennis players have one arm that is more developed than the other. Horseback riders have developed hips.
What about mountain bikers? A forward chest, developed legs and arms. When I see a mountain biker's body all I want to do is help them adjust so they can stand in an upright position. Like so many activities we engage in on a daily basis mountain biking requires front body strength which can create muscular imbalances among our front and back bodies.
Yoga is a practice of, first, establishing awareness of our postural habits. A well trained guide will help you to become aware of the muscles you tend to contract as well as those you lengthen more often than others. Consistently practicing engaging in complementary movements or "opposite process" will help you to become more physically harmonious so that you can keep riding for the rest of your life.
Develop Core Strength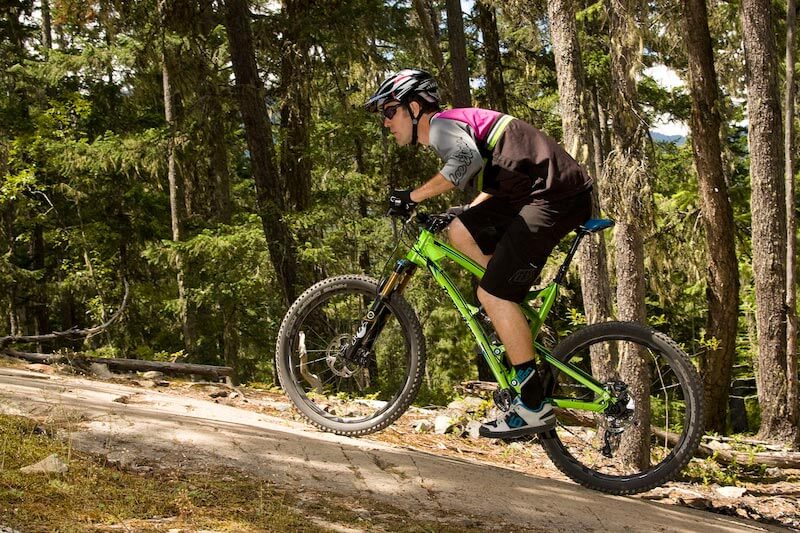 You might not realize it, but you may be ignoring some of the most powerful muscles in your body while you're riding. I find mountain biking to be incredibly challenging. This is mostly due to my lack of upper abdominal strength. My lower abs are really strong, but my upper abdominal muscles aren't quiet as powerful. When I get on my bike I can feel this weakness.
I've seen plenty of mountain bikers who rely on their arms to do the work on the bike. As they climb they are pumping up and down like they're doing a push-up on the handle bars. When they descend, they muscle the bike around corners and over obstacles. Building strength in your core through a variety of Yoga postures is key to feeling more in control of your body and bike while riding. It can help you to reduce the work in your arms so that you don't get fatigued and can ride longer and more challenging terrain.
Establish Balance
Bike geometry has certainly improved over time offering more balanced bikes, more travel, increased wheel sizes and more. Whether you are developing new skills or adjusting to a new bike balance can be what keeps you on the bike or dumps you off. Developing steadiness in your body and awareness of your breath can help you to remain calm and focused while riding even when on a new trail, in tricky terrain or while getting comfortable on a new bike.
Lake Tahoe Yoga guides practices in RajaHatha Yoga.  What does that mean?  Every movement is combined with a breath.  Learning to breathe to move when going through poses on the mat can help you to do so while on your bike.  If you can keep a calm and steady breath while balancing on one foot or moving through a flowing sequence of postures, you can likely do the same while climbing over rocks or riding a log.
Create Tranquility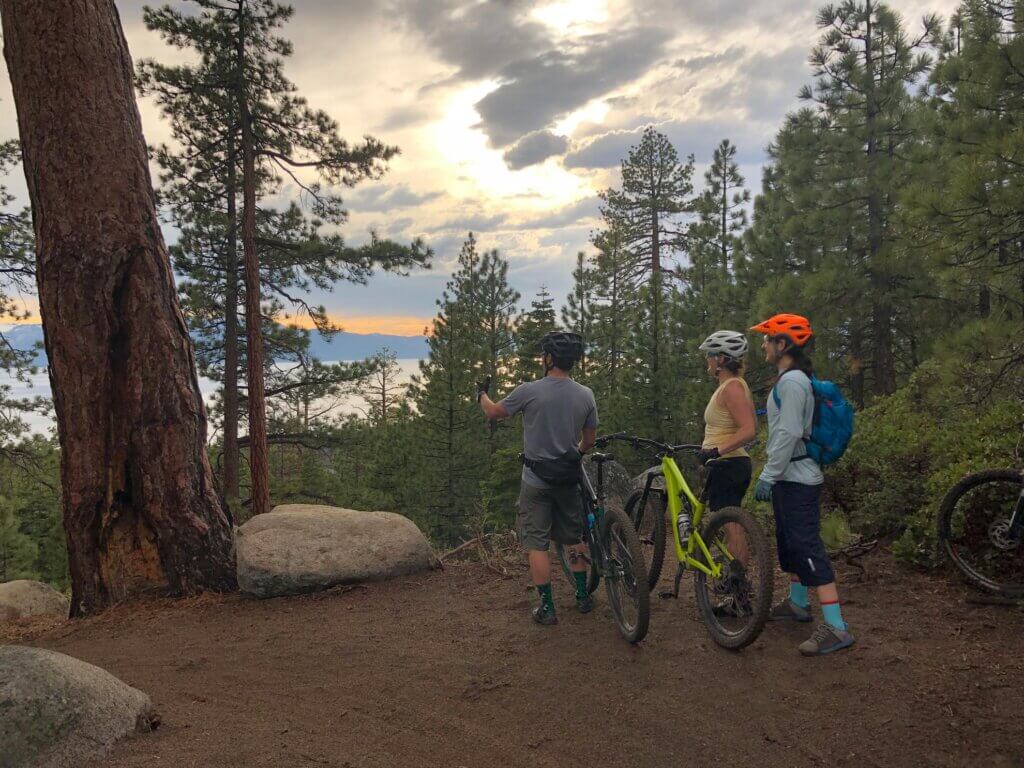 At the end of every Yoga practice we rest on our mats in savasana (corpse posture). The intention is to offer an opportunity to "soak it all in." Your body has been moved, manipulated, adjusted, engaged, stretched and balanced. As you lay on the earth you get an opportunity to relax physically, energetically and, maybe, mentally.
Translating this sense of tranquility onto your bike can help you to feel more calm and at ease while riding. If you take the time to stretch and prepare before and after you ride, include a moment to sit or lay down and consider your ride. What do you hope to accomplish? What are you proud of? What are you going to work on next time?
Be Considerate
Some of you may be into riding with music in your ears. You do you. Just make sure that you're also aware of what is going on around you. There are more people out mountain biking than ever. Sharing the trails means knowing the rules and being considerate of others. Your bliss experience may include your favorite playlist. Others may find bliss through peace and quiet.
In a group class we have to consider how our actions might effect others. Falling over and onto your neighbor's mat could disrupt the entire group. Chatting with your friend would be distracting. Snoring during savasana might disrupt others, but it might also be out of your control. Hey, if you're tired, you're tired.
Yoga philosophy discusses practices that are for ourselves and that help us to be considerate of others. Many can be applied to mountain biking: be honest, be helpful, share, take only what you need, practice moderation, be content with what you have, learn from every experience and leave things as they were.
Ride Like a Local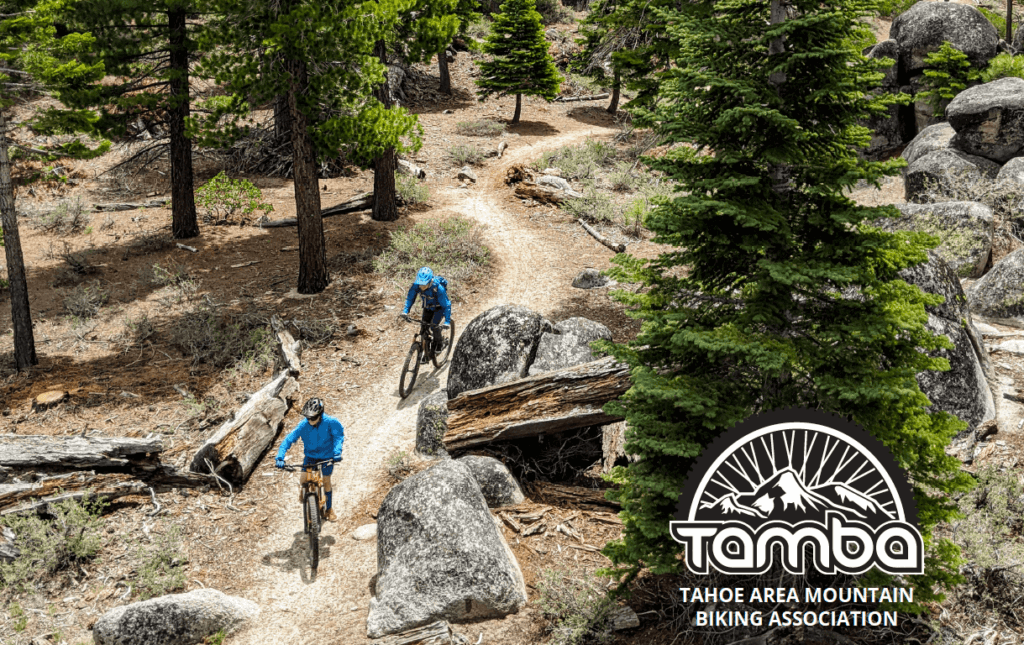 Want to learn more about mountain biking in Lake Tahoe? The Tahoe Area Mountain Biking Association (TAMBA) brings the community together through rides, trail development and maintenance, mtb events and more.
Need guidance and gear for riding? Tahoe Sports LTD is one of Tahoe's best shops staffed with local pros who know about mountain biking from tires to trails.
Are you a mountain biker who wants to try Yoga? Lake Tahoe Yoga is a supporter of TAMBA and offers classes for you.
Do you travel to ride? LocalFreshies.com features articles and videos about the best places to ride and how to "Be a local wherever you go."