Hiking the Lake Tahoe Rim Trail
Hikers the world over fantasize about an experience like the Tahoe Rim Trail. And in Lake Tahoe, fantasies can come to fruition.
When seeking an epic excursion on foot, strap on your hiking boots and head to the Tahoe Rim Trail. Circumnavigating the sublime cerulean spectacle nestled amidst the mountains are 165 miles of single-track trail that traverses four national forests, two states, and six counties.
Along the way, Mother Nature mesmerizes hikers. Towering pine and aspen trees appear to touch the sky. Eyes open a little wider and grins get a bit larger as trekkers pass through verdant meadows and vibrant fields of wildflowers. A kaleidoscope of fall colors in their full glory emerges for passers-by in autumn.
At the heart of this on-foot adventure is the mesmerizing focal point: Lake Tahoe.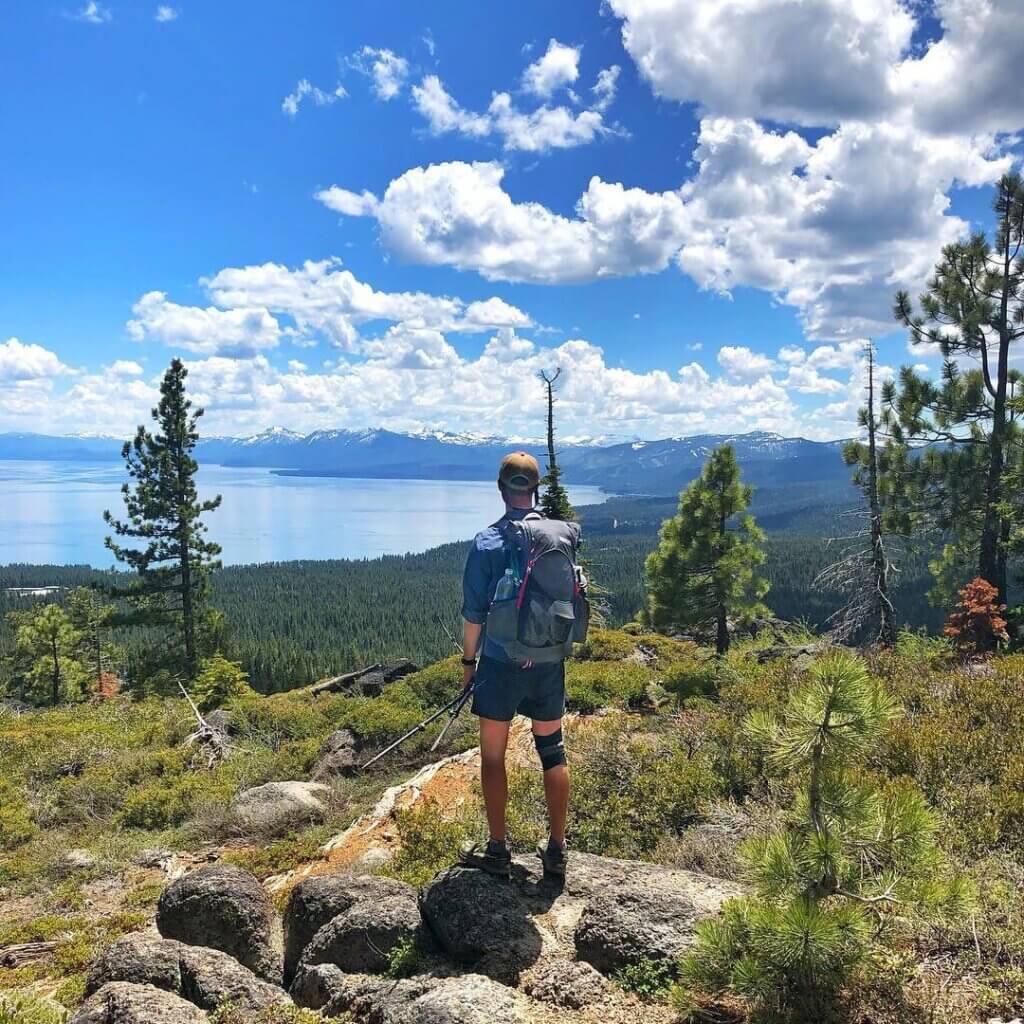 It's a breathtaking hike, in every way possible.
How To Get To The Tahoe Rim Trail
Drive or bike to one of the 10 official TRT trailheads that provide access to the mountainous loop above Lake Tahoe. From there, eight trail segments ranging from 12.2 to 32.5 miles each allow hikers to explore every inch of the trail, which varies in elevation from 6,300 feet to 10,338 feet. Flora and fauna are diverse throughout this span, as are the panoramas.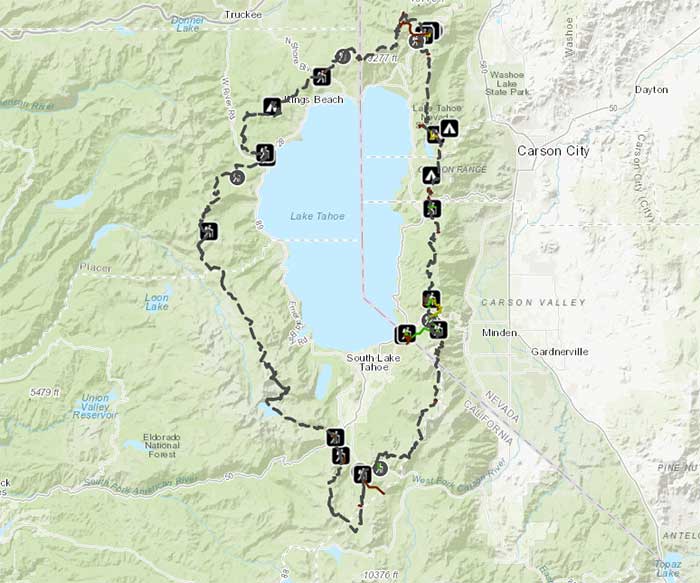 Eyes drift along expanses of unreal beauty on every step of this journey.
You don't need to be an expert hiker to tackle this trail: the TRT is friendly for all levels of hikers. While the trails can be lengthy, visitors can simply take in the beauty for as long as they're able, then head back to the trailhead. Oh, and yes, you can bring your four-legged friend, just as long as they're leashed, well-behaved, and cleaned up after.
To note, portions of the TRT are accessible by mountain bikers and equestrians also. It's best to check Tahoerimtrail.org for information on which trails are for hikers only to get some uninterrupted revery on foot.
When To Hike The Tahoe Rim Trail
Wildflowers are best spotted between July and mid-October, though summertime is ideal. Fall colors are seen when the temperatures dip come September-October. In spring, and early summer, spot baby wildlife and flowers peeking through the landscape. A full description of each trailhead and what can be seen is found on the TRT website.
While the Tahoe Rim Trail never officially closes, when the trail is snow-covered, segments are often more difficult to access, requiring snowshoes or cross-country skis. Thankfully, you can sign up for guided Snowshoe Treks monthly during winter, and even take a Snow Camping 101 course with TRT experts. Find out about closures and trail conditions and winter accessibility on the TRT website.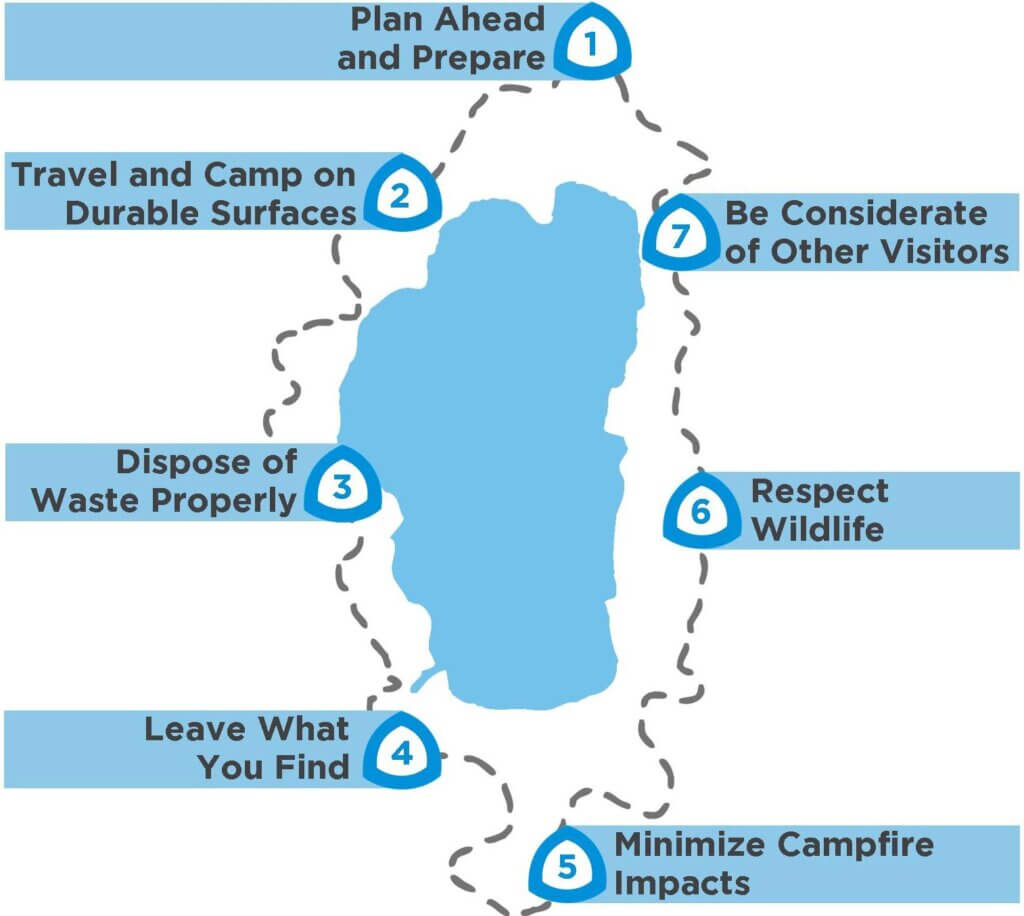 Hike The Tahoe Rim Trail Responsibly
It's vital for hikers to leave no trace while tackling the TRT. Take out what you carried in. Leave natural or cultural items where you found them. Get a campfire permit and be safe when setting them along the trail; plus, make sure they're completely out before departing.
What To Bring
Since the weather in Lake Tahoe can change in mere seconds, bring layers of clothing — especially a jacket and hat — and sunscreen. Plus, of course, water, can also be replenished along the trail at various water sources.
Tahoe Rim Trail History
Once a trail frequented by Pony Express riders (at Kingsbury Grade and Echo Summit), it took 17 years and 200,000 volunteer hours of trailblazing to create the masterpiece that is now the Tahoe Rim Trail. Today, every moment was worth it as the TRT continues to entice hikers, mountain bikers, and equestrians the world over with its unrivaled and exquisite splendor.
Visit Tahoerimtrail.org for full information.
Lake Tahoe Take Care Travel Pledge
For more hiking Lake Tahoe visit, visitlaketahoe.com/hiking, and for more biking Lake Tahoe visit, visitlaketahoe.com/biking.