Flowers are in full bloom. The waters of Tahoe shimmer in the sunlight. And Lime and Bird scooters are back in Lake Tahoe for yet another summer. Now that they're here, we thought we'd highlight how to scoot responsibly when at Lake Tahoe.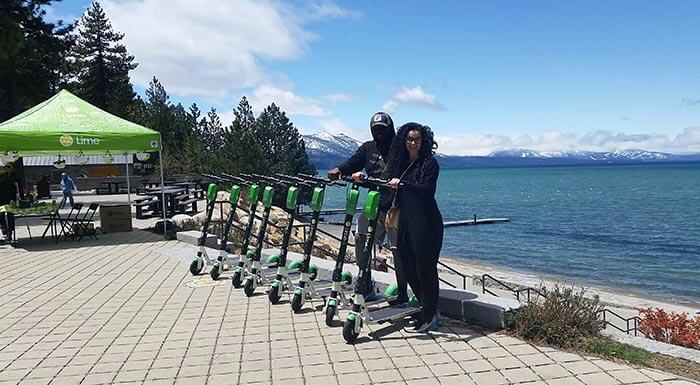 Scooters Help The Environment
No matter how you stack it, having people on these scooters instead of in cars is much better for the environment. For example, in 2020 over 60,000 people took over 200,000 rides on these e-scooters. This translated to a savings of 186,000 vehicle miles traveled, 7,800 gallons of gas, and 325,000 pounds of CO2 from car emissions.
Respect The Rules Of The Road
Just like being on a bicycle, be sure to follow the same standard protocols. This includes such things as riding in the same direction as traffic flow, following lane markers, and using hand signals. For those curious, here's a great beginner's cyclists guide.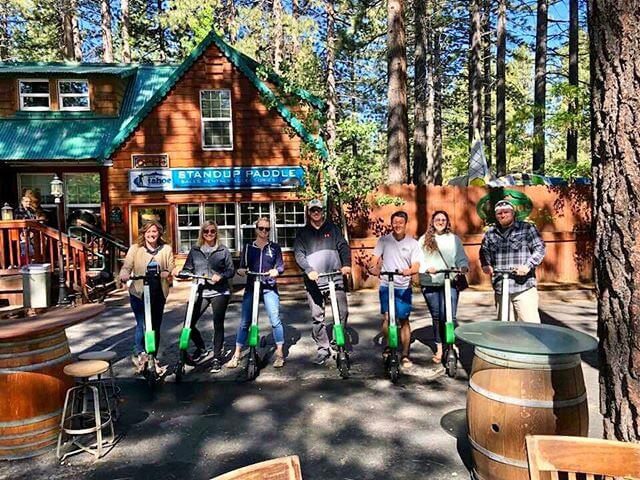 Be Considerate Of Others
These things are downright fun. Gliding across the asphalt with the cool breeze hitting your face, but at the same time, be aware of your surroundings and pedestrians. Just like getting cut off on the expressway, be respectful and give everyone space. We're all here to have fun in our own way.
Park Properly
Once you're done scooting, think about where you leave it. By law, you can't park it on a sidewalk in a way that would obstruct sidewalk cafes or parklets. This also means avoiding transit zones such as bus stops, shelters, passenger waiting areas, and bus staging zones. Also, don't leave it within a loading zone or places like landscape planting beds or other landscape materials. Of course, you can leave it at or near existing bicycle racks.
Avoid Potholes And Obstacles
For those that enjoy our ski slopes in the winter, the snowfall wreaks havoc on our roads. Our transportation agencies do their best to maintain the roads but sometimes old man winter wins. As you ride around town on your low-rider scooter, keep your attention focused on the roadway for such things as potholes and obstacles.
Bring A Helmet
While helmets are not required by law, there's always a risk when zooming around on one of these fun scooters. If you don't own a helmet, you can request one through the app for free, and the company will send one to your home address. Or, if you're already in town, swing by South Lake Tahoe Fire Station #1 or #3 to pick up one while you're here.
Safety is priority #1 but be sure to smile and enjoy the ride. From the beachgoers to the mountain climbers and even the foodies in your group, scooters are a great way to get out of that car and get to your next destination.