A camping trip to Lake Tahoe is an experience that should be on everyone's bucket list.
There is no better way to feel connected to the alpine landscape than getting close to nature and sleeping under the stars. Even locals like myself have enjoyed pitching tents at one of the nearby locales – despite some of them being in walking distance from my own bed. You may ask why someone would choose sleeping on the cold, hard ground rather than a soft, cozy bed, but after you have spent a night at one of the Lake Tahoe campgrounds, I bet you'd find it an obvious choice. Popular favorites of visitors and locals alike, here are the top sites to pitch a tent or park an RV on Lake Tahoe's south shore.
Camp Richardson is a full-service resort with 200 tent sites in two campgrounds. They also provide opportunities to rent turnkey RV's when you want to leave the hassle at home. It will feel like a luxury stay, equipped with a bathroom, kitchen, linen and towels. Located off of Highway 89, Camp Richardson offers visitors plenty of in-house activities including boat rentals, watersports, beachfront dining, and a general store and ice-cream parlor. If you are seeking an immersive campground, Camp Richardson can check those boxes.
Fallen Leaf Campground is a peaceful site located on the north shore of Fallen Leaf Lake and adjacent to Taylor creek. The native trees and wildflower meadows provide the perfect backdrop when setting up tents. A short hike allows visitors to explore Taylor Creek and Fallen Leaf Lake and it's only a mile from the south shore of Lake Tahoe. The campground hosts 206 sites that are tent and RV-friendly, and has paved bike paths and open picnic areas.
Located near the Nevada-California state line, Nevada Beach Campground is a more subdued site. While it is smaller in size, the campground still has offerings for both tents and RVs, including bathrooms and grills. It's attached to the mile-long Nevada Beach, making it easy to spend a relaxing and rejuvenating day. Nevada Beach is also dog-friendly, as long as the pets are leashed. There are many scenic bike trails off of the site, ready for visitors to explore.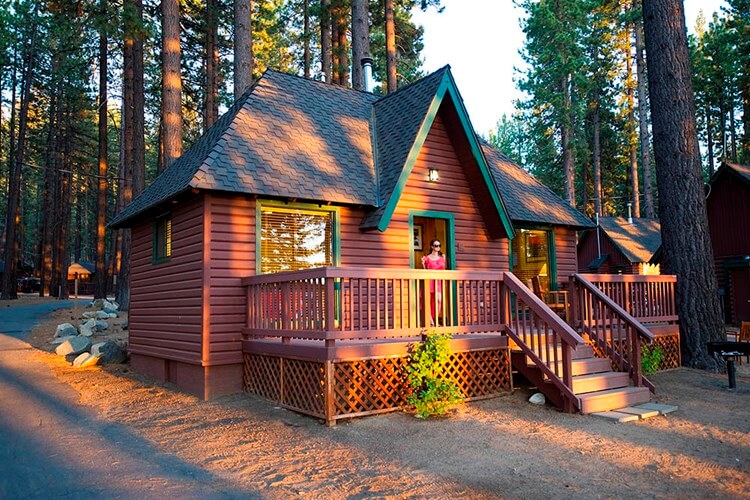 One of the more popular resorts and campgrounds in the Lake Tahoe region, Zephyr Cove Resort has much to offer. The award-winning RV and tent park includes bathrooms, laundry services, an on-site restaurant and well-behaved pets. Guests have access to the nearby beaches, watersports, beach volleyball and horse stables.Take one of the iconic Lake Tahoe cruises on either the Tahoe Queen, the MS Dixie II, or the Tahoe Paradise.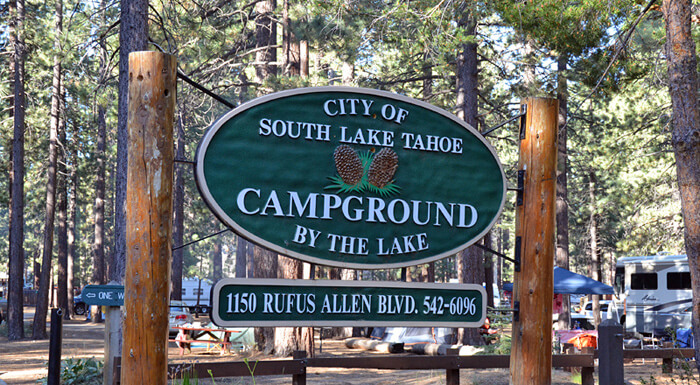 Campground By the Lake is in the center of it all. Located in the heart of the City of South Lake Tahoe, the campground is close to restaurants, shops, and all that South Lake Tahoe has to offer. There are nearby beaches with boat and watersport rentals. This campground has 340 tent and RV sites along with boat ramps and showers. It is also one of the few locations that is pet friendly.
D.L. Bliss State Park is near Emerald Bay off of Highway 89. The park features 150 campsites and one of Tahoe's "hidden" beaches. The park is popular for its hiking trails, such as the Lighthouse Trail and Balancing Rock Nature Trail.
Luxury hotels, spas and resorts provide opportunities for comfort and relaxation. Yet I have found that a camping trip can be quite therapeutic in its own sense. Connecting with nature, roasting marshmallows on a crackling fire and having a clear view of the open skies all paint the picture of what I believe Tahoe is about.
What is your favorite part about camping? Do you prefer a tent or RV? Let us know in the comments!
Check out Camping in Lake Tahoe on Instagram