– Kimberly Kuntz
Having young kids, I had both watched the "The Polar Express" movie and read the book countless times. So when the invitation arrived to jump on the V&T Railway and actually experience the journey, I didn't hesitate. What I could wait for, however, was to tell my then 6-year old twin boys — I waited until the day-of. "Get into your PJs, boys, we're headed to the North Pole," I said and each of their eyes shot wide open out of sheer excitement.
That night, as we walked up to the depot, we were greeted by holiday songs and a friendly staff who gave us official tickets to board The Polar Express. Then all at once we looked over and saw the train, sitting there glowing as if it was lit up with magic. It was one of those moments as a mom where you watch your kids as if to look through their eyes. We quickly boarded and found our seats with all of our eyes wide open at this point. There was music playing and decorations through-out including of course stockings and plenty of presents.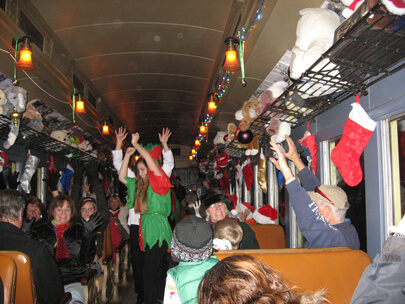 Photo by Kimberly Kuntz.
Once we left the depot, the level of excitement rose even higher as we all looked out the windows into the dark night in anticipation of what would be next. There was no shortage of entertainment on the journey as elves sang and danced in each car, and there was a reading of The Polar Express story we all listened to as we climbed closer to the North Pole. We were served hot chocolate and cookies which hit the spot on this cold winter night. The energy was high and anticipation of what would be next was filling us as if we were in fact in our own dreams.
The train slowed and came to a gentle stop, and we realized we had reached the North Pole! All of a sudden, almost as if we were imagining it, we heard a jolly "Ho, Ho, Ho" and with that Santa Clause was on the train with us, greeting children and handling each passenger a shiny silver bell. The bell of course, just as in the story, is only heard by those who believe.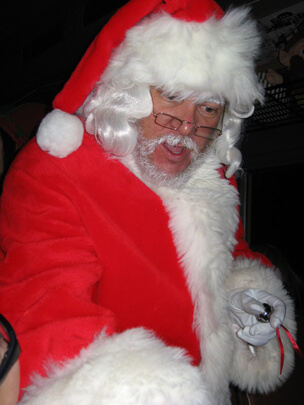 Ho, Ho, Ho! Photo by Kimberly Kuntz.
We finished the journey back to the depot from there where laughter and singing continued. My boys have brought up this night a number of times, and with each retelling there are big smiles. And, I have to admit that I keep that shiny silver bell in my car. When I hear its sweet sound, in a quick moment have a fresh perspective on my day.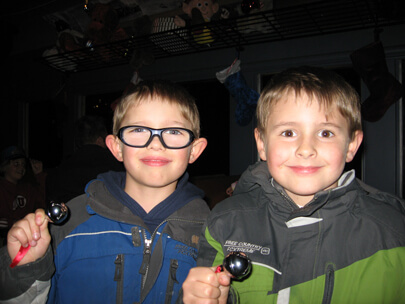 The bells only believers can hear. Photo by Kimberly Kuntz.
Note: At this writing, there are only a few dates and times available for this popular holiday activity! Get your tickets today at http://vtrailway.com/special.php.
A Senior Account Manager at Noble Studios, Kimberly enjoys photography, traveling, cooking and most importantly, spending quality time with her twin 9-year old sons.