Provided to TahoeSouth.com.
The Tahoe Adventure Film Festival celebrates the adventure sports community with newly released films of daring exploits and epic adventures in some of the most remote places and harsh conditions that test the human spirit.
Filmmakers capture the power and intensity of skiing, snowboarding, kayaking, rock climbing, surfing, mountain biking, BASE jumping and other heart-pounding sports that feed our addiction to adventure.
Now in its seventeenth year of showcasing adventure sports cinematography and culture, TAFF is where the industry's best filmmakers premiere their latest adventure sports films one night only hosted by festival creator and swashbuckler, Todd Offenbacher. Many of the segments are special edits including previews of films that have not been released.
This is the annual "gathering of the Tribe" on Tahoe's South Shore. You will most certainly see your neighbors, co-workers, that guy from the coffee shop, the gal from the bike shop, and the kid who took the big candy bar at Halloween. There will be music, dancing, and a gigantic raffle to support Sierra Avalanche Center – which should get at least as much money from your household budget as your CalStar membership.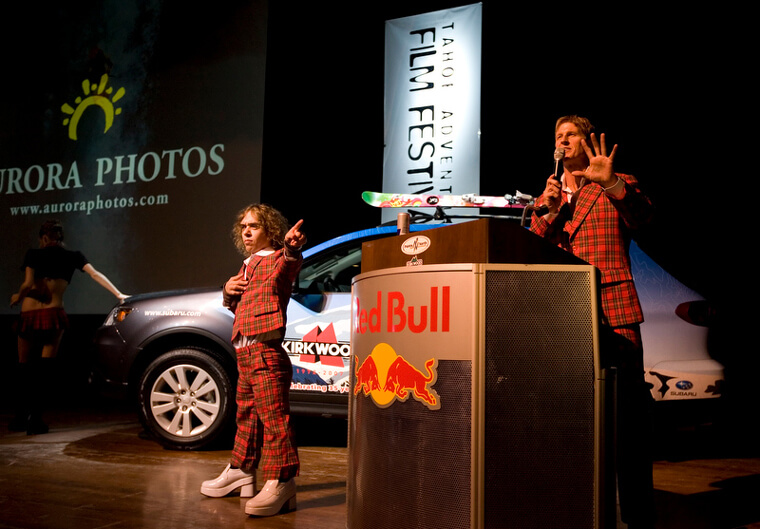 Offenbacher, TAFF founder and host of Outside Television, is part of this elite group of daredevils. The festival is an extension of Todd's passionate nature and life of adventure full of challenges that helps him excel in all areas of life with greater clarity. "I've traveled the globe to ski, climb, and explore where I've met so many likeminded people living the same dream," says Offenbacher. "This festival comes from my heart and soul, and represents the collective passion and lessons learned to inspire everyone to pursue their dreams with gusto."
A gigantic raffle to raise money for the Sierra Avalanche Center includes season ski passes to Lake Tahoe resorts, a Points North Heli-Ski trip, Stay and Ski packages, and enough gear to stock any adventurer's garage. The 2019 Tahoe Adventure Film Festival debuts at its birthplace in South Lake Tahoe, on Friday, December 7, 2019, at MontBleu Resort Casino and Spa. The doors open at 6:30 p.m. followed by the films at 7:30 p.m. Tickets can be purchased online at Ticketmaster.com or Online at MontBleuResort.com
For more information and to find tickets, visit www.LakeTahoeFilmFestival.com.