Contrary to what many people believe, California does get snow, and it's not just a few measly inches either. In fact, the towering peaks of the Sierra Nevada surrounding Lake Tahoe get upwards of 500 inches or more in a given winter. Here's everything you'd want or need to know about California snow.
When Is The California Snow Season In Lake Tahoe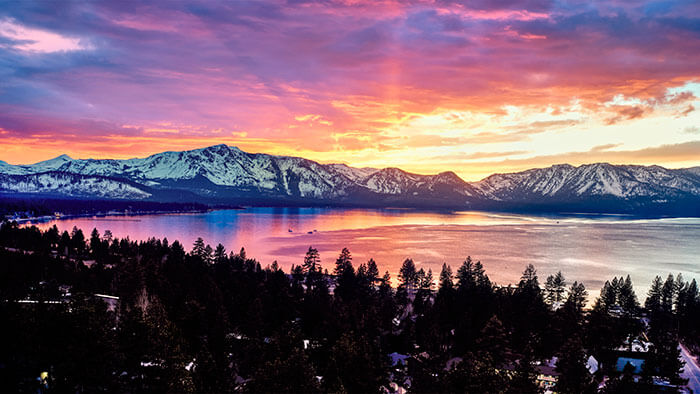 A few minor storms may arrive in September or even October, but typically as soon as the sun comes out, anything that's fallen melts away quickly. In a normal winter, snows begin to accumulate on the peaks in November and lasts at lake level until April. The highest mountains such as Mt. Tallac may have lingering snow in May or June, but the Basin itself is normally snow-free by then, making for the perfect spring skiing getaway.
How The Snow Arrives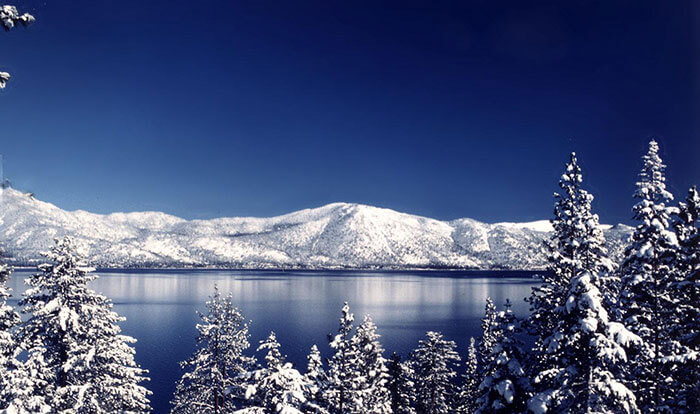 One of the more unique meteorological phenomena is HOW Lake Tahoe receives its snow. Instead of days of continuous snowfall that slowly pile up, Tahoe's California snow comes in massive dumps. On average, Tahoe only sees 50 days per year of snowfall. That means plenty of sunshine along with LOTS of powder, creating what we think is the best weather to ski in.
The Legend Of The Atmospheric River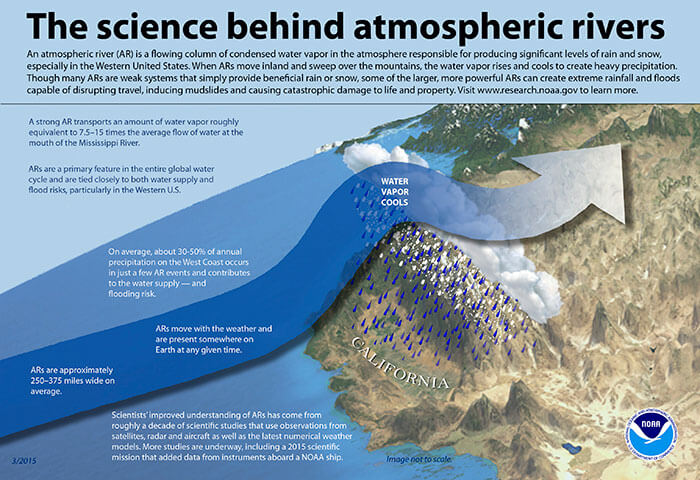 In regards to how California snow arrives, nearly half of Tahoe's precipitation comes from what is called an "Atmospheric River." These only happen on average 5 – 8 x's per year, but when they do show up, just like the name dictates, they bring A LOT of moisture.
Pineapple Express
If the Atmospheric River originates from the tropics, they're called a Pineapple Express where you may see rain in town. The solution to play in snow? Head higher! You'll find oodles and oodles of the white gold just by heading up in elevation.
What If It's Cold?
The flipside of an Atmospheric River that's coming from a cold region is like winning the lottery for snow-lovers. Great examples of this were Snowmageddon in the January 2016-17 season and the 2018/19 Februburied.
Sun, Sun, And More Sun
We can't talk about California snow without bringing up sunshine. Nearly 300 days of sunshine bless the Lake Tahoe region. This means even in the snowiest winters, the sun will most likely come out tomorrow or even earlier. So, don't forget to pack the sunblock. You'll need it.
Other Things To Do In Snow Besides Skiing Or Snowboarding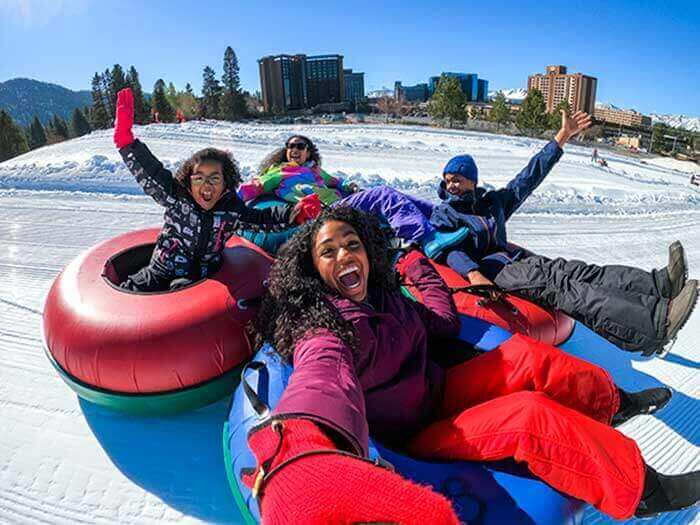 Is skiing and snowboarding the ONLY thing to do when there's snow on the ground in Tahoe? Absolutely not! Want to be one with nature? Try cross-country skiing or snowshoeing on one of the many trail networks such as Camp Richardson. Families can create lasting memories by going out snowtubing, or better yet, go on a snowmobiling tour. For a more comprehensive list of things to see and do during the colder months, check out our article: There's "Snow" Doubt About It – Lake Tahoe Is Home To ALL The Snow Play Activities You Want To Do.
Winter Driving
To make your trip as easy as possible, we recommend you rent/drive a 4-Wheel Drive or All-Wheel Drive vehicle. This will make going over any mountain passes or outdoor adventures a little less stressful. For more guidance on how to make sure you get to Lake Tahoe safely and make it a pleasant visit, check out our winter driving tips page.
Spring Is King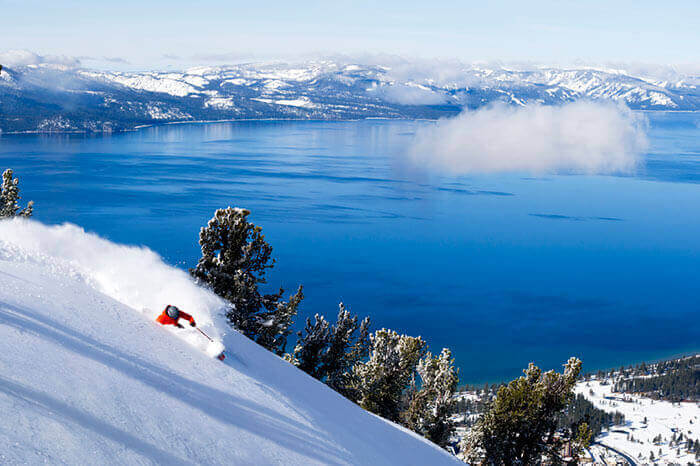 Nearly every month of the year provides unique and special things to see or do, but spring is the epitome of California snow and surf culture. Winter's grip has loosened. The snowpack is still deep in the mountains. If you arrive in late March or April, expect ample amounts of sunshine and what is our second favorite type of conditions: corn snow. To learn more about corn snow and how to make the most out of it, read Local Freshies® article Corn?! What's that got to do with snow?
For the perfect winter getaway that includes snow AND sun, Lake Tahoe is obvious choice.
Check out Snow at Lake Tahoe on Instagram: