This is my second time visiting Lake Tahoe, but my first during the beautiful summer months.
Clearly you can't visit Lake Tahoe without seeing/experiencing and just overall falling in love with the beautiful blue lake. Coming from the hot humid months in Houston, hanging out and around the lake was a friendly welcome, but one thing that stood out more than anything was the taste of the water.
I consider myself a huge athlete, always running and training for something, so you'd think water would be a natural part of my daily routine, but it's not. Most places I travel, I'm not familiar with the water quality. Quite frankly, I'm more of a sweet tea or champagne drinker, but after a few sips of tap water, I couldn't get over how good it was. It's just water, I know, but this newfound adoration for water got me thinking – the water here in Lake Tahoe is part of the community on many levels and as tourists, we need to be educated on how to do our part to keep it clean.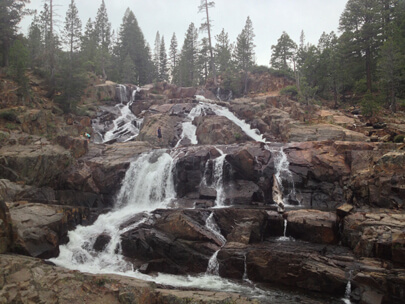 First, it's important to note, there's a reason the water is so good and pristine. It doesn't happen overnight; it's adopting a new respect for the land. The town is pretty like-minded, so in the spirit of "living like a local," here's how to get on the same wavelength and be respectful when it comes to the lake:
"Pack it in pack it out." It's such a simplistic mentality, but watch your waste. If you're at the beach, don't let bags or napkins fly away. Don't flick cigarette butts on the ground, and pick up your beer caps! When you leave a place (i.e. the beach or hiking trail), there should be no trace you were there.
DOGS! South Lake is so dog friendly, it's almost frightening, but be cognitive – always carry a waste bag with you. This is not one of those cities where you'll see disposable bags and canisters on every corner, so be prepared.
Teach your kids. It's no secret kids mimic our every move. If they see you picking up trash, even trash that isn't yours, they're inclined to start doing the same thing.
Recycle! Recycling is available all around the lake, so hang on to that bottle or plastic bag until you can dispose of it in a proper recycling bin. If you're staying at a hotel and can't find one, ask the concierge.
Cut down on waste. If you don't need a bag for that beer with a handle, don't take one. Bike and carpool when you can and walk to the local ice cream shop instead of jumping in the car (plus it almost always gets you there faster).
Drink tap water. Again, the water is delicious, so take advantage of it. I noticed people always carrying their own water bottles. Perhaps it's because the lifestyle here is so much more active. Refill water bottles and consider investing in a nice canteen (it can be pricey at first, but it'll save you along the way).
Keep the lake clean. Aside from picking up your trash, be aware of aquatic invasive species by implementing the Clean, Drain, Dry technique. If you bring an inflatable or kayak, make sure you clean the weeds off before putting it in the lake, dry it, etc. A good rule of thumb is spraying off your kayak 3-5 days before transferring it to another body of water. Prevention is always cheaper than trying to fix a problem.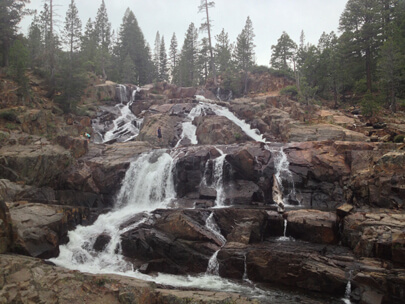 Fast Facts:
There are 63 streams that flow into Lake Tahoe and only one, the Truckee River, which flows out into Pyramid Lake. Unlike most bodies of water in North America, Tahoe's water never reaches the ocean. Lake Tahoe is 22 miles long, 12 miles wide, and has 72 miles of shoreline, with a surface area covering 191 square miles. That's a lot of lake to take care of, but one by one, educating one another, we can protect this beautiful national treasure for generations.
As tourists, we must remember that we are visitors here. When in doubt, use this common rule and ask yourself: would you do this in your own hometown?