Four High Elevation Disc Golf Courses to Experience Near Tahoe's South Shore
Lake Tahoe's clean, thin air is good for a lot more than a relaxing weekend getaway. At just above 6,200 feet, the little mountain destination is the perfect place to add some distance to your throws or try disc golf for the first time.
What is Disc Golf?
Before we jump into the courses, let's give a quick rundown on the sport of disc golf. Disc golf has plenty in common with traditional golf in terms of rules, scoring, and etiquette. Instead of a ball and clubs, disc golf is played by throwing specialized discs, aiming into a chain-catching metal basket. Besides being a bit off the radar, disc golf is easy to get into without breaking the bank. Once you pick up a set of discs for around 40 bucks, you can play at any of the courses in Lake Tahoe for FREE.
Tahoe Paradise Disc Golf Course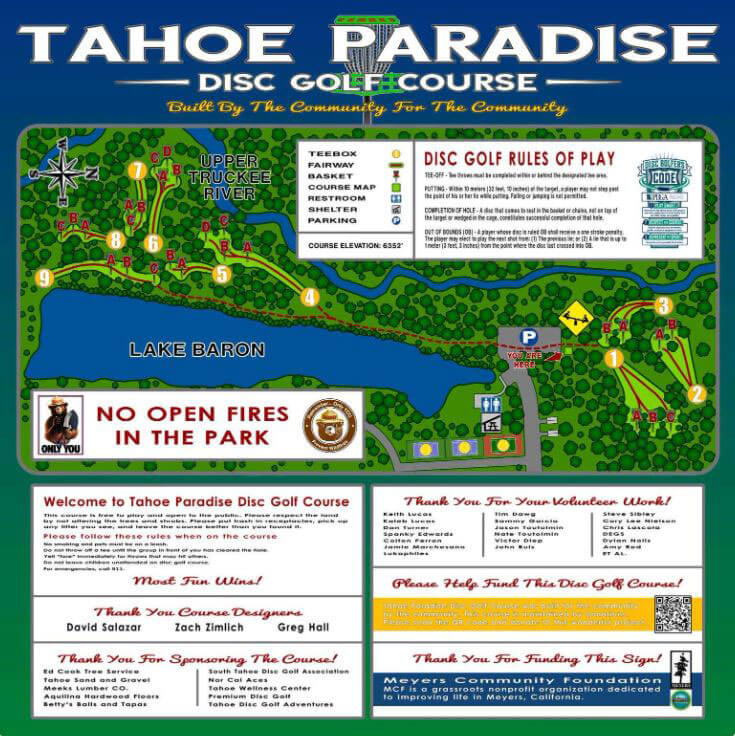 The recently completed disc golf course at Tahoe Paradise Park features 9 holes of all around fun. The beginner friendly course invites any player to step away from the public park and up on the pad and give it their best throw. The course begins along a playground but quickly takes players near Lake Baron's shores and through varying terrain with trees and granite boulders used as natural features throughout.
Bijou Community Park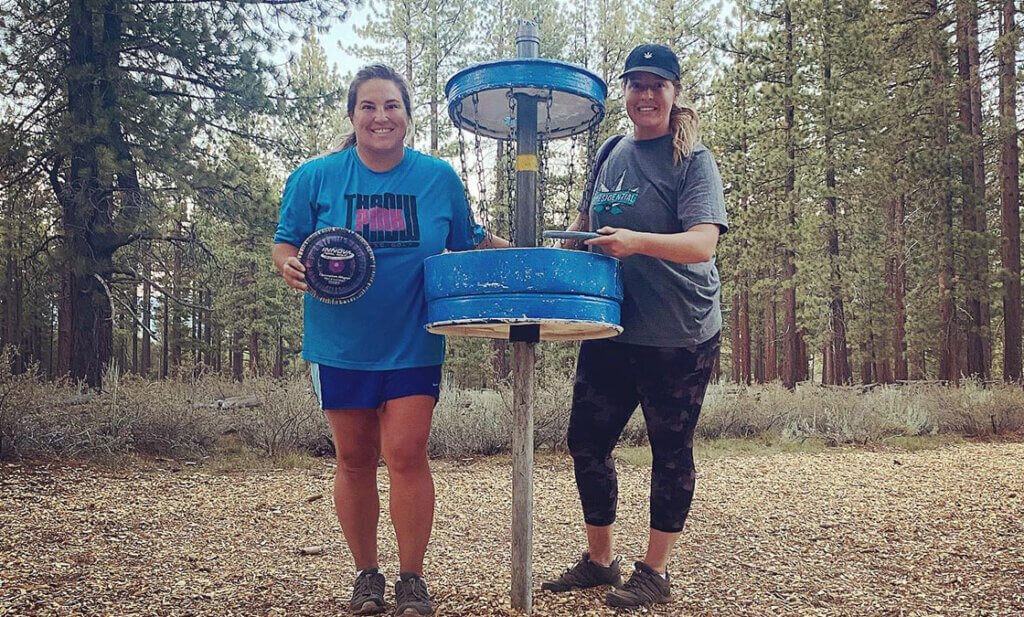 For first timers or those with a full schedule, we recommend venturing over to Bijou Community Park. Centrally located off of AI Tahoe Boulevard, this 27-hole disc golf course brings players close to other area parks. Overall, the course is fairly flat with a few minor elevation changes as it winds its way through calm meadows and towering pine trees. For beginners, the first nine are a perfect option since they're a bit shorter, helping to build confidence. The final 18 present a bit more of a challenge.
Zephyr Cove Park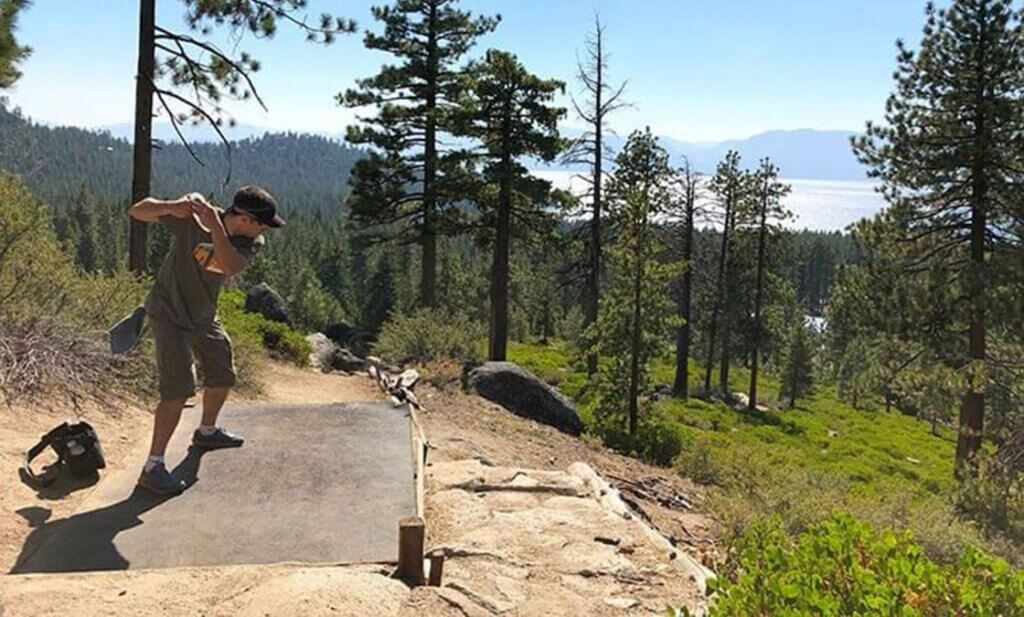 This 18 hole course starts under a canopy of pine trees and gradually ascends up a massive hillside speckled with granite boulders. Around the seventh hole, the forest begins to give way to low-growing manzanita vegetation, adding a bit more challenge to find your thrown discs. Be sure to persevere because the following sets of holes offer some of the most majestic views you'll find on a disc golf course. Due to the course's steep rolling terrain, a full game can sometimes feel more like a short hike. It's easy to see why Zephyr Cove was ranked the #1 Disc Golf Course in Nevada.
Kirkwood Mountain Resort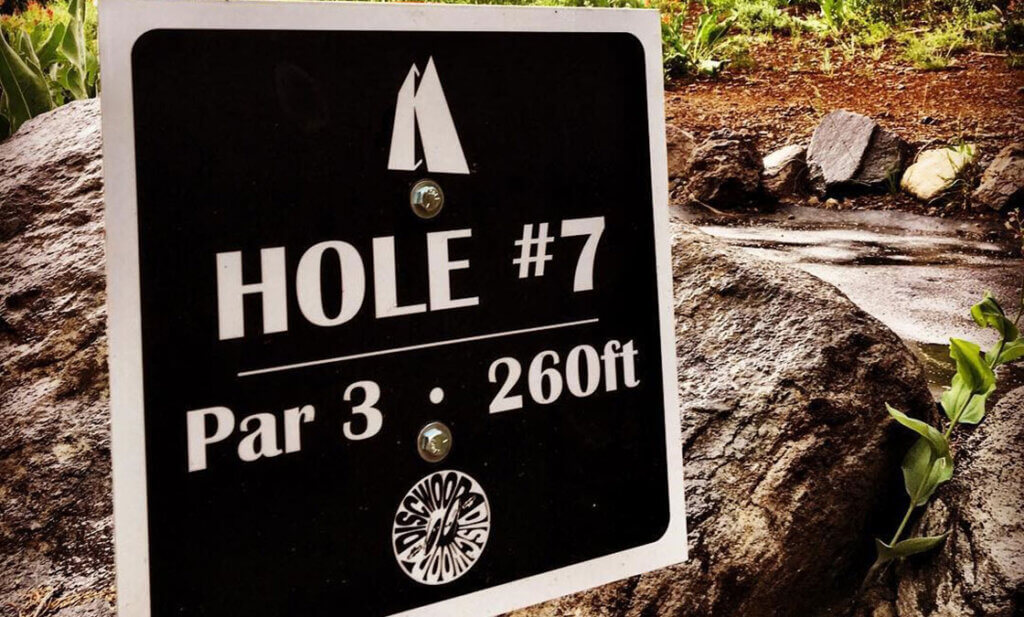 A powder mecca in the winter, Kirkwood Mountain Resort keeps the fun going all summer long just below the Timber Creek Express. Experienced disc golfers can test their skills on this unique high elevation course that is considered one of the most challenging courses in the western United States. This course offers a little bit of everything as it weaves through mountainous terrain, pleasant meadows, and even a few creeks. Truly an expedition, this course isn't for beginners or those that aren't in good physical condition. A normal round can take up to THREE hours, so be prepared.
Minimizing Your Impact
When played right, disc golf has a fairly low impact on the environment. Doing your best to avoid stepping on native plants and packing out your trash is a great way to show respect for our wildlife and the volunteers that keep our courses looking so good. You may be spending a good chunk of time looking for your frisbey so feel free to grab a few discarded pieces of rubbish while you're looking.
Interested in being a next level visitor to Lake Tahoe? Click here to learn more.
From the Course to the Table
After the last disc hits the basket, it's time to take the party from the forest and into town. Lake Tahoe has no lack of unique restaurants and bars to help you wind down before another day under the sun or keep the party going all night long.
---
Check out Lake Tahoe Disc Golf on Instagram