While travel to Lake Tahoe is off the table for the moment, it doesn't mean we have to sit gloomily in the present. We thought, why not look forward to the future with optimism and hope especially since this is National Travel & Tourism Week.
While we patiently wait for the travel restrictions to ease, we can honor the #SpiritOfTravel by looking back at our fondest memories and experiences in Lake Tahoe. We want to hear from YOU on what you're dreaming of doing again – just as soon as it's safe to do so. Tag us at #TahoeSouth in your social media post along with #SpiritOfTravel for the opportunity to be featured. For some inspiration, here are ideas on what to share:
Favorite View
To name a specific view of your favorite in Tahoe would be like trying to call one of your kids the best. Each one is unique and special in their own way. Emerald Bay is jaw-dropping. The scenery from the top of Mt. Tallac is breathless. To us, our go-to spot is less of these big ones and more about the experience behind it. High up on a mountain bike trail called the Armstrong Connector, there's a sandy left turn that opens up to views of Mt. Tallac and even a slice of Tahoe. Is it the best? Probably not, but the memory behind it is what makes it so special.
Best Sunset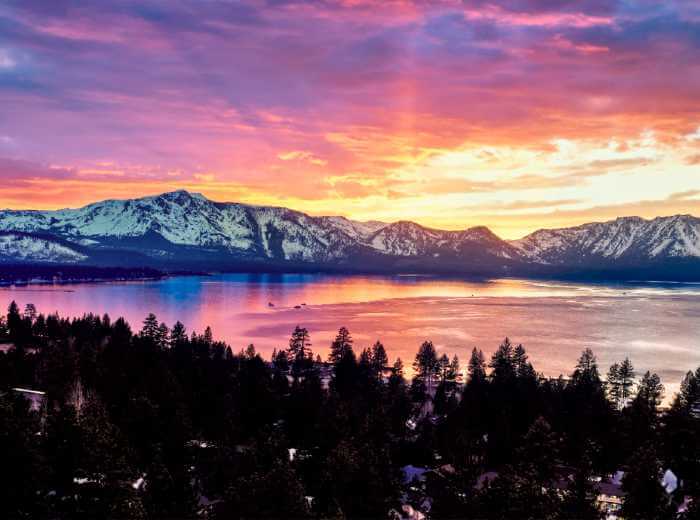 Maybe it's the crisp, clean mountain air. Or maybe it's because of the glassy waters of Tahoe. Regardless of the reason, sunsets in Lake Tahoe are priceless. And if that wasn't enough, each season provides something different to add to the sunsets. Snow-covered wintry landscapes. Wildflower blooms of the spring. Fall foliage or even summer vistas. Our favorite sunsets are always the ones after a long day of playing in the mountains. Just like dessert after a great meal, they're a perfect treat to end the day.
Most Beloved Hike
Hiking is such a unique activity that nearly everyone can enjoy in their own way. From a short thirty-minute getaway to a multi-day expedition, it's the ultimate "choose your own adventure book" in nature. The hike that we can't wait to enjoy again this summer is the Glen Alpine Falls trail. Besides featuring two beautiful falls, it's also a gateway to see where the 1st destination resort was located.
Don't Cancel… Postpone Instead
We can't say thank you enough for loving us from a safe and social distance. And while it may not feel right to think about traveling right now, a big portion of our workforce depends on tourism. With that being said, we urge you to postpone instead of canceling your trip. From the local bartender serving the classic Tahoe drink the "Chip Shot" to all our shop owners, the best thing you can do to show your support is to defer your trip to later.
And remember, as soon as these restrictions are relaxed, we'll be the first ones welcoming you back! Until then, here's where you can enjoy some virtual Tahoe Time from your couch.
Check Lake Tahoe on Instagram: