The Spa at Edgewood Tahoe
The Spa at Edgewood Tahoe. Serenity amongst the Sierras.
Nestled in a private, yet expansive area on the second floor of the Lodge is the Spa at Edgewood Tahoe—an 8,500 sq. ft. space that offers guest uninterrupted serenity amongst a peaceful and inviting atmosphere. With a stunning streamlined design aesthetic influenced by the innate beauty of the area's natural surroundings, the Spa at Edgewood inspires in its guest relaxation, rejuvenation, and unmistakable inner balance.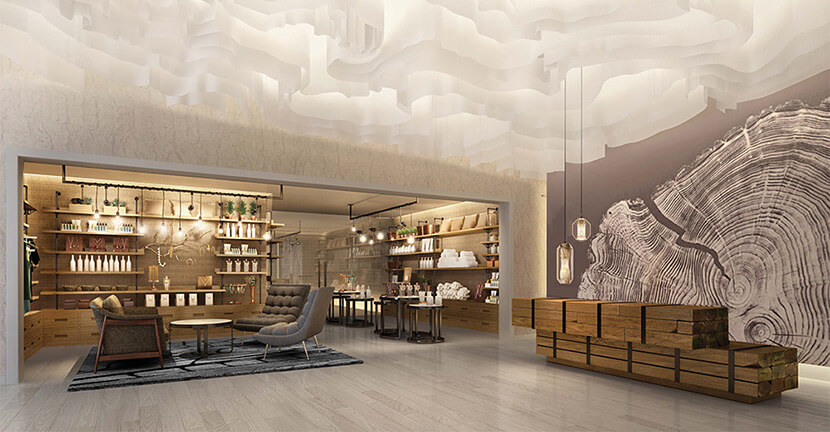 Enjoy unsurpassed service in absolute serenity—all in a stunning space. Let grand fireplaces warm your soul as the jacuzzi tub awakens your senses—while the majestic beauty of the surrounding Sierras inspires in you a calm like never before.
Whether you're looking to find your inner-zen with a post-golf massage, are seeking to replenish with a hydrating body treatment, or simply want to enjoy an invigorating steam, there's no better place to unwind than at the Spa at Edgewood.
The historic lodges of the great American West were crafted with one goal in mind: to allow kindred spirits to explore the most magical of settings. From national parks to natural wonders, these lodges began to pepper the most sought-after sites in the West, making the unattainable suddenly attainable. Mountain air became breathable. Alpine lakes, touchable. Soaring peaks, surmountable.
The Lodge at Edgewood Tahoe recaptures the spirit of these storied retreats and the adventures they inspired, allowing locals, newcomers and regulars alike to see the lake that's been revered for centuries in an entirely new way. Where casual comforts exist amongst classic refinement. Where untamed adventure resides amongst unparalleled accommodations.
Check out Edgewood Tahoe on Instagram
The Spa at Edgewood Tahoe
100 Lake Pkwy, Stateline, NV 89449