Snow has arrived in Lake Tahoe which means it's time to catch the "winter wave." With three massive ski resorts, covering thousands of acres of terrain, there's a lot of skiing & snowboarding to be had inbounds. The question is which trails to hit? Of course, we have to keep our private stashes secret. But, we can share some of our favorite iconic ski trails to hit across all three resorts, based by skill level.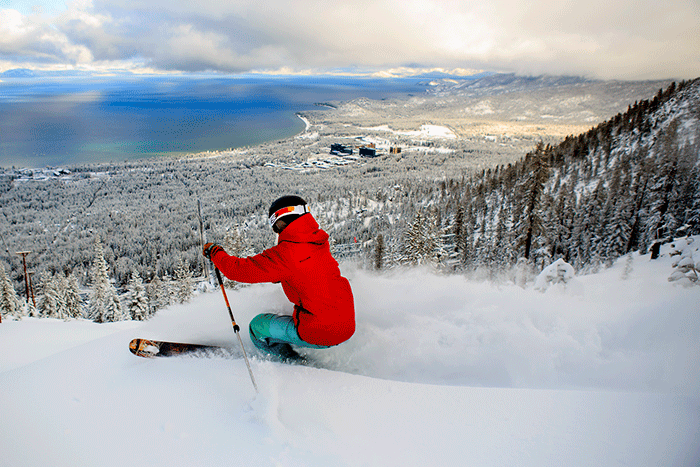 Gunbarrel (Expert)
What could arguably be considered the most famous bump run on the continent. This swath of snow plunges down 1,600 vertical feet, straight down to the wooden lodge known as Cal Lodge. It was this trail that helped usher in the freestyle culture of the 70s. While the "Face Rats" are an endangered species in the ski world, the attitude & love for the trail is still around with the annual Gunbarrel 25. Held every spring, this long-time tradition challenges participants to lap the run 25 times. Let's just say your legs will turn to jelly!
Ridge Run (Intermediate)
As soon as you get off Sky Express chairlift & turn around, you'll understand why they call this resort "Heavenly." While other resorts surrounding Lake Tahoe have fantastic views of the cobalt blue waters, none of them are as high or profound as the scenery off of Ridge Run. Hugging the resort's western periphery for over 1,500' vertical feet, it'll remind you that you're truly livin' the good life. On a warm sunny spring day, the views and moderate pitch will make you want to lap this trail over & over to really appreciate some of the best scenery in the world.
Patsy's (Beginner)
For those feeling a bit uncomfortable about Ridge Run but still want to enjoy the view, you're in luck! Accessed via a scenic Tramway or Gunbarrel Express, ride over to the higher elevation green zone. Patsy's provides lake views & panoramas along with a gentle slope to get some turns in.
Note: Once done, you'll take the Tramway or Gunbarrel Express back down.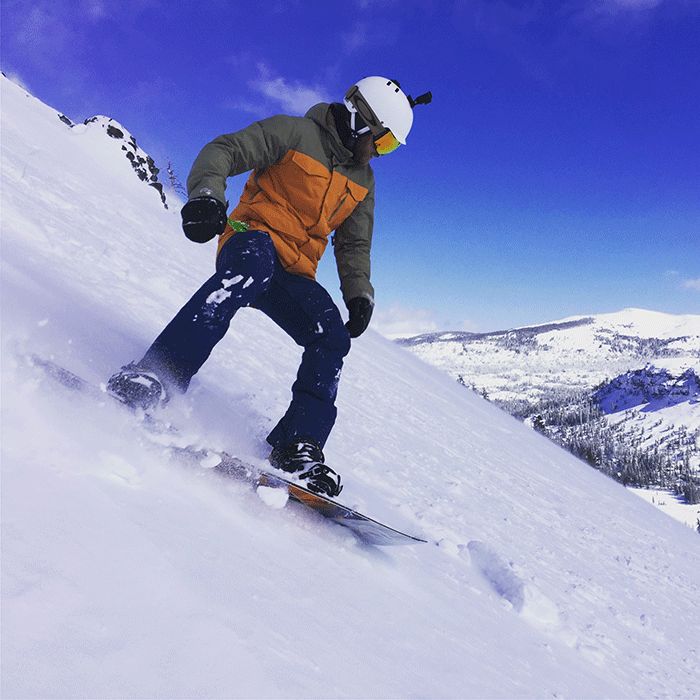 The Wall (Expert)
The intimidation factor begins at the entrance of the lift. You'll immediately be greeted by a skull & cross bones stating Expert terrain. As the slow, fixed-grip triple chair lumbers its way towards the top of the mountain, it feels like the ascent of a roller coaster. The Wall starts with heart-in-your-mouth steep chutes, followed by huge twisting gullies loaded with natural features to jump off of.
Elevator Shaft (Intermediate)
The "backside" as it's known, is served up via the Sunrise chair (Chair #4) & features a large blank canvas to carve on. Right in the center of the bowl is the trail called the Elevator Shaft. It's intermediate pitch plus mostly open face allows you to make giant turns down the entire mountain.
Timber Creek Base Area (Beginner)
One of the best things about Kirkwood is how it naturally divides the areas by difficulty. Kirkwood is home to two beginner areas, one of which surrounds the Timber Creek Express chairlift. Squirrel Ridge off of this lift is a run that every kid or beginner would want to play on. It's a gentle gully that snakes, winds and rolls its way through widely spaced giant Ponderosa Pines all the way to the bottom.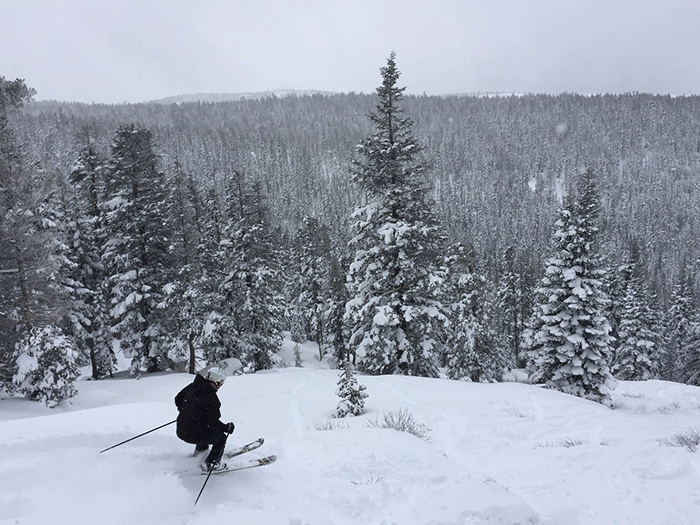 Dynamite (Expert)
The terrain at Sierra-at-Tahoe can be considered "Boulder-tastic" to say the least. With an absence of dirt & an abundance of rock, the trail Dynamite required quite a bit of explosives to make this run happen. While they did blast away some of the boulders, it still offers up steep fall-line skiing with large features to jump off of from top to bottom.
Powderhorn (Intermediate)
Sierra is an intermediate skier's dream with half of its slopes being considered moderate. A lot of those trails can be accessed via the West Bowl chairlift. Powderhorn is a great option to start with since it wraps around the resort's periphery & is very wide making it easy to negotiate its steeper sections.
Sugar n' Spice (Beginner)
The longest run at the resort starts at the top of Grandview & finishes at the bottom, covering the full extent of the resort's vertical at a modest pitch. At 2.5 miles long, by the end you'll feel like you accomplished a big feat.
So you see, Lake Tahoe is packed with enough varied alpine skiing terrain to keep any skier or boarder entertained regardless of skill level. With so many iconic trails, you just might find your new favorite too.
Check out Skiing and Snowboarding Tahoe on Instagram