A road trip is all about the journey and does not need to end once you get to Lake Tahoe. The exploration and discovery can continue when you use South Lake Tahoe as a base camp.
Lake Tahoe can take your breath away with rousing entertainment, exhilarating outdoor adventures, and breathtaking views for everyone.
Itineraries tend to focus on the drive, including a Rural Nevada Loop Road Trip, Classic Northern California Road Trip, and an Upstate California Road Trip but once you arrive at Lake Tahoe you can use it as a basecamp to experience all that it has to offer.
So what can you do with Lake Tahoe as your basecamp?
Explore Tahoe's Epic Views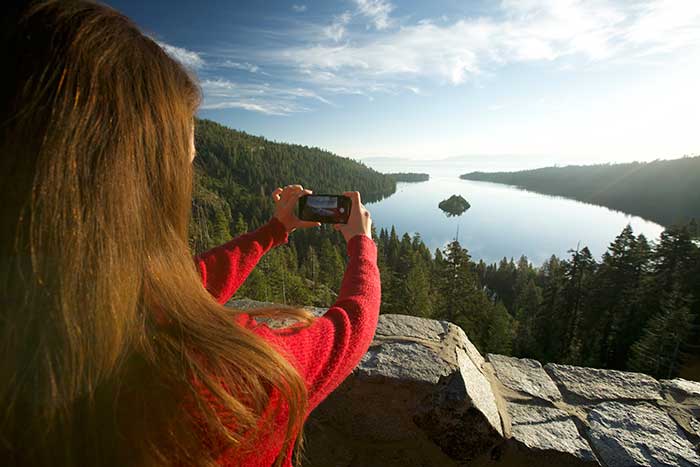 Sights you have only seen in magazines and on TV are within reach in South Lake Tahoe.
Begin your beautiful day of outdoor exploration by heading to Emerald Bay, one of the most photographed places in the United States. Here, you can hike to the top of waterfalls or down to the lake and bask in one of the most picturesque views in all of Tahoe, if not the world.
Then, jump in the car and drive to Heavenly Mountain Resort and jump on the gondola for some breathtaking scenery. The views don't stop there, however. Grab a tasty cocktail lakeside at Brooks Bar and Deck at Edgewood, then head up Kingsbury Grade for some appetizers while watching a classic Lake Tahoe sunset from the Chart House Lake View Restaurant.
Learn About Lake Tahoe History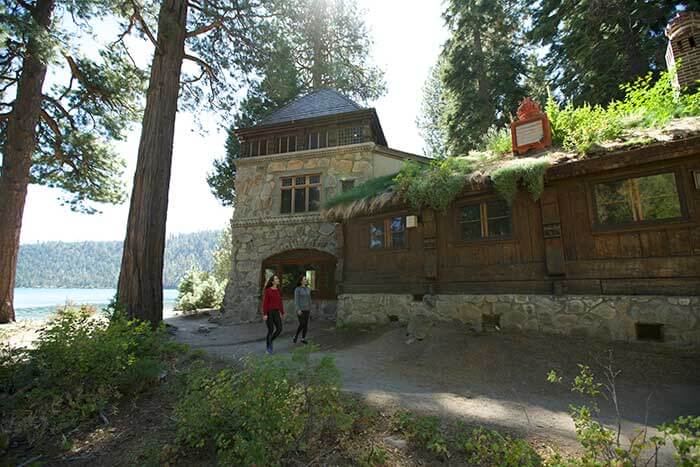 Native Americans knew of Lake Tahoe's glories for approximately 10,000 years before explorer John C. Fremont laid eyes on it in 1844. During the Comstock Lode, Lake Tahoe's trees were instrumental in creating the infrastructure for nearby mines, with approximately 80 percent of its forest used for construction.
A combination of the gold rush and mining boom, pioneers settling in the west, and the transcontinental railroad delivering visitors to Lake Tahoe, it eventually became a getaway for the San Francisco elite. Today, remnants of Lake Tahoe's past can still be explored.
Forests have been replanted and, once again encompassing the liquid gem and its now-historic landmarks. To get a feel of the area's history, visit the century-old Tallac Historic Site, where, in its prime, two impressive hotels and a casino used to reside. Tour the Baldwin Museum, along with the rest of the area, including the architecturally significant Pope House, which was built in 1884.
Another historically significant South Lake Tahoe structure to take in is the Vikingsholm Castle in Emerald Bay. Built in 1929 by Chicago widow Lora J. Knight, Vikingsholm is considered one of the finest examples of Scandinavian architecture found outside Scandinavia…right here at Lake Tahoe.
Eat and imbibe through Lake Tahoe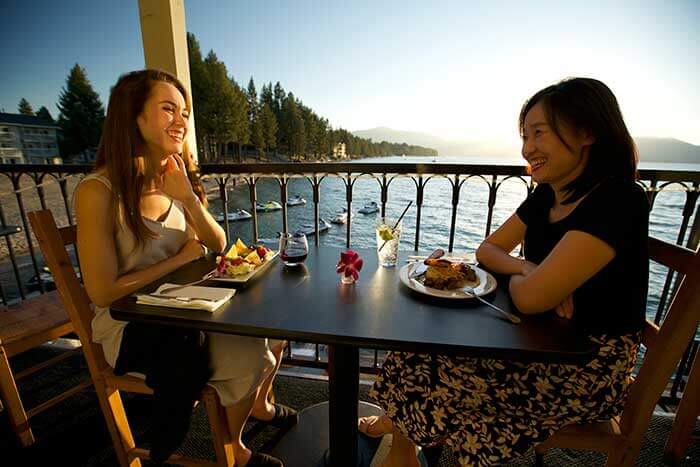 Many people know of Tahoe's magnificent scenery, but its outstanding cuisine and libations are often a delicious surprise for visitors.
Driftwood Café at the base of the Heavenly gondola boasts generous breakfasts and some original morning specialties. Nearby, walls feature Tahoe traditions for guests indulging in the Red Hut Café's heaping plates of comfort food.
Saying there's something for every taste in South Lake Tahoe isn't cliché, it's fact. No palates will depart disappointed.
Find old-timey traditional locales with belly-busting burgers and milkshakes like the Sno Flake Drive-In, upscale dining with a side of celebrity at Gordon Ramsey's Hell's Kitchen, and local flavors eaten lakeside at Jimmy's Restaurant in The Landing Resort and Spa.
When it comes to throwing one back Tahoe style, you'll discover a multitude of breweries here. Most offer some food to soak up the suds also. Check out our Beer Trail map and make an afternoon of touring all the local brewers have to offer.
If wine or concoctions are more your style, try The Tahoe Cocktail Corner's sophisticated beverages and wine selection. In Heavenly Village, intrigue and intimate surroundings lure guests to The Loft, a live theater and lounge which features surprisingly creative drinks.
Go from the Slopes to a Sunset Cruise
Want to do it all in just one day?
Well, not all, there's far too much to do at Lake Tahoe, but it's quite satisfying to begin your day on the slopes and finish it off with a sunset cruise across the lake.
Start the day by heading to Heavenly or Sierra-at-Tahoe and strapping on some skis or a snowboard. Glide down the runs to your heart's content, warm up at one of the base lodges, then it's time to hit the water. Or at least drift on top of it.
Create tender memories on Lake Tahoe's historic M.S. Dixie II, an authentic sternwheeler that departs daily, every day of the year, across Lake Tahoe to stunning Emerald Bay. Bask in the rustic vibes at Zephyr Cove Resort, from where the Dixie is based, then hop on board to take in a magnificent Lake Tahoe sunset from the water while being served dinner.