You are in Tahoe! You just spent the day out in the sun: relaxing on the beach, hitting the lake on jet skis, hiking one of the great trails. You had a blast with your friends and/or family, but you are now ready to unwind. Your skin feels dry, your face is flushed, and you just want to sit down with some air conditioning and an ice cold beverage. A margarita sounds yummy and tangy, but you may not be in the fiesta mood. A glass of wine makes you appear a classy aficionado, but who are you really trying to impress on vacation? After a long, hot day you could really use something thirst-quenching and comforting.
Beer it is! Somehow, the combination of water, barley, and hops concocts a product that is quite satisfying in its certainty, with a risk factor that is solely up to you.
Perhaps you are patriotic through and through sticking with Americana entities such as Coors and Budweiser or you have purchased a lifetime ticket aboard the Craft Brewery bandwagon (I may be guilty of that myself). Regardless, South Lake Tahoe has something for any beer drinker, with more breweries popping up over the last few years. Here is a small sample of some of the variety that can be found.
Stateline Brewery
Stateline Brewery is located in the north half of the Heavenly Village complex, within walking distance of the casinos. The wait time can be 30-45 minutes, but that is typical of Tahoe restaurants during summer. They have a nice variety of beers, from familiar domestics to in-house brews. They change their draft options quite often so there's always something new to try. The staff is really accommodating and will help you find the right beer for you, even allowing you to sample. They also have good deals on pitchers if you are sharing with some friends. The restaurant can get a little loud, but you will be too busy digging into the scrumptious food to care. I recommend one of their burgers or their fall-off-the-bone ribs. I also love snacking on their house-made chips with balsamic vinaigrette or their coleslaw (they keep it light on the mayo so it's nice and refreshing).
Cold Water Brewery
Cold Water Brewery is located on the California side, in the Swiss Chalet complex. They have a fully-stocked bar which can provide domestic beers and cocktails, but they also brew their own beer. They make eight different beers packing incredible flavor, with witty names such as "Mr. Toad's Wild Rye" and "Citra-Ass Down IPA." My personal favorites are "Hall of the Gods Porter" or "Stillwater Stout" because I like my beers dark and malty. Ask your server to take a peek at their in-house brewing system, if you're nerdy like me and love seeing the process. They also have yummy food, with many dishes that are perfect for sharing. They are famous for their "Tahoe Loaf," a sourdough loaf with either cheddar beer fondue or kale artichoke dip, which is warm and hearty. Even their simple truffle Parmesan fries are delicious.
Basecamp Hotel Beer Garden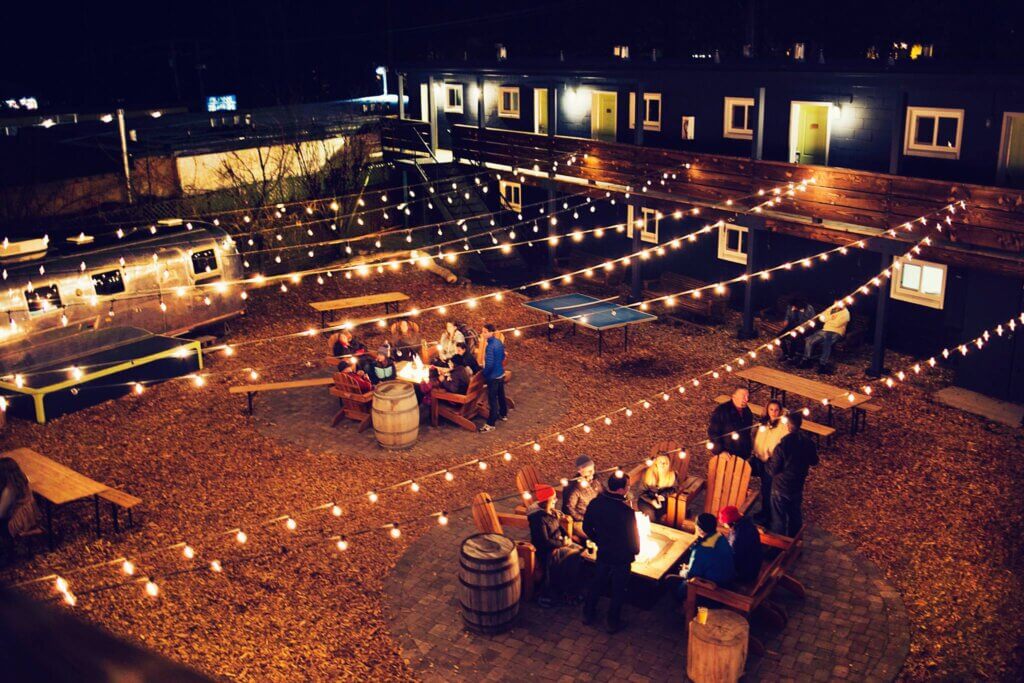 The Beer Garden at Basecamp Hotel is one of those off-the-beaten-path locales, if you are looking for something more relaxed and intimate. When you hear "Beer Garden" I know you're probably picturing an exuberant setting that resembles Oktoberfest, yet this Beer Garden is quite the opposite. So put those exhausted kids to sleep in your hotel and go sit on the grassy lawn next to the fire pit, while drinking out of Mason Jars. The bar here is on a much smaller scale, so they only have a few beers on tap and some bottles. However, the Beer Garden is unique in it's simplicity and makes for a romantic evening. During the summer months they have a variety of Brats/Sausages and snacks. It is truly a wonderful experience and is the perfect way to unwind after a long, action-packed day.
Lake Tahoe Beer Trail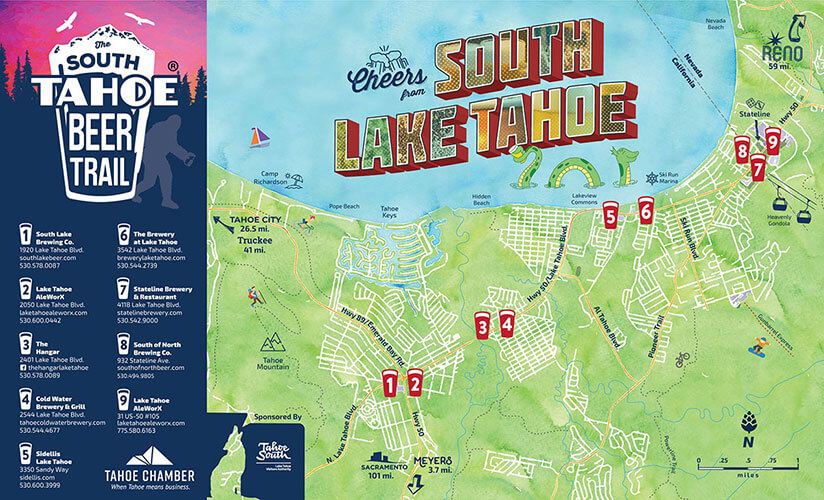 After spending the day out in the Lake Tahoe playground, the best way to relax and unwind is with a frosty pint of local craft beer. The art of craft beer has taken the nation by storm within the last few years, and Lake Tahoe has joined the ranks. In recent years, new breweries have been popping up all over town, displaying unique and signature taps.
In all honesty, South Lake Tahoe has a wide variety of fun locations with something to offer for everyone. Please let me know what locations you've tried and enjoyed, I can always use recommendations! What are your favorite types of beers? All this beer talk is making me parched and I might just have to quench that thirst with an icy pint of my favorite brew. Cheers!