It doesn't matter where you're staying in Tahoe or what your agenda looks like, the odds are that at some point you'll follow the same sequence of events that we all tend to: first you'll become exhausted from a day out adventuring, then you'll need to find a spot to unwind and refuel. There's no shortage of options for food and drinks, it all depends on what kind of experience you're seeking. One thing is for sure – whether you're starting or ending your evening, you can't go wrong with a fireside venue.
Any night of the week is a good night to catch some live music, bar hop for happy hour deals, or enjoy tasty local food, drinks, and great company.
Lake Tahoe AleWorX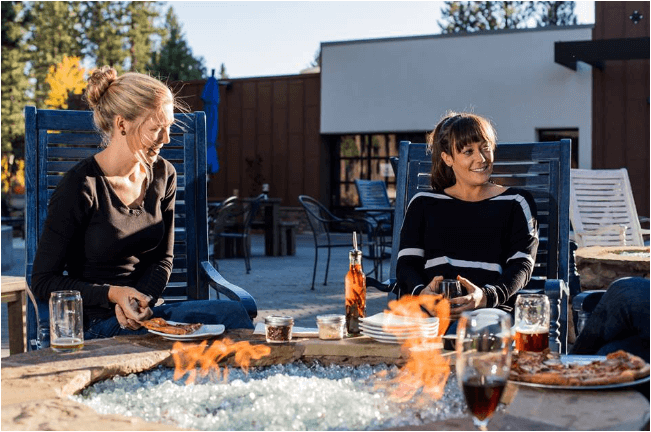 The Lake Tahoe AleWorX has been around for a couple years, but a shoe-in favorite since they first burst onto the Lake Tahoe food scene. In case you've been Netflix and chilling all winter, here's how it works: walk in, grab a wristband with an electronic chip, and from here you create your own experience using that wristband. Want custom wood-fired pizza? Walk over to the oven and let the chef know what to toss in there. Parched? Pour your own beer choosing from an impressive selection of 30 brews with a focus on local craft. The fire pits out back are very large and conveniently located next to a huge projector screen and stage. Send it to the AleWorX for the next game, some live music, or check out their upcoming events for more fun.
South of North Brewery at Basecamp Hotel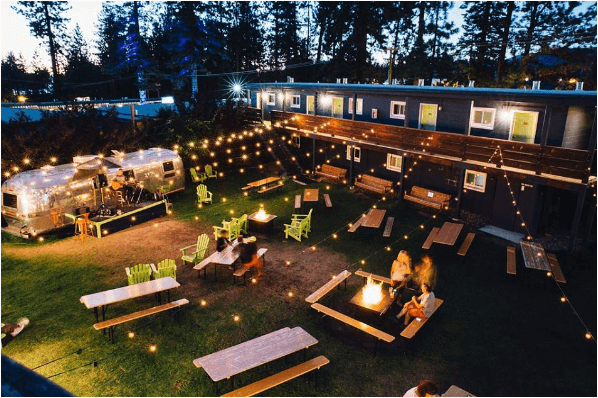 The Beer Garden at Basecamp is back and better than ever under their new identity and operation are known as South of North Brewing Co. The brewery has poured their efforts into a selection of delicious draughts that they make right there in the Basecamp Hotel (Room 140 to be exact), in addition to some well thought out food pairings to match. Their courtyard patio area features several picnic tables, lawn-games to play, and of course fire pits. Outside visitors are not only welcome but encouraged to stop in to enjoy exceptional beer, food and fun year-round – hang out for live music any day of the week, or show up ready to rumble on Trivia Wednesdays for some good laughs with great company.
FiRE + iCE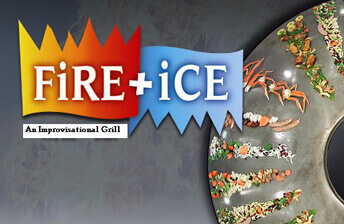 Located right next to the Heavenly Gondola, it's an awesome spot to spend an evening, or simply hang out for a bit if the rest of your crew wants to hop around the village shops. Spice things up a bit with this Mongolian BBQ dining experience, upon arrival you'll find that they have much more to offer than just that. Choose from an array of raw meats, veggies, pasta, rice and more – whatever you can come up with is what you'll be having. Pass your plate off to their line of pro-grillers where they'll take care of perfectly blending it all together while you warm your toes around one of their HUGE fire pits. Remember, never too much sauce.
Coachman Hotel
Another hotel, yes, and for good reason – these boutique inns are taking the Tahoe vacation experience to a new level. The Coachman Hotel combines cozy cabin-esque comfort with modern Tahoe flare and trends. Just a short walk to the shops, restaurants, or the beach, the Coachman is conveniently close to all of the action but far enough for when you'd like to step away from the occasionally rowdy village scene. The elegant deck fire pits are a great place to get ready for the evening with an espresso (from premium Stumptown beans), or come down from the mountain and unwind with an apres ski beer. While you relax fireside, replenish your body and show the locals from across the lake some love with refreshing Folk Brewing Kombucha on tap!
McP's Taphouse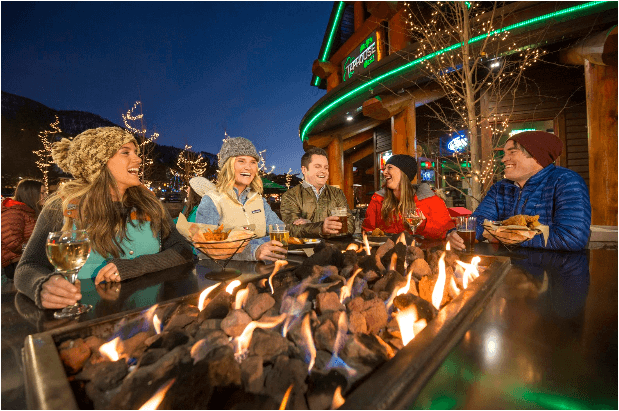 Just a stone's throw from the Gondola at Heavenly, McP's Taphouse is home to more than traditional Irish pub fare. The bar is stocked with a diverse selection of 40 beers on tap, but grab the beer of the day during happy hour for just a measly $2! At the table-top fire pits on the patio, you'll still have the option to watch a game on multiple outdoor TVs, as well as have access to your own walk-up bar from the outside. Fancy a seat inside? Grab an Irish Coffee and warm up on the couch by one of their cozy indoor fireside tables. The bar is regularly open from 11:30 am – 2 am, making it the perfect place to start the day with a killer brunch, or keep the good times rolling with their late night menu.