There is a new cafe in South Lake Tahoe, one that is selling something no other spot does in town – antojitos!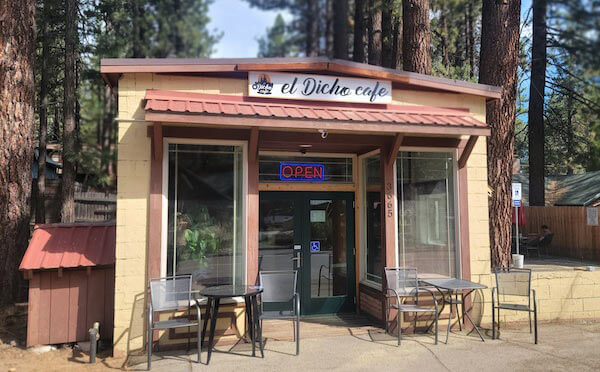 El Dicho Cafe opened last week on Tamarack Avenue and has coffees, bagels, breakfast burritos, fruit smoothies, flavored Red Bull, juices, fresh pastries, and a full list of antojitos (or Mexican snack food) on its menu.
Perla Bautista has lived in South Lake Tahoe for 39 years and was operating Learn & Play Daycare out of her home when she was able to realize her next dream.
"I wanted to open a coffee shop since I was little," said Perla.
She is still running the daycare, and operating El Dicho with the help of her husband and two sons. Perla grew up in the Ski Run neighborhood, and now their family home is in the same area, very close to the cafe so it makes running two businesses a little easier.
"Antojitos are street food/snacks and the perfect food to watch soccer with," said Perla.
El Dicho Cafe is open from 7 a.m. to 9 p.m. daily with the street food starting at 2 p.m.
Perla wants the cafe to become a special place where people can come and hang out. There is outdoor seating, with the tables moving inside when the snow comes.
Her two sons, Aiden and Juliun Morales, are both South Tahoe High School graduates and are now attending Lake Tahoe Community College where they are both playing soccer (Perla graduated from STHS as well). Husband Anibal Vazquez helps out when he isn't working in construction, and the boys' friend Asier Fernandez is an employee. If not busy enough, Perla and Anibal are expecting the addition of twins in October!
Asier's favorite on the menu is Bionicos, and Perla said the corn, esquites, tostiesquites, and fruit items will also be early favorites. They also have a changing variety of frescas.
Social media and a website haven't started yet but look for that to come soon.
El Dicho Cafe is located near the intersection of Tamarack with Ski Run Blvd across the road from Thai on Ski Run and Cafe Fiore. Information originally appeared in SouthTahoeNow.com
El Dicho Cafe
Tamarack Ave, South Lake Tahoe, CA 96150