The Loft Theatre-Lounge-Dining
The Loft in the Heavenly Village has announced its brand new American Tapas restaurant, Taste, located on the 3rd floor of the popular award-winning venue.  The new "foodie-forward" features an array of delectable shared-plate options for every discerning "taste".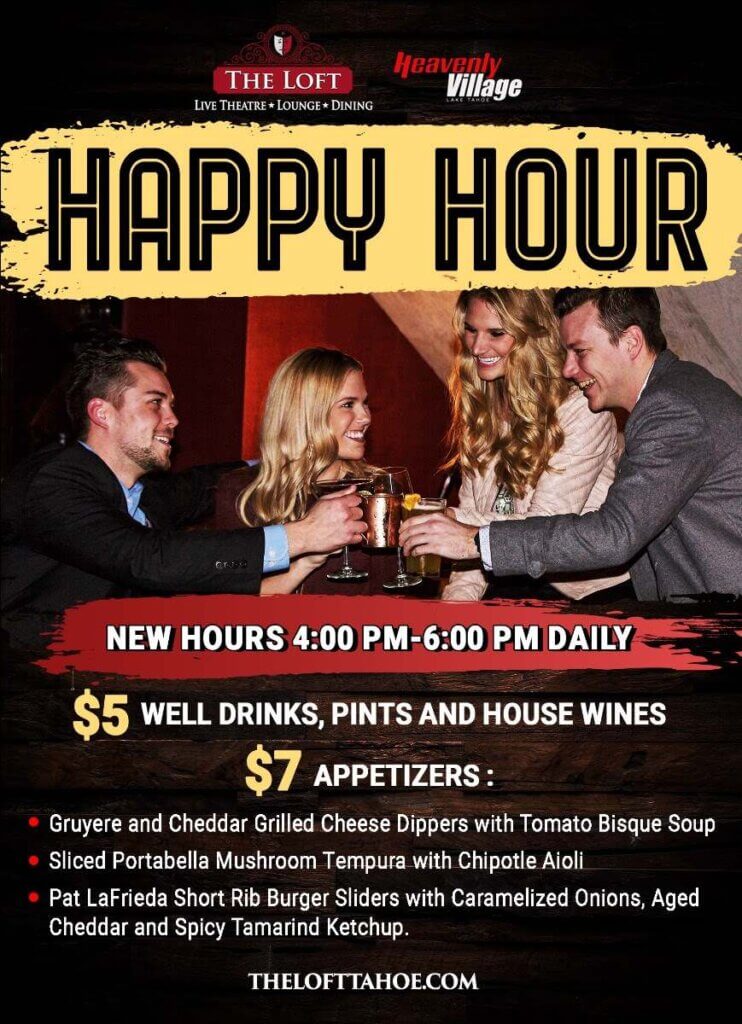 Vice President of Operations and Executive Chef, Frank Trotta is no stranger to creating exceptional menus for some of the most popular dining establishments in the world. Each thoughtfully designed dish tells a story of Chef Trotta's expansive culinary experiences from his impressive career which includes such prestigious properties like The Stanley Hotel in Colorado, The Bitter End Yacht Club in the Caribbean, and The Crowne Plaza La Concha in Key West. "I have designed the new Taste menu from the places I have live and drawn culinary influences from New Orleans, New York, Key West, Bahamas, and the British Virgin Islands", says Trotta, who holds a Culinary Arts Degree from the famed Culinary Institute of America in New York. He also is a Certified Sommelier from the Court of Master Sommeliers.
From cold and hot plates, to imported cheese and charcuterie boards, dinner, bar and lounge guests will be able to enjoy this social dining experience throughout the entire Loft venue, something not available until now.
Taste at The Loft will feature cold items such as Bison Carpaccio with White Truffle Oil, Capers, Red Onions and Shaved Parmesan.
Yellowfin Tuna and Avocado Ceviche in Belgian Endive.
Roasted Beets and Burrata with Basil Oil and Balsamic Drizzle.
Chicken Liver Pate with Madeira and Dried Cranberry. On the hot menu try the Petite Osso Bucco over Baked Polenta. Seared Tuna with Charred Pineapple and Wasabi Aioli. Seared Filet Mignon with Roasted Garlic Gorgonzola Crème over Wilted Spinach. Honey Bourbon Glazed Pork Belly Skewers. Mini Lamb Chops with Mint Pomegranate Balsamic Glaze or Seared Scallops with Meyer Lemon and Caperberry Sauce just to name of few.
The Loft is also home to Lake Tahoe's #1 show, Magic Fusion, featuring award-winning world-class magicians from around the world, which performs nightly in The Loft Theatre. The show is a separate experience from Taste At The Loft restaurant so guests can enjoy the dining experience on its own, or prior to or after the show. The Loft is located in the Heavenly Village, on the 3rd floor next to the Cinema. There is a direct entrance from the 3rd floor of the parking structure, or from the ground floor of the village. The Loft is open 7 nights a week throughout the year. For more information, dining reservations or show tickets, visit www.thelofttahoe.com or call us (530) 523-8024.
Also, consider an after-show dessert like our famous tableside S'more Fire Pits, or a specialty drink from one of our professionally trained Mixologists.
Love Wine? So do we! The Loft prides itself on our sommelier designed Wine List. TASTE at The Loft restaurant is open seven nights a week, food/beverages served until 2:00 am.
Monday – Locals Night
20% off entire bill and show tickets for locals living within 60 miles of the Village.
Tuesday – Tahoe Blue Trivia Night
$6 Tahoe Blue drink specials all night long. Grab your friends, we'll see you at 9 PM Tuesdays!
Wednesday – Wine & Whiskey
Wine & Whiskey flights for $10 each. Different whiskeys and wine will be chosen by our in-house sommelier.
Thursday – Lipstick Lounge
Lipstick Lounge. In honor of our lovely "guestettes" everyone wearing lipstick takes advantage of these amazing specials throughout the night. $5 Cosmopolitans, Champagne or house wine.
Friday – Magic After Dark
Every Friday at 9:00 pm, Magic After Dark gives our Patrons who desire a more adult experience and opportunity to enjoy Magic Unfiltered.
Saturday – Late Night at The Loft
#nightlifeelevated. Sophisticated nightlife after-hours, chill house music, craft cocktails, cozy indoor fire tables. Open until 2:00 am.
Sunday – Kids Free Matinee
4:30 pm, KIDS FREE MATINEE for Magic Fusion. Buy one adult ticket, get one children's ticket free (16 and under). Based on availability. Weekly rotating events such as cult movies, action movies, etc. And $5 draft beers. Check the website, www.thelofttahoe.com for weekly events & updates.
Check out the Loft on Instagram
The Loft Theatre-Lounge-Dining
1021 Heavenly Village Way, South Lake Tahoe , CA 96150