Tallac Historic Site. The former site of the 100-year-old Tallac Resort. In its days of glory, the resort included two large hotels, a casino, and numerous annexes and outbuildings. Nowadays, the site is home to Valhalla community events center and its annual Valhalla Festival of Arts and Music. Exhibits on the Baldwin family-the former proprietors of the Tallac Hotel, and on the Washoe Indian Tribe can be seen at the Tallac (Baldwin) Museum located also within the site.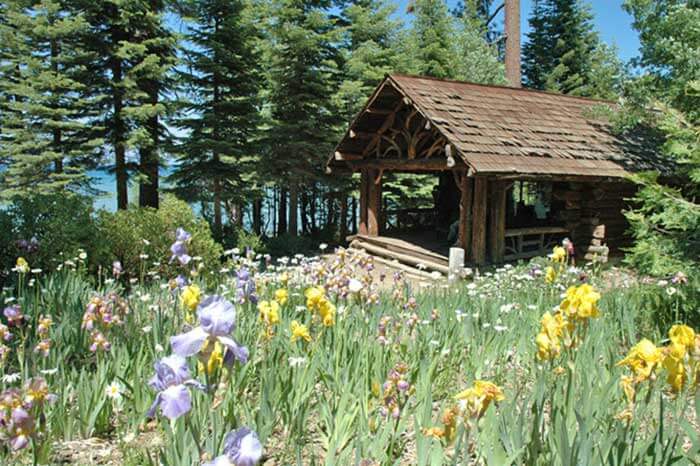 Explore Tallac Historic Site Virtually
View the Lake of the Sky Journal.
The Tallac Historic Site is composed of the Baldwin Estate, the Pope Estate, and the Valhalla Estate.
The entire site is open is each day during the summer season. Parking is free.
This area is ideal for beginners or families with children during the winter. Flat with amazing views of Lake Tahoe.
There are many paths around the site, making walking easy and enjoyable.
The Baldwin Museum is free but for an additional cost, you can tour the Pope House, take a Site Walk, and take a Servants Tour.
Check out the Audio tour on your own smartphone, here.
NEW! Taylor Creek Virtual walking tour: Discover Lake Tahoe Audio Tour and celebrate public lands by delving into language, culture, and responsible recreation practices.
This tri-lingual walking audio tour was designed to accompany visitors as they explore the natural and cultural histories that have shaped and been shaped by the landscape of Lake Tahoe and is available for free download in English, Spanish, and the native Washoe language.
Interested in bringing a group to the site? You can schedule a group tour by emailing info@tahoeheritage.org or by calling the Tahoe Heritage Foundation office at (530) 544-7383
Group Tour options:
Site Walk: This tour leads guests on a trip through time, learning about the history of the Tallac Resort and all three historic estates.
Pope House Tour:
Explore the Pope House and learn about the luxurious lifestyle of the wealthy families who came to Lake Tahoe in the 1920s. Discover the beauty of the house's architecture and learn about its restoration. Groups of 12 or fewer can be scheduled at 11:00am / 12:30pm / 2:30pm. Groups of 12-24 can be scheduled at 11:00am or 2:30pm. For groups of fewer than 12, we cannot guarantee a private tour.
Children's Tour:
Come learn what life would have been like for a child visiting the Pope Estate in the 1920s. Discover where they spent their time and what they might have done for fun – you may even get to play some games!
Depending on the availability of personnel and number of guests, we may be able to tailor a tour to the interest of your group. If you have a specific area of interest you would like to learn about, please let us know!
Group tours must be scheduled at least two weeks prior to the requested tour date.
Map of the Tallac Historic Site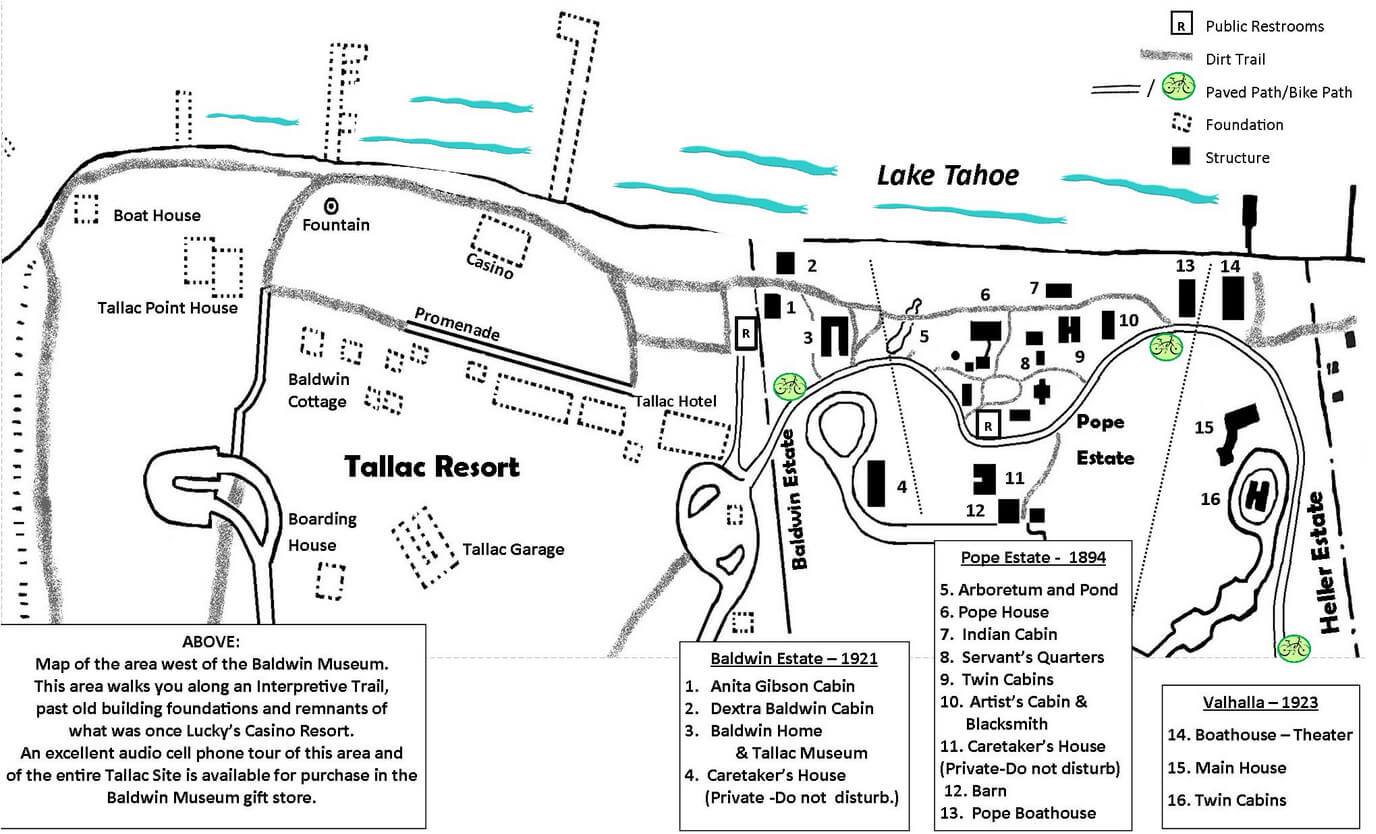 A Glimpse In Tahoe's "Roaring" Past – The Tallac Historic Site
Check out the Tallac Historic Site on Instagram
Tallac Historic Site
Tallac Road, South lake Tahoe, CA 96150