Tahoe's Fourth of July Last Minute Getaways, Know Before You Go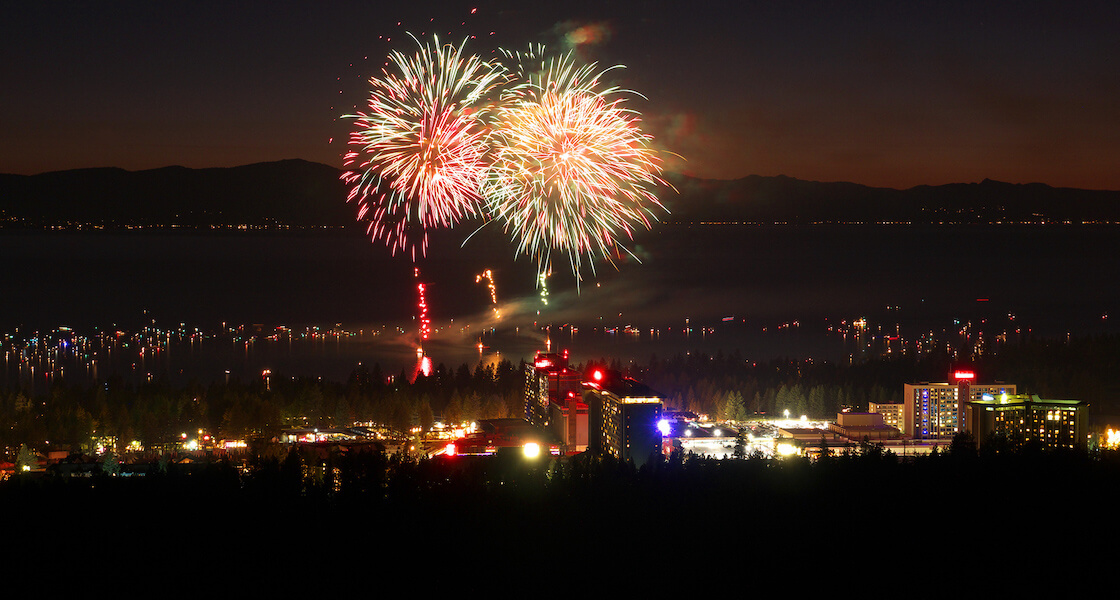 June 28, 2023 (SOUTH LAKE TAHOE, Calif./Nev.) – The nationally recognized "Lights on the Lake" fireworks extravaganza entails 20 minutes of bright lights and colors that illuminate the night sky to celebrate a memorable traditional Independence Day.
The show will feature a spectacular array of explosive formations and pairing musical sounds of American classics and today's top hits to perfectly executed pyrotechnics broadcasted live from KRLT-FM. Besides viewing from a boat, the top spots for the 9:45 p.m. show include Nevada Beach, Timber Cove Beach, Lakeview Commons, and Van Sickle Bi-State Park. Area officials advise viewers to plan ahead, consider alternative modes of transportation and take all personal belongings and any trash when the show concludes.
"The fourth of July weekend is shaping up to be another Tahoe family tradition with a parade, beach time, live music, outdoor recreation and fireworks overlooking the lake," said Carol Chaplin, president and CEO of the Lake Tahoe Visitors Authority. "With the holiday being midweek, there's still opportunities for accommodation but several properties are nearly sold out. Area officials anticipate heavy traffic volume throughout the holiday week, and highly recommend alternative modes of transit: Lake Link, rideshare, bike, walk, etc. We recommend that visitors have a back-up plan if parking areas/beaches/trailheads are full, take trash with them, and check out our Know Before You Go page with any pertinent information, updates and tips to have a memorable and safe holiday weekend."
The City of South Lake Tahoe's Fourth of July parade is on Tuesday, July 4, from 9 a.m. to 1 p.m. U.S. Highway 50 will be closed westbound between Ski Run Boulevard to Al Tahoe Blvd during the parade. Eastbound U.S. Highway 50 will remain open. For event information, visit: www.cityofslt.us/875/4th-of-July-Parade.
For lodging accommodations: https://visitlaketahoe.com/hotels/.
Reminder that personal fireworks are illegal in the Tahoe Basin. For additional firework details including contact information and resources for the cleanup team: https://tahoedouglasva.org/fireworks/
####