Campgrounds in South Lake Tahoe
Luther Pass Campground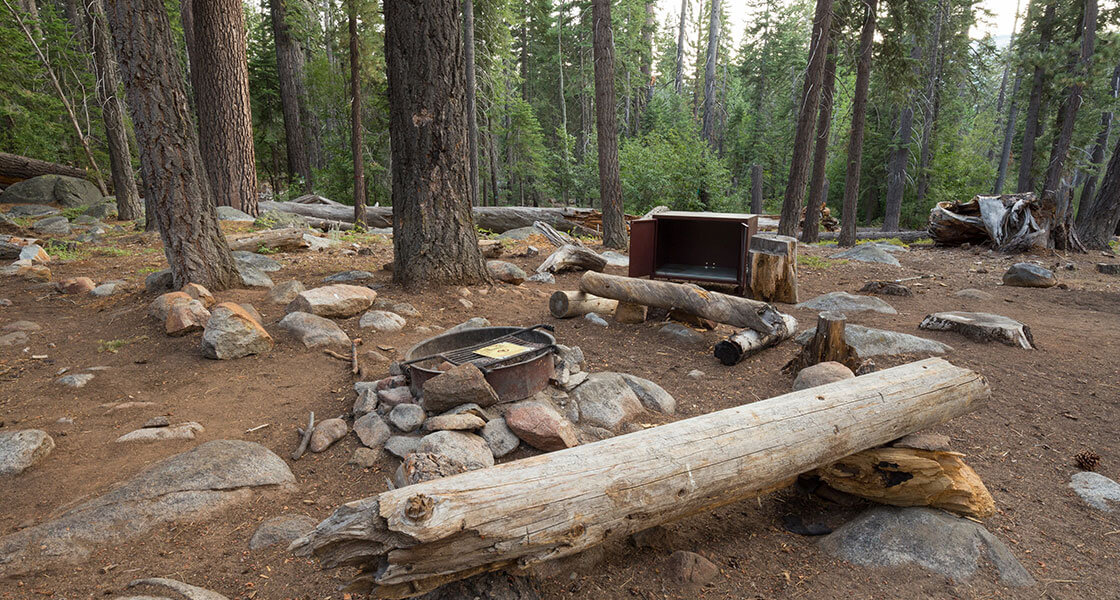 Luther Campground lies only a few miles from South Lake Tahoe, and therefore it is a great place to stay for travelers on a budget. This campground is free to all users and has a seven-consecutive-day stay limit. Just up the road lies the Big Meadow Trailhead, a parking area for backpackers and hikers doing part or all of the Tahoe Rim Trail.
Campsites here are considered dispersed, as there are no parking spurs adjacent to the sites, but the walk to each campsite is no greater than 50 yards. Several of the sites are well detached from others, offering a bit of privacy and seclusion. There is no potable water; however, Big Meadow Creek runs nearby and provides a source of water for purification.
Yellow jackets tend to be a problem here and will constantly buzz around any food that is not in a closed container. These insects are generally non-aggressive and will not sting unless provoked, though it is best to exercise caution, especially if a party member is allergic.
Open May 25 through Nov 15.
Luther Pass (el. 7,740 ft. / 2,359 m) is a mountain pass in California in the Sierra Nevada, between the Carson River basin to the southeast and Lake Tahoe to the northwest. It is traversed by State Route 89 and lies on the boundary between Alpine County (in the Carson River basin) and El Dorado County (in the Tahoe area). The pass crosses a mountain spur that links the Sierra Crest, the main ridge of the Sierra Nevada to the southwest of the pass, with the Carson Range to the northeast.
The pass is named after Ira M. Luther, one of the "Irish Brigade" described by Mark Twain in Roughing It. In 1854, Luther traversed the pass by covered wagon; he was also involved in later efforts to use the pass as the route for the Central Pacific Railroad. The initial route for the Pony Express across the Sierra Nevada in 1860 connected Placerville and Lake Valley across Luther pass to Woodfords and thence to Nevada, but the route was quickly changed to use the Kingsbury Grade instead.
Nowadays, during the ski season, the pass serves as an important connection between South Lake Tahoe and U.S. Route 50, to the north of the pass, and the Kirkwood ski area to the south. In the summer, Luther Pass forms part of a route from Placerville and Route 50 to U.S. Route 395 and the eastern Sierra, via Monitor Pass, but this route is closed in the winter.
Luther Pass Campground
Hwy 89, South Lake Tahoe, CA 96150