I absolutely love skiing, but when the mountain is on wind hold, it's too crowded or I just feel like doing another outdoor activity, fishing is one of my favorites. One of the best places to do that is Caples Lake near Kirkwood. At an elevation of 7,800 feet, Caples Lake has a shoreline of 6 miles and on a sunny day you can see about 10 feet down with the deepest part of the lake at 52 feet. One of the best times to visit Caples Lake may be fall into winter, when the lake level is low and not fully frozen yet. The snow patches and ice glisten in the sun and it's a pretty amazing experience.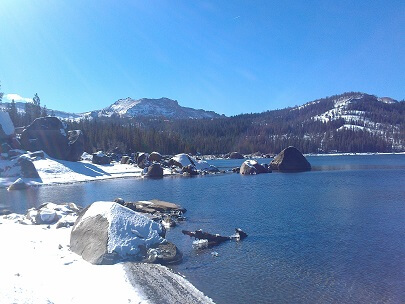 My friend and I went fishing in November. We parked on the side of the road just past the entrance to Woods Lake and prior to reaching the spillway. It was a beautiful, crisp, and not terribly cold morning. We both loaded our Granite Rocx packs up and trekked out through the snow to reach the shoreline. The ice wrapped around the logs and shoreline of the lake – very cool!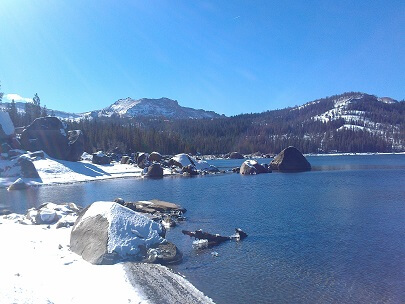 The most popular fish in Caples Lake are Rainbow and Brook Trout. Unfortunately after several hours sliding down the shoreline towards the inlet, we were unsuccessful. I only had one bite, but still the views of Kirkwood, the surrounding mountains and the lake itself are worth the trip. For some great tips and current conditions fishing Caples you might want to stop at the Tahoe Fly Fishing shop before going.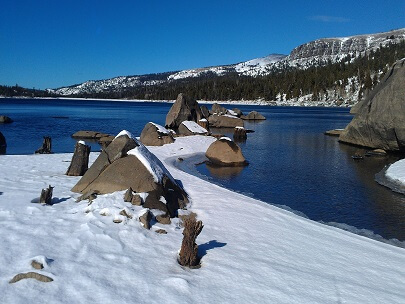 Caples Lake is pretty easy to get to. Drive towards the "Y" in South Lake Tahoe and turn left at the "Y". From there, continue towards Meyers and make a left onto Highway 89/Luther Pass prior to Echo Summit. Continue until you reach the "T" and make a right onto Highway 88/Carson Pass. Follow Hwy 88 past Blue Lakes and Red Lake. You'll see a left turn-off to Woods Lake. I like to park on the side of the road there, but if you continue you'll go over the Caples Lake spillway and even further you'll see the dam. The Resort is there as well, which is open to ski lodging in the winter. All parking is free!
Whether you're just going for a snowshoe, fishing or just need to get out for a bit, Caples Lake is totally worth it. I love to explore new adventures, but Caples continues to call my name. After a recent visit to Kirkwood, it looks like the lake is fully frozen at this point. Maybe, get out for some ice fishing! Have you been to Caples in the winter? If so, make a comment below!