There're few figures in history more intertwined with Lake Tahoe than Samuel Clemens… or as we know him, Mark Twain. His words about this topaz-colored lake are infamous! As he once stated, it's "the fairest picture the whole earth affords." What better way to honor his writing than by exploring some of the places Mark Twain visited in Lake Tahoe & the surrounding area.
The Flume Trail
Ever wonder where Mark Twain got inspired to write the following quote about Lake Tahoe?
"As it lay there with the shadows of the mountains brilliantly photographed upon its still surface, I thought it must surely be the fairest picture the whole earth affords."
It was when Samuel Clemens moved out West with Orion in 1861 to the Nevada territory. On a hike from Carson City, he came upon the legendary view overlooking the crystal-clear waters of Tahoe.
To get to the site & see this beautiful imagery for yourself, park at the Tunnel Creek Café and walk up the Tunnel Creek trail about 1.3 miles. Here you'll experience the view Mark Twain recounts. For those that don't trust their GPS, don't worry. There's an interpretive panel marking the spot.
Lake House
As Mark Twain battled a terrible cold sometime in 1863, he spent time at what he referred to as the "Lake House." Here, he was issued a "sheet bath," requiring him to stand in or adjacent to the lake at midnight & get wrapped in a sheet soaked in the "frosty" waters. Many mistakenly think the Lake House was the Lake Shore House in Glenbrook. But the reality is it was a house in South Lake Tahoe. Even though it's no longer standing, you can still sense what it must've felt like back in the 1860s.
To access the site from US Highway 50, follow San Francisco Ave until it ends. Park where legal and enter the meadow through the gate at the end of the street. Continue following the trail to the lake where the Lake House was approximately located.
David Walley's Resort
While it may not be in Lake Tahoe, this hot spring resort was a bastion for Mark Twain. Flanked by the rugged Sierra Nevada mountain range, this one particular hot spring just outside the first settlement in Nevada has been attracting weary travelers for over 150 years. Suffering from a bit of sickness when Twain visited in the spring of 1887, he remarked I "was relieved of pain and gained in spirit."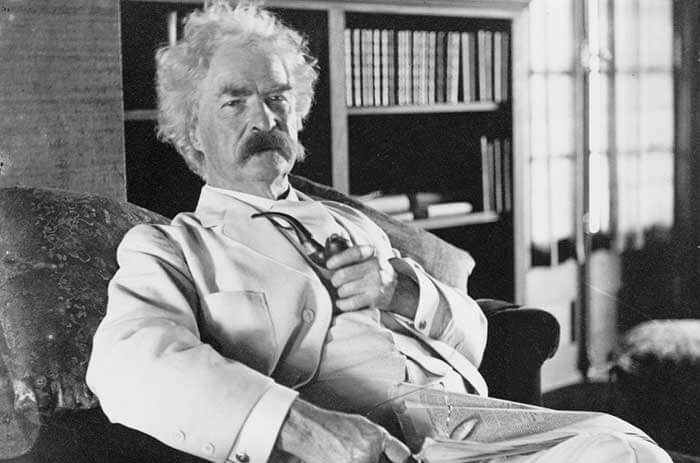 Mark Twain will be forever tightly linked to the Mighty Mississippi. But, his words about Lake Tahoe tell you that he left a piece of his heart in the Tahoe Basin. So, the next time you visit Lake Tahoe, be sure to give a nod to the legendary American writer, lecturer, and satirist.